Manny Pacquiao vs. Juan Manuel Marquez: 10 Bold Predictions for the Fight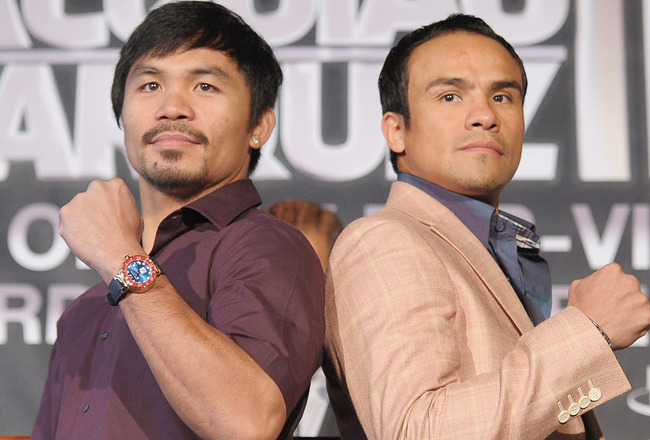 Michael Loccisano/Getty Images
Based on how the first two fights went between Filipino superstar Manny Pacquiao (53-3-2, 38 KO) and Juan Manuel Marquez (53-5-1, 39 KO), it's almost impossible to predict what's in store for their third bout on Nov. 12th.
A victory for either fighter will be as if they won all three fights, and that makes this one the most important fight of both boxers' extensive careers.
They first met in 2004 for the featherweight championship. After being knocked down three times in the first round, Marquez fought back to be awarded a controversial draw.
Their rematch occurred in 2008, and Marquez found himself fighting to get off the canvas again to lose a split decision after 12 rounds.
Without a decisive victory over his opponent, Pacquiao will take on the Mexican boxer and hope to put all the controversy to rest in their rubber match, which will go down on HBO PPV.
Here are 10 bold predictions for the megafight.
No. 10: The Pay-Per-View Buyrate Will Be Manny's Best Yet
After drawing career-high PPV numbers in his May bout with Shane Mosley, Pacquiao proved he is developing an audience beyond anyone's previous expectations.
The Showtime card drew more than 1.3 million pay-per-view buys, according to ESPN's Dan Rafael, and that came against an opponent who nobody really expected to challenge boxing's biggest star.
So, what kind of numbers will be drawn when he takes on a man he has yet to beat decisively and has arguably lost to not once, but twice?
Depending on the success of HBO's 24/7 series, which will begin Oct. 22nd, this fight could hit upwards of 1.5 million buys, and that will be impressive. It could easily exceed that depending on the hype that goes into the fight, and it's already been high.
Past buyrates for Pacquiao's pay-per-view fights include 1.25 million for his 2009 bout with Oscar De La Hoya and over a million buys for fights versus Antonio Margarito and Miguel Cotto.
No. 9: Juan Manuel Marquez Won't Carry the Extra Weight Well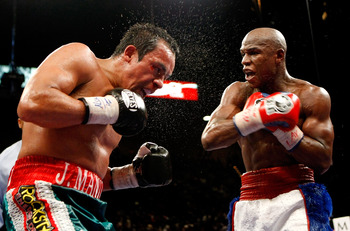 Ethan Miller/Getty Images
It's unfortunate for Pacquiao that a victory over Marquez will be marred by a bunch of excuses, including Marquez moving up nearly 10 pounds in weight since his 2010 fight with Katsidis to fight at 144 pounds. Marquez would never admit to the weight being a problem, but the critics will.
The only thing we have to measure how Marquez handles moving up in weight is his 2009 loss to Floyd Mayweather Jr., and it's hard to gauge just how much the weight was a problem versus Mayweather's superior skills.
The last time Marquez and Pacquiao fought each other, it was at the super featherweight level of 130 pounds. When both moved up in weight, it was Pacquiao who carried the weight better, while Marquez had his best performances at lightweight.
On top of just being able to fight at a heavier weight, Pacquiao has been fighting opponents who have weighed just as much or more than him.
That's something Marquez won't be used to, and he will have to get used to it quickly when he is in the ring with Pacquiao.
No. 8: Manny Will Avg. More Punches Per Round Than Hopkins-Dawson Combined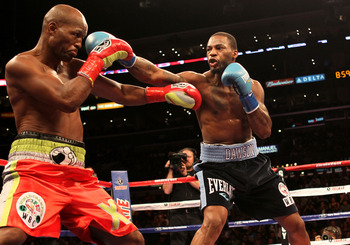 Stephen Dunn/Getty Images
In last week's major boxing pay-per-view event, light heavyweights Bernard Hopkins and Chad Dawson squared off to determine the top boxer in the division. Hopkins entered as the champion, but lost due to a very bizarre TKO after being pushed to the canvas and dislocating his shoulder.
Over the two rounds of boxing that occurred, they threw 84 punches combined. Pacquiao will sometimes throw that many over a single round.
In his 2010 victory over Joshua Clottey, he averaged 103 punches thrown per round. His victory over Antonio Margarito saw him averaging 89 punches thrown per round.
In his last fight versus Marquez, he averaged 51 punches thrown per round.
To match Hopkins' and Dawson's combined punch stats over two rounds in a single round, Pacquiao will need to throw 65 percent more punches than he did in his second fight with Marquez.
It won't be easy, but he can do it.
No. 7: Trilogy with Marquez Will Outdo Pacquiao's Trilogy with Erik Morales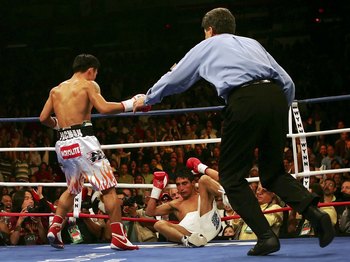 Jed Jacobsohn/Getty Images
Most great boxers are known for being involved in at least one trilogy, and it's rare that they are known for participating in two.
Pacquiao will get that chance when he takes on Marquez, and it should go down as his most satisfying and memorable series of fights if he comes out on top with a decisive win.
Losing the third fight of a trilogy is like losing all three, and even though the eight-division world champion has yet to lose to Marquez, there is a lot of unfinished business between the two. Both of the previous fights arguably could have gone the other way, and they both know it.
In his trilogy with Erik Morales, Pacquiao came back from suffering his first defeat in over a decade to knock out Morales twice in the rematch and rubber match. Each fight showcased a much more dominant performance than the one before it.
If that's the case here, can we expect Pacquiao to be at his most dangerous and more motivated for this fight than ever before?
No. 6: Marquez Will Still Have More Rounds Won Against Pacquiao After the Fight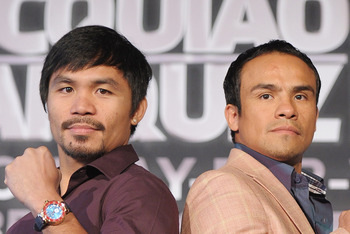 Michael Loccisano/Getty Images
Even though Pacquiao is 1-0-1 against his opponent, it's Marquez who is leading in total rounds won between the two.
Over the course of 24 rounds, Marquez was knocked down four times but still managed to earn a draw in the first fight while losing by a single point in the rematch.
Had it not been for those knockdowns, Marquez would have been declared the winner in each of the fights versus the fighter of the decade.
If a draw is to happen again, it's a good guess that Marquez will still be leading in total rounds won, but he won't have a victory to prove it. That's all that matters for the 38-year-old.
If he gets knocked out, Marquez probably will still have won more rounds.
No. 5: Pacquiao Will Become the First Man to Finish Marquez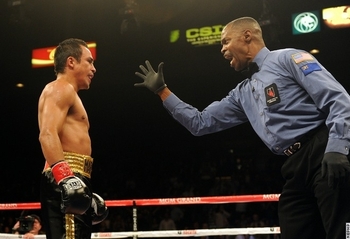 With five losses on his record, Marquez can rest knowing that he has never been knocked out. This doesn't mean he has never been hurt, and it doesn't mean he can't be.
He has gotten off the canvas in fights with Marco Antonio Barrera, Pacquiao, Floyd Mayweather Jr. and Michael Katsidis. In the five fights that he was knocked down in, he came back to go 2-2-1 in those bouts.
Pacquiao is hungry to get a decisive victory after his disappointing performance against Mosley, and there are many things going against Marquez, including moving up in weight and his age.
Marquez will show a lot of heart by surviving whatever Pacquiao dishes out to him, but it will all become too much late in the fight, forcing the referee or his corner to stop the fight.
Everybody knows how Pacquiao likes to outperform Mayweather, and he has the chance to do so again here.
No. 4: Commentators Will Try to Persuade Floyd That Manny is Vulnerable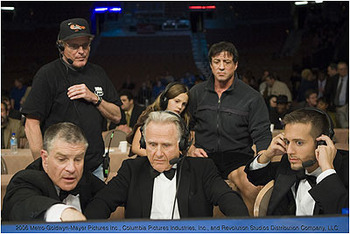 It happens almost every time Pacquiao fights.
The words "he has landed more punches against Pacquiao than his last couple of opponents combined" are simply used to persuade Mayweather into thinking that now is the right time to make the fight.
At the first sign of Marquez's success, expect to hear that Pacquiao looks more vulnerable than he has before or in recent memory, and it will be repeated throughout the fight until the eventual end, however it may come.
Mayweather is confident enough in his abilities that he doesn't need to see when Pacquiao is or isn't vulnerable.
But, if it works, it could lead to the making of the biggest fight in a long, long time.
No. 3: Pacquiao Won't Have Much to Say About Mayweather After the Fight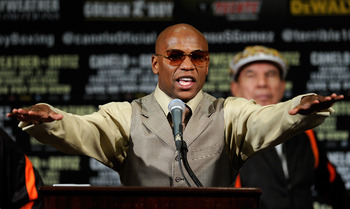 Ethan Miller/Getty Images
Nobody will expect Pacquiao to be vocal about facing Floyd Mayweather Jr., but everyone knows it will be asked about in the post-fight interview.
If the question comes up about whether or not he will do whatever he can to make the fight happen, expect nothing more than a simple "yes" or "no."
At this point, fans are tired of talking about it, but imagine what it's like for the fighters, especially Pacquiao.
He can't do an interview without being asked about it, and at this point, he probably feels as if there is nothing more he can do to try to make it happen.
Both fighters have said they would like to do it, but there is always a reason that holds it back from happening.
Fans will just have to wait and see who takes the proper steps in making the fight.
No. 2: Manny's Victory Will Solidify His Position as 2011's Fighter of the Year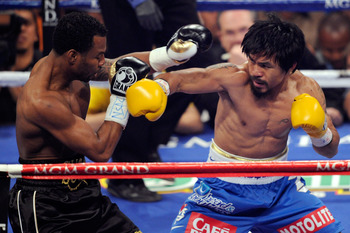 Ethan Miller/Getty Images
Even though Pacquiao had a poor performance against Mosley earlier this year, he still won with the dominant scores of 120-107, 120-108 and 119-108.
That's impressive, and even though the Moseley fight didn't live up to expectations, he has the chance to redeem himself when he takes on Marquez.
It could be the most important fight of his 16-year career, and it will show that he is a better fighter now than in the three previous years he was voted Ring Magazine's Fighter of the Year in 2006, 2008 and 2009.
His split-decision victory over Marquez was part of the reason why he earned FOTY in 2008, and an even more decisive victory over him this time would help solidify his position as 2011's best boxer.
There aren't many other boxers contending for the position, and Pacquiao has one of the last chances to make an impression and take the award in the final months of 2011.
No. 1: Pacquiao Won't Fight Again for Another Year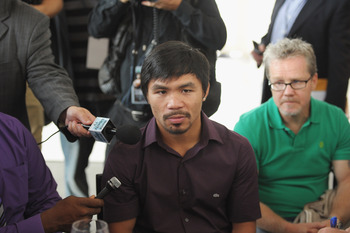 Michael Loccisano/Getty Images
Outside of Floyd Mayweather Jr., Marquez might be the last big challenge Pacquiao has left, and the question of who comes next is something that will take a while to find out.
If that person is Mayweather, who knows exactly when the fight will happen? Whenever it seems close to happening, it gets cancelled due to strict demands and prefight fickleness.
If the eventual bout with Mayweather comes to fruition, it will take over a year to get both sides to agree to the terms, and maybe longer.
Mayweather has averaged one fight per year since his return to the ring in 2009. His latest victory came over Victor Ortiz in September.
Pacquiao has been a lot more active and has averaged two fights per year since 2009.
Let's hope he doesn't wait for Mayweather forever—there are a lot of other boxers we'd like to see him face, including Timothy Bradley, Amir Khan and Sergio Martinez.
Keep Reading