The Sexiest NFL Cheerleader Halloween Costumes Ever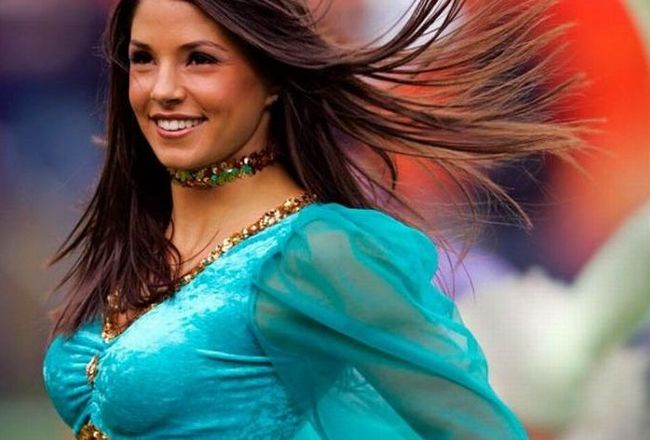 It is safe to say that NFL cheerleaders in Halloween costumes is always a good call.
I am not sure when they started to do this, but it has become a tradition unlike any other. Each year, almost every NFL team has their cheerleaders participate in Halloween festivities by dressing up as something very naughty.
Why? Because 70,000 fans—mostly men—would love to see their favorite women cheering on the home team while dressed as a French maid. That makes the NFL worth watching again.
Hhere are 45 more reasons to enjoy NFL during Halloween. Enjoy.
45. Getting Ready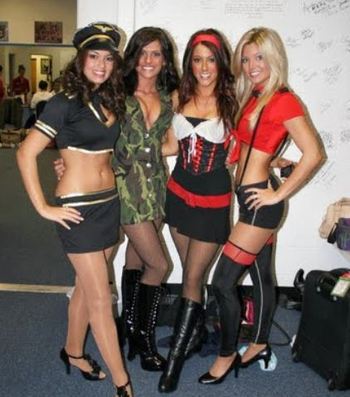 Before you get ready to go out for Halloween this month, make sure to look in the mirror.
No one loves to see half-naked women with bodies like half-naked men.
Sorry ladies, but no one cares for it, especially those people with eyesight.
44. Evil Queen of Hearts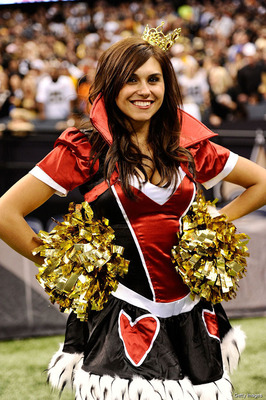 "Off with his head!" says the Queen of Hearts, the famous storybook character from Alice's Adventures in Wonderland.
With a beautiful smile like hers, I would gladly remove anything I was told to, quickly.
43. The New Catwoman Costume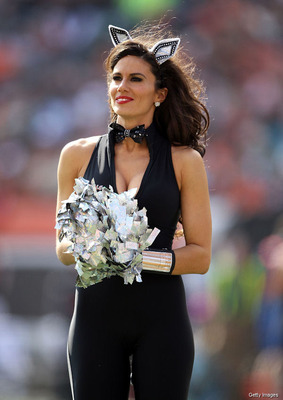 It will not be hard to sell you on the idea that maybe this should be the new Catwoman costume for The Dark Knight Rises, coming out next summer.
We have already seen how ridiculous Anne Hathaway looks in the modernized gear—how great would it be if this was her outfit instead? It is simple but purrrrrrfect.
Even I had to do it, sorry spell check.
42. Sherlock Holmes in 3D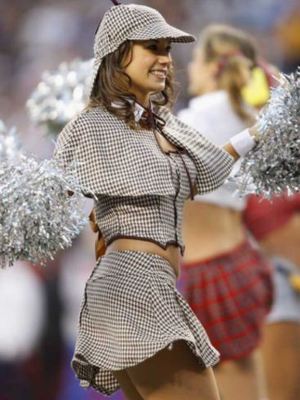 On December 16th, 2011, the newest Sherlock Holmes movie arrives in theaters, Sherlock Holmes: A Game of Shadows.
It will not, however, star sexy NFL cheerleaders dressed as the detective himself—although it really should.
41. Naughty Nurse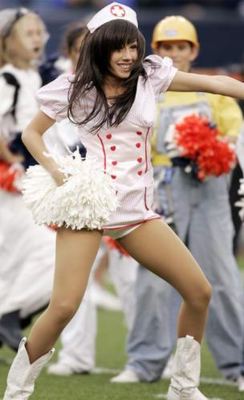 According to a private poll conducted at a random college somewhere in the United States, the naughty nurse costume was ranked first among sexiest hospital attire to wear for Halloween.
In another poll, it was ranked third hottest Halloween costume ever.
40. In the Navy!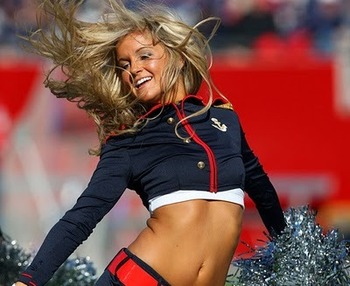 It was recently announced that Navy might join the Big East in football.
Wow, that makes an NCAA conference with more losing teams than the NFC West.
39. Old Time Flapper Girl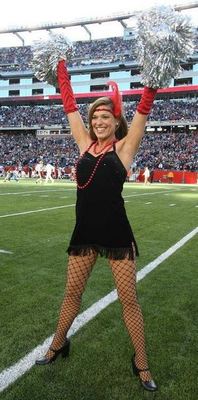 What is a flapper girl? It sounds dirty and wrong at the same time.
In modern times, you could compare a flapper girl to a Megan Fox.
They looked at sex differently back in the day, which was a Tuesday by the way.
38. Dark Fairy Tale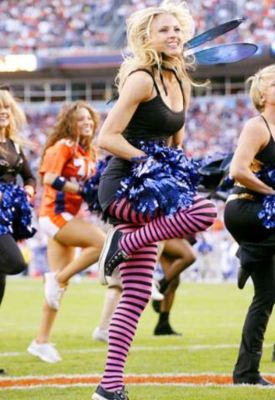 If I could purchase my women's Halloween costume every year, I would consider always buying this one. It is dark, sexy, and most importantly, sexy.
Oh wait, I just said that twice. I guess that means it is just really, really hot!
37. Wonder Woman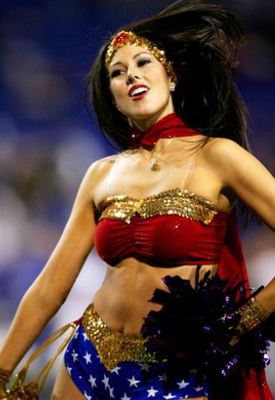 When the day comes that they finally make a Wonder Woman movie, I hope they find someone worth watching to play the main role.
Megan Fox would be fun to look at, but Christina Hendricks would be much, much more fun.
36. Marilyn Monroe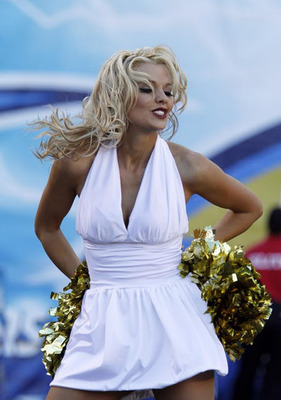 If we have learned anything as a country, it should be that famous movie stars should not be taken seriously—ever.
Case in point, Marilyn Monroe.
35. Sexy Cop Top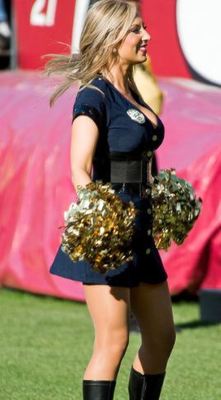 In Germany, cops drive around in Mercedes-Benz or BMW cop cars.
In Sweden, the female cops wear similar uniforms to work as the one pictured above.
OK—one of the previous statements is true, but which one?
34. Still Confused?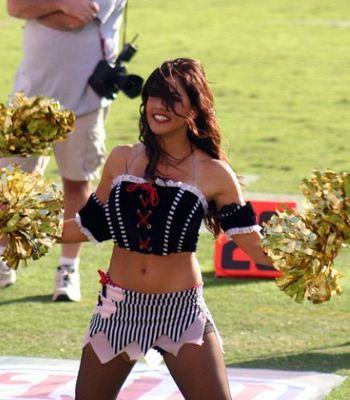 At first, I had no idea what she was dressed up as for Halloween.
But then I noticed it was a pirate's costume or sexy wench costume.
Either way, it is sexy and she is smoking hot in it.
33. Simple and Free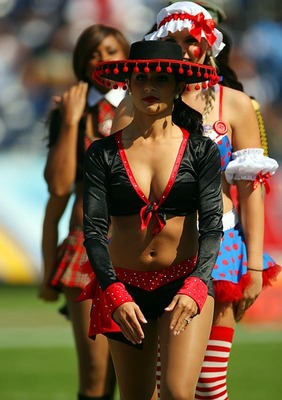 Not sure why I thought this was a sexy costume, but the driver of the outfit does not seem to care.
She is sporting that hat like a champ.
She is also working that top like Dolly Parton works a 9-to-5 job.
32. Tinkerbell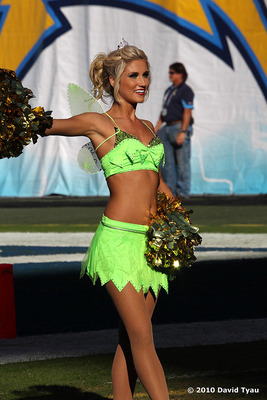 If you think this is not an appropriate version of how Tinkerbell should look, you have not seen enough slides yet.
Trust me, this is nothing compared to some of the other costumes you will see.
31. Flag on the Play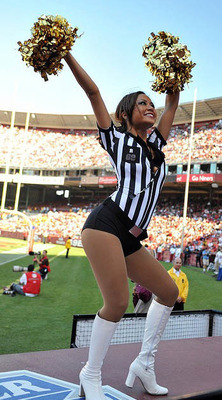 If she wanted to toss a flag for excessive staring, feel free because I have been looking at her for three minutes now.
Is it a curse to be so hot other people forget what they are doing when they notice you?
30. Eve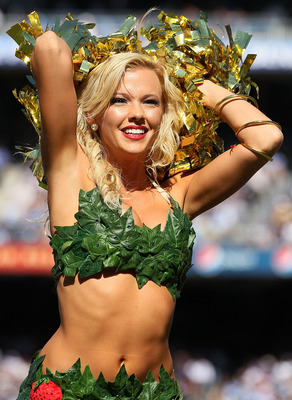 Jeff Gross/Getty Images
When Adam met Eve, do you think this is how she looked?
If I had to guess, I would say yes, it is.
29. Evil Devil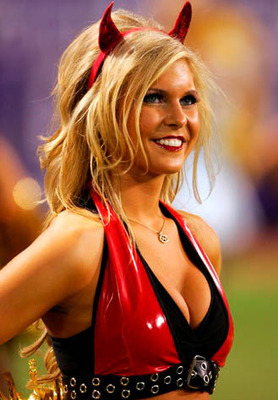 There is something sexy about women dressed up as the devil. I am not sure why—it just is.
Maybe it has something to do with the horns, or maybe it is just the teasing of a naughty devil at your side that does it—either way works for me.
28. Super Girl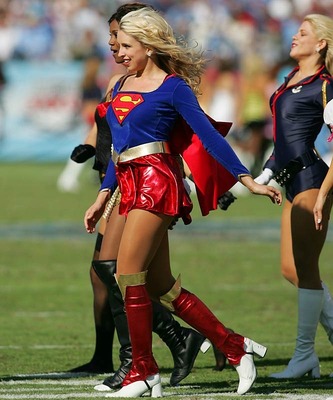 Do you know why making a Super Girl movie again would be a bad idea?
Because they tried it out in 1984 and it was terrible.
Actually, it was worse than terrible—it was awful.
27. Taxi Driver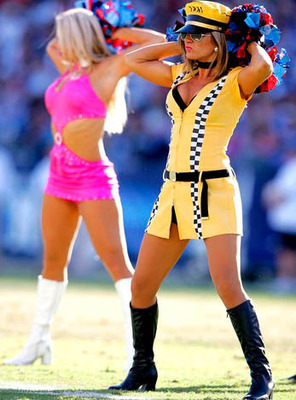 In New York City, taxi cabs flood the streets like bulls in a china shop.
It is almost impossible to get a cab in any other city with the same ease as you can in New York—but that is not a bad thing.
Too bad none of the drivers look like this. If so, I would be riding cabs every day.
26. Goldilocks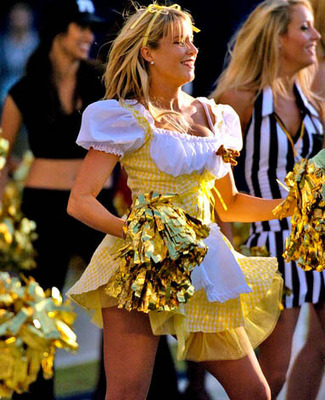 Robert Southey created the story we have all heard growing up,
The Story of the Three Bears. It is the story of Goldilocks searching for food and a place to sleep in a house owned by Bears.
Yes, she only looked this sexy in our heads.
25. Snow White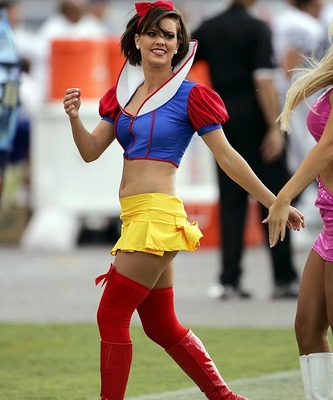 Remember when I said that Tinkerbell was not the most inappropriate costume on the list?
Here is a sexier outfit that makes us all wonder why Disney has yet to change the costumes to look like this.
24. Camo Gear Rocks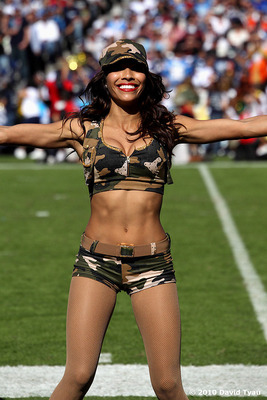 It is hard to concentrate on this photo when the woman standing in it is not wearing any clothes.
Get it? Because she is wearing camouflage! It is lame but it works.
23. The Checkered Flag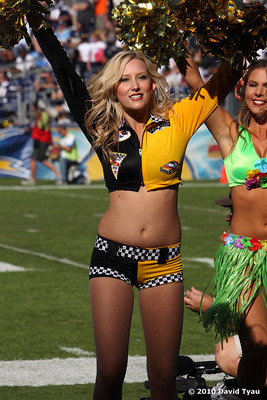 In Nascar, Jimmie Johnson is the best driver of the last 20 years.
In the NFL, this would be the best-looking race-car-related sexy female ever.
22. Marines Are Hot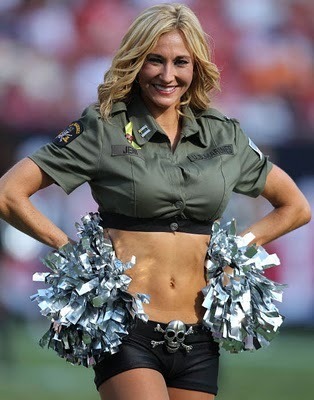 I always hear about how women think Marines are hot.
This would be the first time I could actually agree with that statement.
Of course, I am not speaking about the guys here, just the beautiful woman you see here.
21. Tribute to America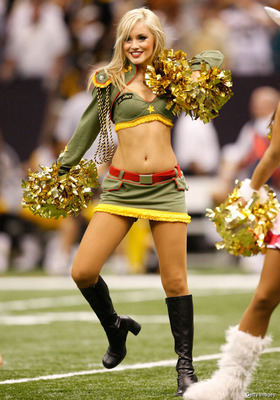 Last season, the New Orleans Saints hosted the Pittsburgh Steelers on Halloween night in front of a sell-out crowd of 70,000 plus.
Almost 20,000 fans showed up in costume to break the Guinness World Record for largest gathering of Halloween revelers of all time.
They beat the previous record of only 508 people.
That is what you might call a landslide victory.
20. Wonderful World of Minnie!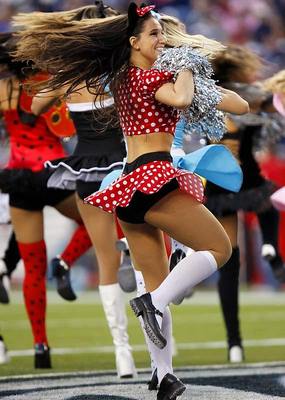 Yeah, this is easily the most inappropriate costume worn by an NFL cheerleader during Halloween.
19. Eskimo Poetry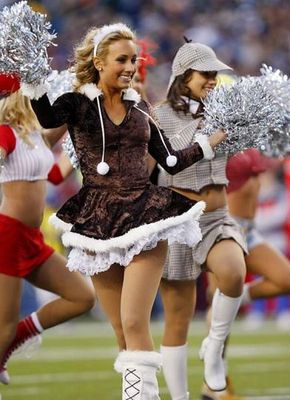 I think she is an Eskimo—I am not too sure.
She looks like she enjoys being warm, except for the skirt.
But the pom poms should do the job for keeping her hands warm, right?
18. Wizard of Odd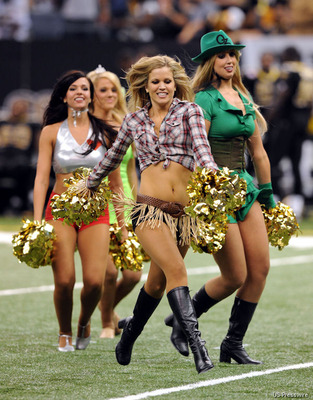 At first glance, this is an innocent sexy group of women wearing slutty Halloween costumes.
Then again, it is actually a group of women dressed as characters from the Wizard of Oz, but they make it sexy.
I never thought I would have seen the day when the Tin Man was sexy.
17. Tom Cruise Is Crazy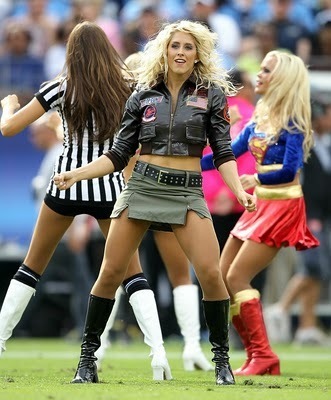 Tom Cruise is not crazy unless he thinks this hot cheerleader is not doing him justice by dressing up as Maverick.
Wait, that is not what she is? What is she? No one knows? Anybody?
16. What Just Happened?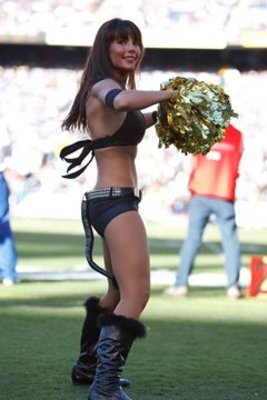 I am going to not comment on this costume and just go ahead and move on to the next one.
But, really? What is going on down there?
15. Leopard Skin Is Lazy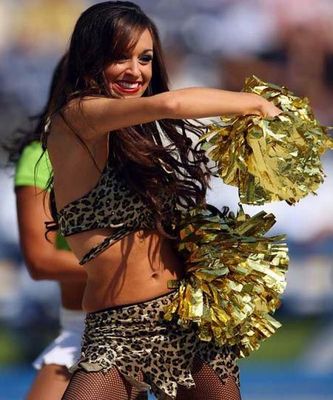 I once dated a girl who put on a leopard dress and called herself a cheetah.
I had to explain to her that she was not a cheetah, she was in fact a leopard.
Long story short, do not ever crush your girlfriends dreams the night of a Halloween party, or you will be like me, spending it sitting in a chair outside handing out candy.
14. Hippie for Life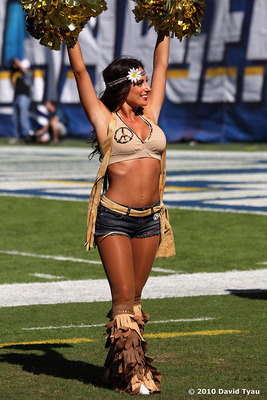 I love peace. I love love. I love happiness.
I also love NFL cheerleaders, thus making this the perfect woman in the history of women.
13. School's in Session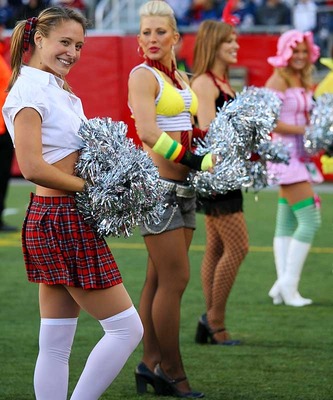 This is not the first time you have seen a beautiful NFL cheerleader in a school girl costume.
Nor should it be the last.
12. A Pirate's Life for Me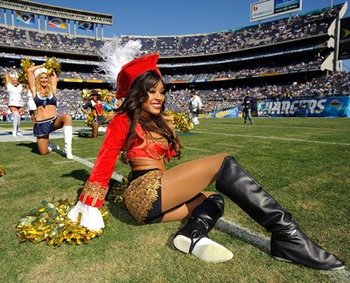 First Johnny Depp, then Penelope Cruz, and now—NFL cheerleaders?
Are you still looking for a costume? Here is one!
11. Cleaning the Closet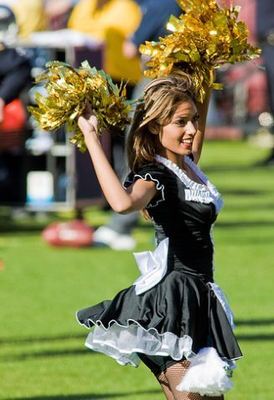 If a maid is needed to clean a house, then why should we not hire the hot ones?
What is the wrong in that?
I have seen real-life maids, and they look nothing like the ones from television—what gives, America?
10. Tiger Woods Ya'll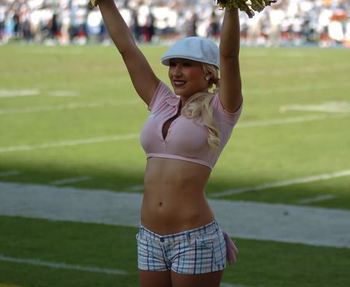 If Tiger Woods was still doing what he does best—apparently it is cheating on his wife, because his golf game has taken a nose dive—then he should make sure to catch a few NFL games this year.
This lovely lady is already dressed for a night on the back nine.
9. Pink Pirates of the Caribbean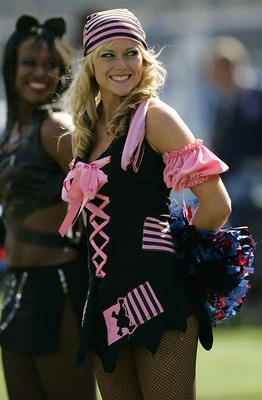 If you have to choose—and I hope you do—on whether this pirate is a sexier version than any other woman from the Pirates of the Caribbean movie franchise, I hope you take this one.
She gets bonus points for wearing pink in October.
8. Charger Player?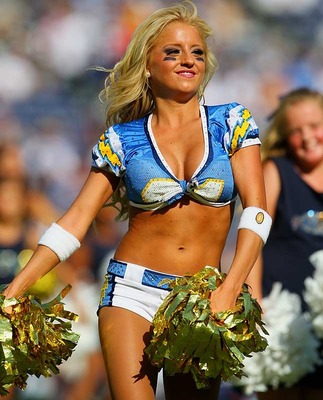 So maybe this is not an original idea for a costume.
All she did was take a football jersey and turn it into a bra for her enormous friends.
Oh wait, that would be a great idea.
7. Heidi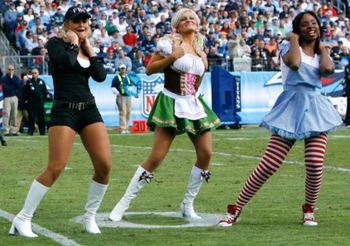 If Heidi was not already a sexy Halloween costume, it is now.
All it took was a sexy NFL cheerleader to strap on the pigtails and voila—hottest Halloween costume of the night.
6. Indian Summer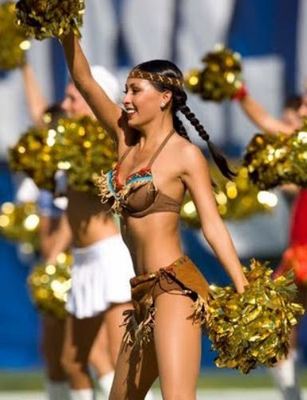 Pocahontas has always been portrayed as a sexy Native American female that runs around singing about the forest and all the animals.
No need to sing here. She is doing a fine job just dancing around.
5. School Girl High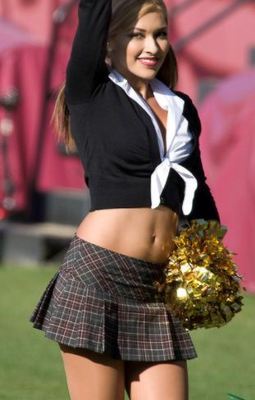 Back when I was in high school, none of the women wore anything close to this—nor were they half as hot.
Then I realized that it was because all those women were already in college and owned a costume like this one but were saving it for a special occasion.
It never hurts to ask.
4. Cookie Girl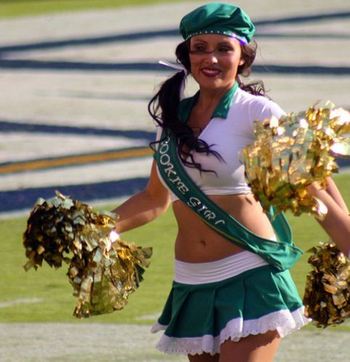 This costume was worn during a San Diego Chargers game last season.
It is so inappropriate, I figured I should share it with everyone.
It is OK to dress up in costume, but when you are dressing up like a girl scout, that is two kinds of wrong.
She is smoking hot, though.
3. Cowgirl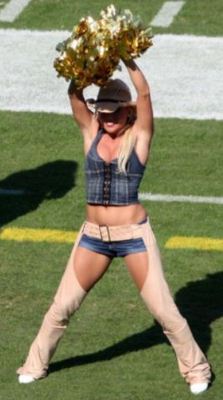 If the Dallas Cowboys cheerleader costumes were not already the hottest articles of clothing in the history of sports, maybe this one should be.
But if the Cowboys cheerleaders do change their outfit, make sure to wait until I am no longer able to see anything.
2. Bumble Bee Tuna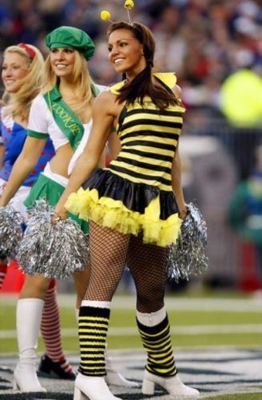 Did you know that honey bees dance around different food locations to allow other bees to take notice of where the food is and then be able to grab it?
They call it the waggle dance, which is almost the same as she is doing right here.
Where is the food?
1. Mrs. Harry Potter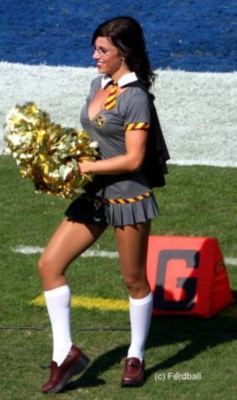 If you are having Harry Potter withdrawals, maybe this will help you out for now.
It is not like they are making any more—time to move on and enjoy what beautiful women would look like in a naughty version of the original costume.
Keep Reading