NFL Power Rankings: Week 7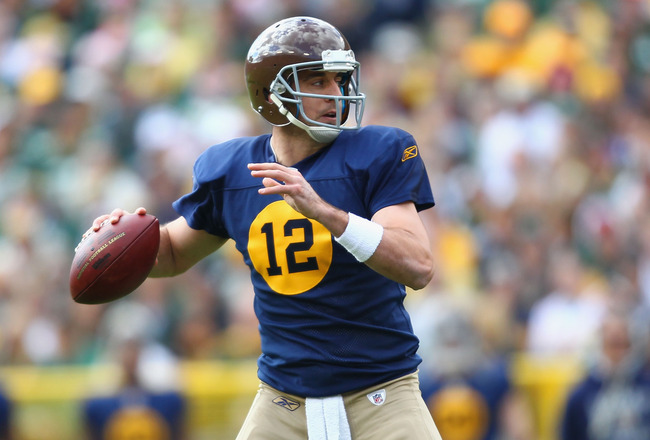 Dilip Vishwanat/Getty Images
Week 6 of the NFL is in the books, and only one team remains unbeaten.
This past weekend's games made us all believers of the 49ers, while we saw the true sides of teams such as the Redskins and the Cowboys.
After a weekend of great games, it's time to see who is No. 1.
Here are the power rankings heading into Week 7 of the NFL.
32. St. Louis Rams (0-5)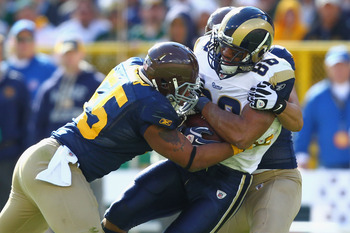 Dilip Vishwanat/Getty Images
The "Suck for Luck" campaign doesn't apply to these guys, but it certainly does look like they are trying.
Honestly, why wouldn't they?
Imagine the potential trades they can make with the No. 1 overall pick, especially if Andrew Luck enters the draft.
31. Miami Dolphins (0-5)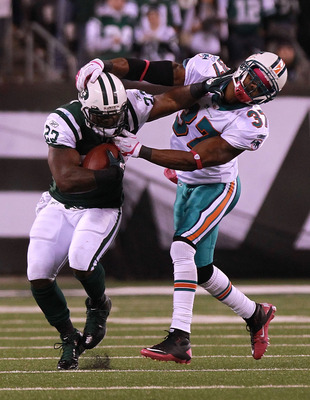 Nick Laham/Getty Images
This is a team that has some talent on both sides of the ball, but just doesn't have a quarterback to get the job done.
With Chad Henne injured and Matt Moore definitely not being the answer, the Dolphins season looks all but over.
I see the Dolphins winning two games this season, firing Tony Sparano and making a play for Andrew Luck in the 2012 draft.
30. Indianapolis Colts (0-6)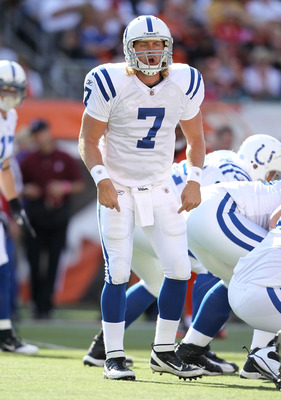 Andy Lyons/Getty Images
Curtis Painter is actually starting to come along as a quarterback. The only problem is, he isn't Peyton Manning.
All joking aside, Painter has actually played well this season. In four games played, he has 806 yards passing with five touchdowns and one interception.
While Painter has played well enough to win his team football games, the defense hasn't, ranking 27th in total defense.
The Colts could pull off three wins this season. Then again, pulling that off will be difficult if their defense can't step up and keep the other team from scoring an average of 27.2 points per game.
29. Arizona Cardinals (1-4)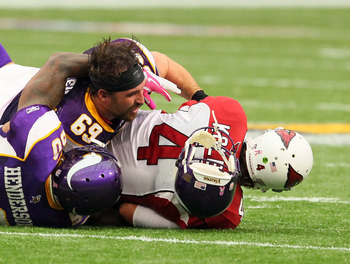 Adam Bettcher/Getty Images
The Cardinals are back to their old ways.
They have talent, but just like past seasons, they are inconsistent.
However, before they were routed 34-10 by Minnesota in Week 5, the Cardinals hadn't lost a game by more than four points.
This week, Arizona takes on the Pittsburgh Steelers.
Not the most ideal matchup for a team that is on a four-game losing streak.
28. Minnesota Vikings (1-5)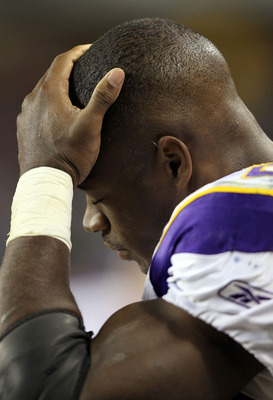 Jamie Squire/Getty Images
After their horrific showing against the Bears on Monday night, is there an answer for this somewhat talented team?
While their defense is playing decently, their offense continues to struggle.
Let's face the facts—if the Vikings want any chance to win, Adrian Peterson should touch the ball 25 times or more per game.
Just to back that statement up, in the two games Peterson touched the ball 25 times or more, he scored two touchdowns in a win against the Cardinals, and three in the 24-21 loss against the Buccaneers.
In other words, get him the ball, even if you are down 16-0 at the end of the first quarter.
27. Jacksonville Jaguars (1-5)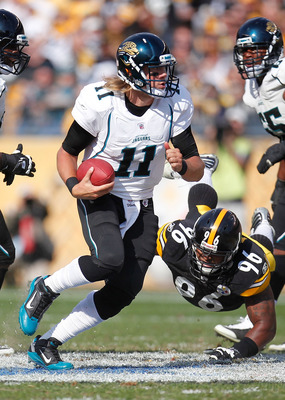 Gregory Shamus/Getty Images
Jacksonville is a team with a solid defense but a starting rookie quarterback.
While Blaine Gabbert is beginning to get a grasp of things, it may not be enough to help head coach Jack Del Rio keep his job.
26. Denver Broncos (1-4)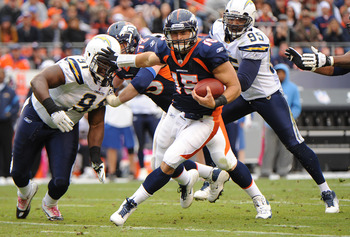 Bart Young/Getty Images
Tim Tebow holds the key to the starting quarterback position in Denver. The only problem is, they just traded away their best receiver.
Look for Tebow to spark up the offense, but it's an uphill slope for him and the Broncos for the rest of this season.
25. Kansas City Chiefs (2-3)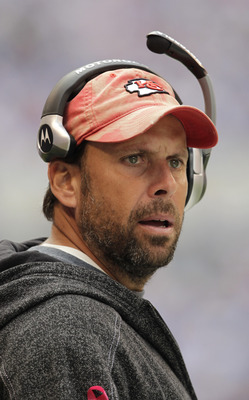 John Sommers II/Getty Images
Kansas City is on fire after winning two games in a row.
Oh wait, those were against the Colts and the Vikings.
Once again, this team is inconsistent, but can you blame them after losing starters Eric Berry, Tony Moeaki and Jamaal Charles?
This team won't make the playoffs, but they still have a few winnable games left on the schedule.
24. Carolina Panthers (1-5)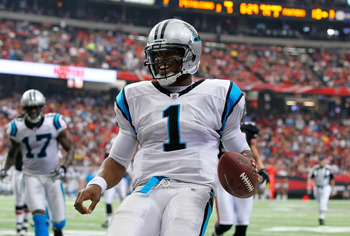 Kevin C. Cox/Getty Images
This is possibly the most dangerous 1-5 team I have ever seen.
Rookie Cam Newton continues to impress along with wide receiver Steve Smith.
However, no matter how many yards and points this combo puts up, it's difficult for them to win if their defense can't stop the opposing team's offense.
23. Cleveland Browns (2-3)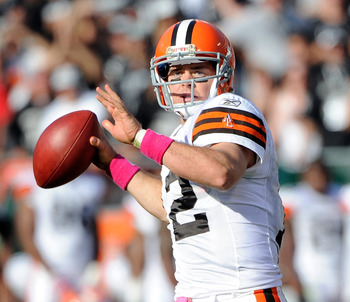 Thearon W. Henderson/Getty Images
Quarterback Colt McCoy has gotten better every week, but the Browns run game, ranked 30th in the league, is nowhere to be found.
Running back Peyton Hillis has come down with a hamstring injury that could cause him to miss some time.
On the bright side, the Browns defense has played well, allowing 321.8 yards per game, ranking seventh in the NFL.
While defense may win championships, a solid run game certainly helps. It's something the Browns must improve if they want to have any shot of going .500 this season.
22. Seattle Seahawks (2-3)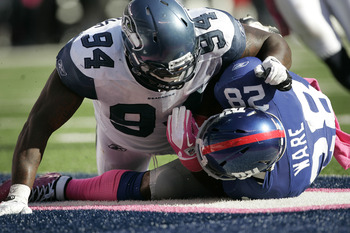 Rich Schultz/Getty Images
The Seahawks are 2-1 in their last three games. Their one loss came at the hands of the Atlanta Falcons, who only beat them 30-28.
Although Eli Manning threw all over them in Week 5, the Seahawks still got it together to beat the Giants, a team that is currently at the top of the NFC East standings.
Seattle has potential to win some more games this season, especially because they play in the NFC West.
Even though the 49ers are the obvious favorites to win the division, Seattle can still be dangerous. The New Orleans Saints can attest to that.
21. Washington Redskins (3-2)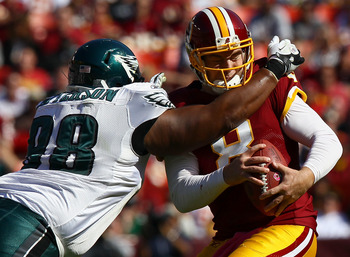 Win McNamee/Getty Images
While Rex Grossman had a hot start to the season, his past two games have been the exact opposite. In these two games, Grossman threw for 143 yards in both, while only passing for one touchdown. Not to mention, he has thrown six interceptions in the past two weeks.
John Beck may get the start at quarterback on Sunday against the Panthers, but he still isn't the answer to the Redskins' problems. This is because the problem isn't just the passing game, per se—it's the run game too.
Mike Shanahan needs to choose a running back, and name him the starter.
Yes, Ryan Torain had a great game in Week 4 against the league's worst run defense, the St. Louis Rams. However, Shanahan enjoys keeping everyone, including his running backs, guessing who will be the starter in the backfield.
What's the result of this? Torain picked up a team-high 22 rushing yards against the Eagles, whose defense had allowed 100 yards or more rushing in every game this season.
If the Redskins want any shot of winning the NFC East, they must develop a more consistent rushing attack. This will complement their defense, which is ranked third in points allowed per game, and sixth in yards allowed per game.
20. Dallas Cowboys (2-3)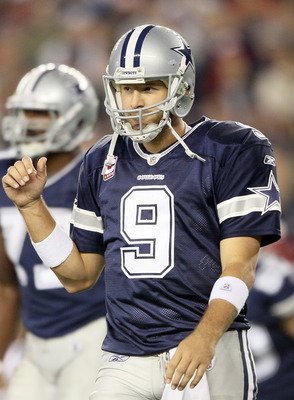 Elsa/Getty Images
While many blame Tony Romo for the Cowboys' miscues, an underlying factor in the Cowboys' losses is their inability to run the football.
Running back Felix Jones can't stay healthy long enough to even have a chance to run the ball effectively. To make matters worse, Jones is out this Sunday against the Rams with a left high ankle sprain.
This means rookie running back Demarco Murray will get his shot at proving himself against the NFL's worst run defense.
The Cowboys must get their run game going on Sunday if they want to beat the Eagles in Week 8. They are going to have to run the ball effectively while eliminating Romo's mistakes.
19. New York Jets (3-3)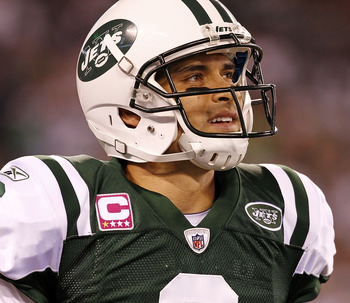 Jeff Zelevansky/Getty Images
The Jets beat the Dolphins on Monday night, but they are still not the team they were last year.
While the Jets defense has been good overall, their offense still struggles.
Everybody is waiting for Brian Schottenheimer to open up the offense more, but can he with a quarterback like Mark Sanchez?
That question will be answered in the weeks to come.
18. Philadelphia Eagles (2-4)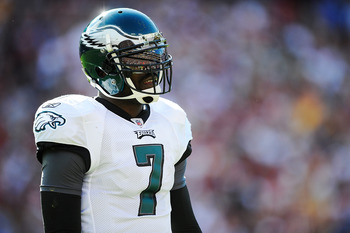 Patrick McDermott/Getty Images
Everyone can jump back on the Eagles bandwagon now. Well, maybe not yet, but their game last Sunday showed a lot of promise.
With that being said, Philadelphia is a lot better than what their record shows.
After holding the Redskins to only 42 yards rushing on Sunday, the Eagles defense may have figured out how to actually stuff the run. However, I wouldn't get my hopes up yet.
The Eagles have a bye this week before they play their division rival, the Dallas Cowboys, in Week 8.
17. Atlanta Falcons (3-3)
Scott Cunningham/Getty Images
The Falcons will take any win they can get, especially because the NFC South remains wide open.
Although the Falcons are a talented team, three of their next four games are matchups they may struggle with. The three teams they will go against include the Lions this weekend, the Saints in Week 10 and the Titans in Week 11.
If the Dirty Birds want to keep pace in the NFC South, they must win at least two of these games, especially their game against New Orleans.
16. Chicago Bears (3-3)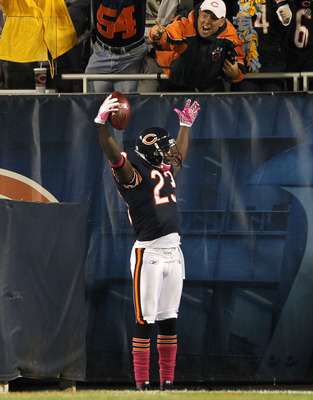 Jamie Squire/Getty Images
After beating the Vikings 39-10, it can be said that Chicago should play like that every week. Too bad they don't play the Vikings every week.
It can easily be forgotten that the Bears offensive line still struggles with pass protection, mostly because they only allowed one sack to the Vikings on Sunday.
Consequently, everyone will be reminded of the Bears' pass protection woes when they face the likes of the Eagles, Lions and Raiders in the weeks to come.
15. Cincinnati Bengals (4-2)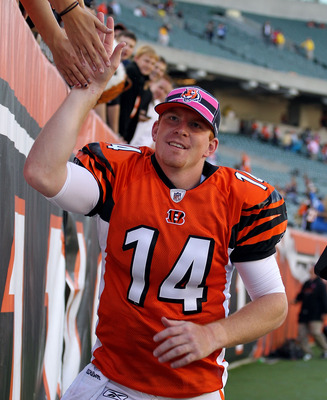 Andy Lyons/Getty Images
Don't tell anyone, but the Bengals aren't terrible.
Boasting one of the league's best defenses and a rookie quarterback that has played fantastically, the Cincinnati Bengals have been one of the NFL's best kept secrets.
What makes them look even better is that their two losses came against the Broncos by two points, and the 49ers by five.
It's hard to tell how good they really are. However, we will get to find out in Week 9 when they go on a tough three-game stretch against the Titans, Steelers and Ravens.
14. Tennessee Titans (3-2)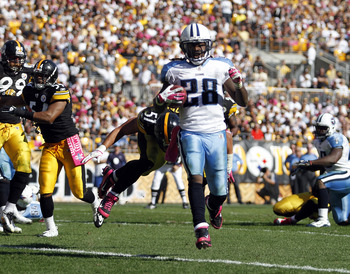 Justin K. Aller/Getty Images
While the Titans try to find a replacement for Kenny Britt, they have quietly become the AFC South's division leader.
This week, they face the Houston Texans, who will be without wide receiver Andre Johnson for quite a bit of time.
If the Titans can get Chris Johnson rolling and pull off a win this Sunday, they may be able to cruise through the AFC South and end up in the playoffs.
13. Houston Texans (3-3)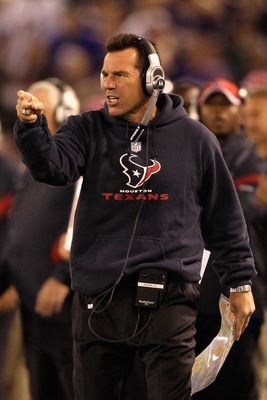 Rob Carr/Getty Images
The question looming over the Houston Texans' heads is, can they win without Andre Johnson?
So far, the answer is no.
After dropping two in a row against the Raiders and Ravens, the Texans have set themselves up for a huge divisional game this week against the Titans.
This is a game that can be considered a must win for this organization.
12. Buffalo Bills (4-2)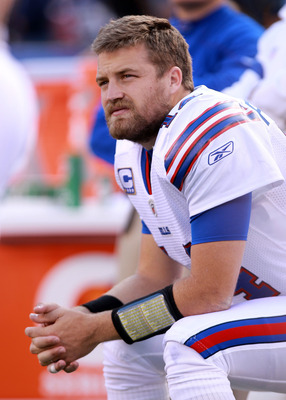 Nick Laham/Getty Images
In their last five games, the Bills have had four games decided by three points, and one game decided by seven.
That's not good when your offense scores the second-most points per game in the NFL.
While the Bills defense is great at forcing interceptions, they are still ranked 31st in yards allowed per game.
If the Bills want any chance of making the playoffs, their defense needs to step it up and stop letting their games turn into shootouts.
11. New York Giants (4-2)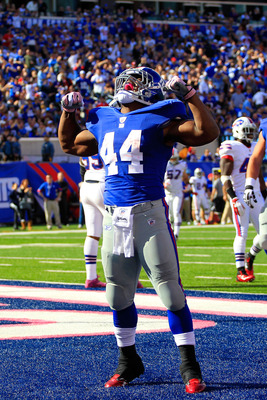 Chris Trotman/Getty Images
The NFC East is as confusing as ever, especially when the Giants are on top.
Even though they beat a good Buffalo Bills team last weekend, it's tough to say whether the Giants have what it takes to hold off the rest of the NFC East.
If they can avoid games like they had against the Seattle Seahawks, the Giants have a chance of making it to the playoffs.
Then again, their schedule does not get any easier with upcoming games against the Patriots, 49ers, Saints and Packers.
It will be interesting to see where the Giants place by the time they play the Cowboys in Week 14.
10. Pittsburgh Steelers (4-2)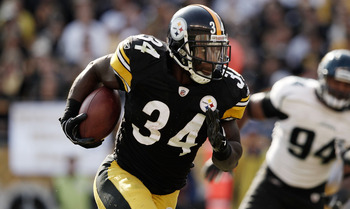 Jared Wickerham/Getty Images
It was only a couple of weeks ago when everyone was questioning if the Steelers had anything left in the tank.
In response, Pittsburgh decided to blow out the Titans, and win a close game against the Jaguars (you would think it'd be the other way around).
We will all get to see if the Steelers really do have anything left in the tank when they play the Patriots in Week 8.
9. San Diego Chargers (4-1)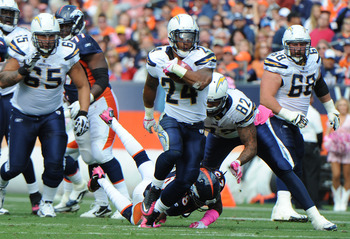 Bart Young/Getty Images
Of the Chargers' four wins, their opponents have a combined record of 4-17.
In their one loss against the Patriots, they were beat 35-21.
Before they can earn respect in the rankings, they have to beat a team with a .500 record or better, which can't happen until Week 9 when they face the Packers.
8. Oakland Raiders (4-2)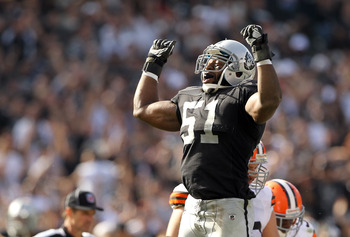 Ezra Shaw/Getty Images
Oakland's two losses this season came against the Patriots and the Bills. Those aren't bad teams to lose to, especially if you are the Raiders.
Also, they became an even better team after trading for Bengals quarterback Carson Palmer, a huge upgrade from Jason Campbell.
We may all finally see the Raiders in the playoffs for the first time since the 2002-2003 season.
What a great way to commemorate the life of Al Davis.
7. New Orleans Saints (4-2)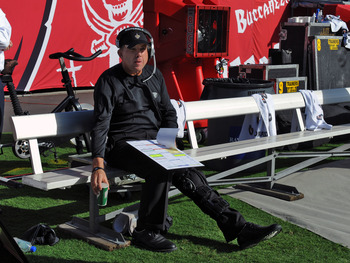 Al Messerschmidt/Getty Images
One of the NFL's best teams look to rebound after a disappointing Week 6 loss to the Tampa Bay Buccaneers.
That shouldn't be hard, considering their next two games are against the Colts and Rams.
6. Tampa Bay Buccaneers (4-2)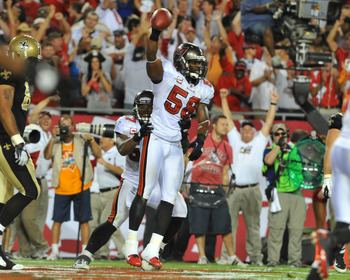 Al Messerschmidt/Getty Images
After getting blown out 48-3 by the 49ers in Week 5, the Buccaneers bounced back in a strong way by beating the New Orleans Saints.
This gives them momentum for their next game against the Bears, which they hope to continue through Week 9 when they face the Saints for the second time in a three-week span.
5. Detroit Lions (5-1)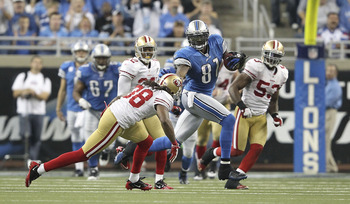 Leon Halip/Getty Images
The Lions have been playing great this whole season. However, the 49ers played just a little bit better on Sunday.
Detroit could win out until their Thanksgiving Day matchup against the Packers, in what is sure to give us all something to be thankful for.
4. San Francisco 49ers (5-1)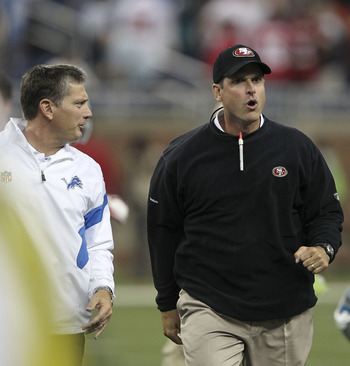 Leon Halip/Getty Images
Jim Harbaugh has officially created a monster on the West Coast.
This means, you can go ahead and say the 49ers are no longer terrible after they destroyed the Buccaneers in Week 5, and then beat a great Lions squad last week.
While we are still on the theme, the 49ers play the Ravens on Thanksgiving day in a coaching matchup between brothers Jim and John Harbaugh. What a great day to be thankful.
3. Baltimore Ravens (4-1)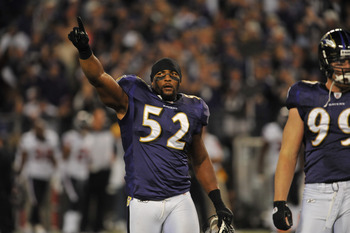 Larry French/Getty Images
It's said defense wins championships. Luckily for the Ravens, they have a great defense.
2. New England Patriots (5-1)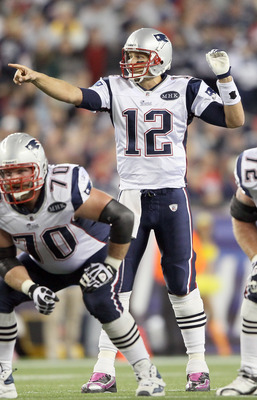 Elsa/Getty Images
As long as the Patriots have Tom Brady at quarterback, they have a chance to win every game they play.
Great expert analysis, right?
1. Green Bay Packers (6-0)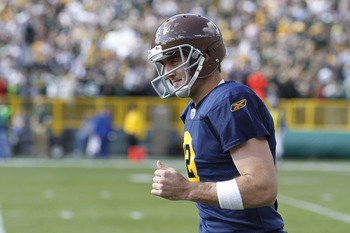 Joe Robbins/Getty Images
There really is no question that the Packers are the best team in the NFL.
Quarterback Aaron Rodgers is having an MVP-caliber season, and it doesn't look like he will be stopped anytime soon.
Keep Reading