Heisman Trophy 2011: What Marcus Lattimore Injury Means for All Heisman Hopefuls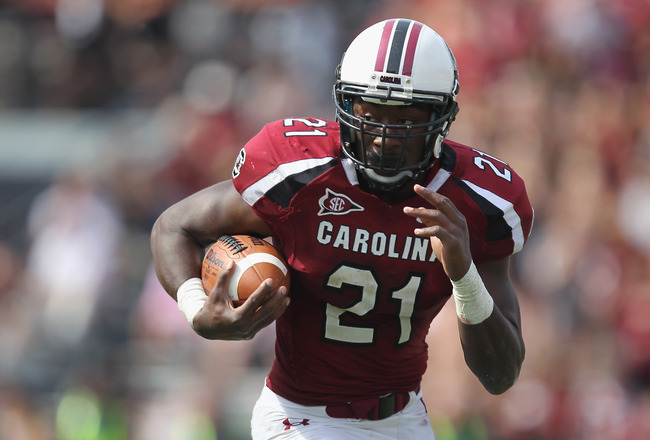 Streeter Lecka/Getty Images
One of the larger consequences of Marcus Lattimore's season-ending knee injury is not its immediate effects on South Carolina's SEC chances, but its influence on the national Heisman Trophy race.
Already with 835 yards and 10 touchdowns through seven games, Lattimore was quickly becoming one of the frontrunners for college football's MVP even as a sophomore. With the Gamecock's star man now most certainly out of the running, what does this mean for the other candidates? Is there a new man in poll position? Is he even a quarterback?
Let's take a look at the new set of Heisman hopefuls and what Lattimore's misfortune has done for their trophy dreams.
LaMichael James, RB, Oregon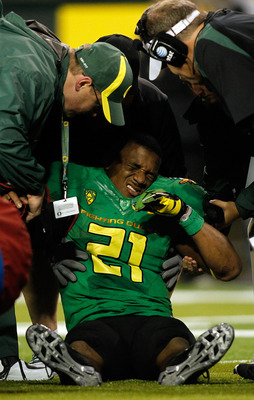 Jonathan Ferrey/Getty Images
For LaMichael James, Marcus Lattimore's injury has left the door open for him to still contend. James injured his elbow against California and should be out a game or two more, yet, he still leads the nation in rushing yards per game with a 170.4 average.
The frequency with which Oregon runs the ball should give James an opportunity to get back into the race once he gets healthy. If the Ducks can get a big win against Pac-12 North rival Stanford in the coming weeks, they'll be able to stay in the national conversation, giving more TV time to James.
Even if both James and Lattimore had stayed healthy, James would have been the leader among the two. Now with Lattimore out and James on the mend, his main rushing competition will come from...
Trent Richardson, RB, Alabama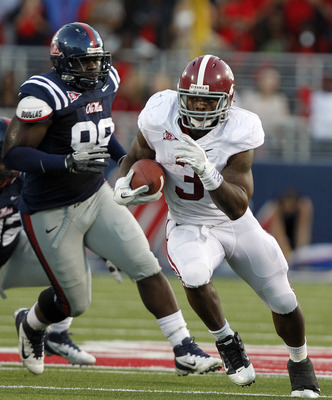 Butch Dill/Getty Images
With Marcus Lattimore out for the season, the Alabama bruiser is now being mentioned among the top running backs in Heisman contention. He's already been building an impressive resume leading the 7-0 Tide to a No. 2 BCS ranking.
Trent Richardson has already taken 132 carries for 912 yards and 15 touchdowns, but has shown a dual threat for A.J. MaCarron as well. Richardson has a surprising 15 catches for 179 yards and a touchdown. His consistency on the ground is pure Bama strength and has kept them well ahead in games when the passing attack hasn't been quite there.
If Alabama stays perfect and earns a title-game invite, look for Richardson to garner a significant amount of votes from those who would have otherwise gone with fellow SEC back Lattimore.
Andrew Luck, QB, Stanford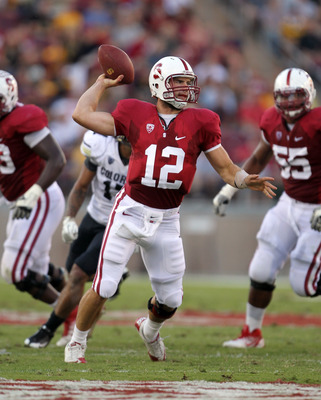 Ezra Shaw/Getty Images
Considered the Heisman front-runner even with Marcus Lattimore in the race, Andrew Luck has done nothing to change that perception.
His Cardinal are still undefeated and ranked eighth in the first BCS poll, but at times it seems as if Luck is the only one keeping Stanford in the national conversation. With NFL teams chomping at the bit to get him, and fans of said teams wanting tanked seasons to do so, Luck will continue to get national recognition even if his team picks up a loss.
His numbers are not the best among the QBs (129 of 181 for 1,719 yards and 18 touchdowns), but his decision-making is second to none. His one-handed catch against UCLA showcased his athleticism and is still one of the season's top plays.
While there is a very real possibility of Stanford finishing undefeated and reviving only a Rose Bowl bid, Luck should and will get votes from all over the country. In terms of the influence of Lattimore's injury, it will have little effect on Luck's chances.
Kellen Moore, QB, Boise State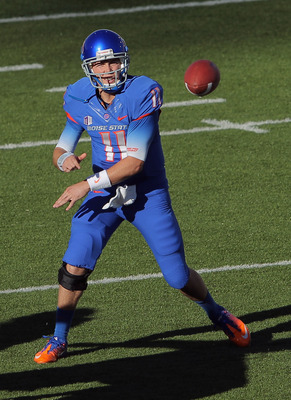 Doug Pensinger/Getty Images
The Bronco's man under center has put up better numbers than the much ballyhooed Andrew Luck, yet his team and weak schedule will do him a disservice. Kellen Moore has thrown for over 1,700 yards and 21 touchdowns, but few voters outside of Idaho know it.
With Lattimore done for the season, Moore has a chance to cement his position among the top five contenders. Boise State should probably finish the season undefeated and miss the title game due to their strength of schedule, but if Moore breaks Timmy Chang's career passing record he will make a compelling case.
The fact that BCS busters will be a part of the national dialogue can only help Moore in the long run. With Stanford and Wisconsin likely to be in the same boat with their own Heisman hopefuls, Boise State being mentioned among such big programs will lend them credence, again helping Moore's campaign.
Russell Wilson, QB, Wisconsin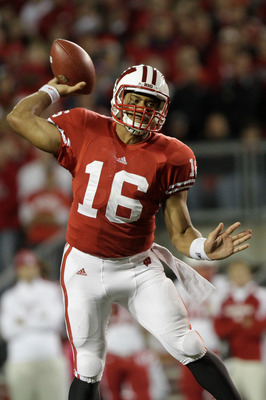 John Gress/Getty Images
Perhaps the most impressive team week to week has been the Wisconsin Badgers out of the Big Ten. In beating their opponents by an average of 40.5 points, the Badgers have looked good on all fronts. Their running game spearheaded by Montee Ball is one of the best in the nation, but most of their Heisman accolades have gone to their QB Russell Wilson.
Due to Wisconsin's incredible offensive balance, Wilson's 1,557 passing yards and 14 touchdowns don't jump out at you because they haven't needed incendiary passing numbers to win. Wilson has simply done what has been asked of him, and done it extremely well, ranking first in the nation in passing efficiency with a 74.22 completion percentage and a praiseworthy 210.93 QB rating.
Like Boise State and Stanford, Wisconsin has a decent chance of winning out and missing the title game in New Orleans. Currently No. 6 in the BCS standings, if Wisconsin goes unbeaten they should ascend a few spots but not crack the top two. Look for Wilson to continue to be among the Heisman front-runners with Lattimore out of the picture.
Robert Griffin III, QB, Baylor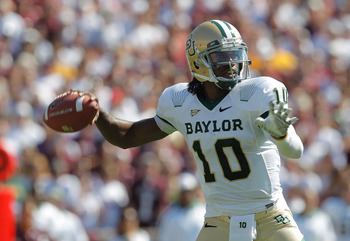 Sarah Glenn/Getty Images
A potential Heisman dark horse is stirring in Waco, and the loss of Lattimore might push him into the conversation.
Robert Griffin III has quarterbacked the Bears to a decent 4-2 and probably a high-profile bowl while putting up some of the best numbers in the nation. Griffin III has already recorded 22 touchdown tosses and has an inconceivable 78.02 completion rate over six games.
He ranks second in the nation in passing efficiency and is the only other quarterback besides Russell Wilson with a season QB rating above 200 (205.71). In 182 attempts, Griffin III has only thrown two picks.
Unfortunately, Baylor's record will turn many off to the senior, yet that might be slightly unfair. Baylor's two losses came to No. 17 Texas A&M and No. 11 Kansas State, losing to the Wildcats by a single point. We could easily be talking about a 5-1 Baylor squad, and Griffin III would be getting more recognition.
With Lattimore out of the race, more quality players like Griffin III will emerge on to the national radar. Hopefully they will all get their due respect.
Keep Reading