Fantasy Spin on Best Performances from Week 6
October 18, 2011
Grant Halverson/Getty Images
We have decided to break this weekly feature into two distinct articles, Best and Worst performances.  Formerly, this was one article, but it got to be a bit long and many of you are surely like me and have the attention span of a flea, which is slightly above the attention span of Vince Young but below that of an toddler.
We don't bother to point the great performances of guys like Ray Rice or Tom Brady, we expect them to rack up numbers like a pinball machine.  We're more interested in looking at performances that signal a change or evolving fantasy football implications.  
Follow up on Twitter @FFSpin for the fantasy football Spin on the latest NFL News.  Here you go...
Dallas Clark (6 rec., 53 yards, 1 TD) –In our Sunday morning live chat (11:00 AM to Noon EST on Sundays) Clark was a hot topic and we recommended that readers not drop Clark.  Our logic was that we believed the Colts were going to (needed to) get him more involved in the passing game.  This wasn't a stellar performance, but it was a sign of life.
FANTASY FOOTBALL SPIN:  Clark isn't going to produce at the levels we have become accustomed to, but we think he's worth keeping or adding to your roster.  Most weeks he will be a low end No. 1 TE or high end No. 2 TE.  He is now the best player they have on offense and they realize he needs to do more than stay in-line blocking if they are going to score points.
Jerome "Escobar" Simpson (6 rec., 101 yards) – Simpson and Andy Dalton took advantage of bad defense and finally looked like they were on the same page.  Dalton has targeted Simpson 41 times this season, so he has been a favorite target, but connecting consistently was an issue until Sunday.
FANTASY FOOTBALL SPIN: As a Bengal, Simpson has legal issues.  It's indigenous to their species.   His particular idiocy is that he apparently thinks a man can't live on the pittance one makes as an NFL player and needs to deal pot, if reports are correct a loooooot of pot.  He certainly looked less distracted (maybe he stopped sampling the product?) and more like the receiver we expected him to be when we listed him a preseason sleeper.  He's a solid No. 4 WR with upside based on matchups.
Greg Salas (8 rec., 77 yards) – Salas made the most of his first start in the slot by  hauling in eight passes for 77 yards.  Those are not eye popping numbers but they signal that Salas is filling the Danny Amendola role.
FANTASY FOOTBALL SPIN:  Salas looked like a solid PPR pickup before the Rams acquired Brandon Lloyd.  Our gut reaction is that it's probably a good thing for Salas since we think he will remain the slot starter.  That is all yet to be seen.The fact that Mike Sims-Walker has been released is a positive sign for Salas.
Rashard Mendenhall (23 rushes, 146 yards, 1 TD) – The writing off of Mendenhall was getting to be a bit much.  Mendenhall ate up an average Jaguars run defense and made all of the owners that stole him away from panicky, spineless owners look like geniuses.
FANTASY FOOTBALL SPIN: Mendenhall is a first-round running back and while the offensive line in Pittsburgh is a mess, this is still a stud RB we are talking about.  He may have more down weeks than you expected when you took him in the first round, that's a function of the O-line, but he's not a sell high candidate in our minds.  He faces Arizona and New England over the next two weeks, a couple teams he should be able to move the ball against.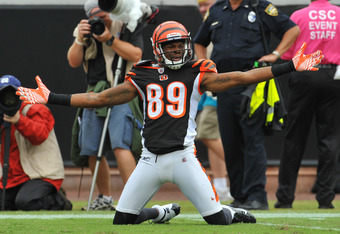 Al Messerschmidt/Getty Images
Fred Davis (6 rec., 95 yards) – Sure, your grandma could post good numbers lined up in the tight end position against the Eagles, but Davis is the real deal.  It wasn't like he was on the receiving end of crisp passes and great QB play.
FANTASY FOOTBALL SPIN: Aside from Week 3 when Davis had just one reception, he has had at least four receptions in every game.  Now that Cooley may be done for the year we really like Fred Davis.  We have more thoughts and expert opinions HERE.  In a nutshell, Davis is a low end No. 1TE from here on out.
Anquan Boldin (8 rec., 132 yards) – For the fourth straight week Boldin didn't get into the end zone.  He did, however, have his best week of the season so far and showed that he can still get it done.
FANTASY FOOTBALL SPIN:  Two of the next three weeks are tough passing matchups for Boldin and the Ravens and we think Boldin owners should take this opportunity to shop him.  We're not convinced that there will be many weeks where Boldin posts No.2 WR or better numbers.  We look at him as a high end No. 3 WR right now.
Earnest Graham – Hopefully you took the limited opportunity to use this guy if you had him on your roster.  One of the most popular questions we had all week was Torain or Graham.  We're happy to say we answered Graham because you can never, ever trust a Shanahan back.  Graham looked as good as the 4.8 ypc average he had coming into the game.
FANTASY FOOTBALL SPIN:  This is still Blount's gig when he's healthy, but the way things are looking Graham should have another week as it appears the Bucs are leaning toward shutting down Blount until after their bye week.  If Blount is out again next week, Graham should have another good game against the Bears who are ranked 22nd in the league against the run.  He is a must-have handcuff for Blount owners.  The bruising running style and character issues Blount has could lead to him missing more time (or doing time, whatever comes first).
Devin Hester (5 rec., 91 yards, 1 TD) – For the second consecutive week Hester tallied five receptions and this time he managed to turn those catches into yards and a trip to the end zone.  We're going to get a snap count and add it to this shortly, but odds are he is seeing an increasing percentage of the team's snaps.
FANTASY FOOTBALL SPIN:  Hester did suffer an injury so we will have to see the extent of that before knowing his value long term for sure.  Provided Hester isn't sidelined we think he is worth adding to your roster as a bye week replacement.  His emergence as a productive fantasy WR seems to be predicated upon the awful offensive line play.  Cutler does the hot potato thing and gets rid of the ball quickly because he has not time to let a play develop.  That is working in Hester's favor right now.
Brandon Marshall (6 rec., 109 yards) – There were several factors decidedly against Marshall having a good outing on Monday night.  First there was the fact that the backup QB was making his first start of the season, second; said QB was named Matt Moore, and third; Marshall was checking into Revis Island.  We don't care about the costly drops because this is fantasy football —it was a better than expected night.
FANTASY FOOTBALL SPIN:  Marshall's too inconsistent to be trusted as a true No. 1WR but he will post those kind of numbers several more times this year and he'll have high end No. WR numbers several more times.  He faces average pass defenses the next four weeks and that should help his numbers.  In PPR leagues Marshall owners have a good point producer the rest of the way.
That wraps it up.  Check out the Fantasy Football Spin on the Worst Performances of Week 6 HERE.