Raiders Trade for Carson Palmer: It's Not as Bad as You Think
October 18, 2011
Matthew Stockman/Getty Images
Admittedly, I'm a Raiders fan, but I like to think that I'm a fairly reasonable one. I have mixed feelings about the Carson Palmer trade, and here's why:
In the one sense, I'm really excited to have Palmer. Assuming he stays healthy, he'll most certainly be the best QB we've had since Rich Gannon (and it's hardly a coincidence that the Raiders' decade of futility matches that span). And that's even if Palmer is only as good as he was the last two seasons (in which he wasn't awful, just not as good as he used to be.)
Here are his numbers since missing the 2008 season with a knee-injury:
2009:
Completion Percentage: 60.5    
Passing Yards: 3,094
TD/INT : 21/13
Passer Rating: 83.6
2010: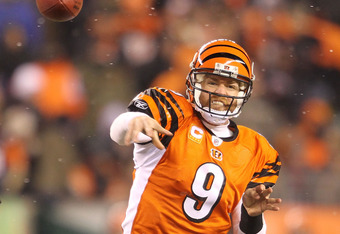 Andy Lyons/Getty Images
Completion Percentage: 61.8
Passing Yards: 3,970
TD/INT: 26/20
Passer Rating: 82.4
Compared to Jason Campbell's 2010 (his only season as a Raider):
Completion Percentage: 59.0
Passing Yards: 2,387
TD/INT: 13/8
Passer Rating: 84.5
So to me, it seems clear that even if Palmer can only perform at the level of his last two seasons (and there's certainly reason to believe that he can improve those numbers) he's still a significant upgrade over not only Jason Campbell, but Kyle Boller or whoever else the Raiders would have found to replace Campbell (Vince Young? Yikes).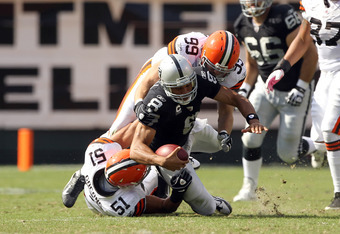 Ezra Shaw/Getty Images
With all that said, was two first round picks (actually one first and a second rounder which could potentially become a first rounder in 2013) too much? Without question, the answer is yes.
But I'm also a firm believer that draft picks are WAY overvalued in the NFL. When you look at the history of the draft, at least 50 percent of first round picks become COMPLETE busts. Another 30 percent or so end up average players who under perform their first-round expectations but play in the league for five or six years, while only about 20 percent end up playing to their first-round talent. 
That's not to mention what comes in later rounds. NFL front offices are way too overzealous in regards to draft picks because they're all so ego-maniacal as to think that THEIR department won't make the mistakes that OTHER departments make. In reality, every single front office drafts busts. Every single one. 
So, in the skewed context of the NFL market, two first round picks is too much to give. But, it's not as absurd as it appears at first glance, because that market is so ridiculous. The Raiders really don't have any glaring needs now, in terms of personnel for the next two seasons, even though they could use some CB depth. They have a surprisingly deep roster with a lot of young talent.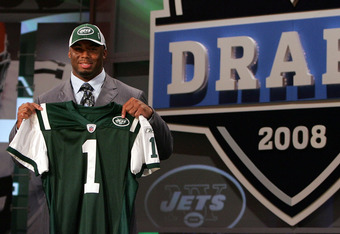 Jim McIsaac/Getty Images
It's also worth mentioning that the comment that seems to be going around that, "The Raiders don't have any picks in the upcoming draft" isn't entirely accurate. They'll most likely have three compensatory picks for Nnamdi Asomugha (a third rounder) and both Zach Miller and Robert Gallery (probably two, fifth round picks, maybe Miller a fourth) 
So they'll still have a few picks to play with.
Overall, as a fan, I would rather error on the side of taking big risks and trying to win now, than playing it safe and asking rookies to help us down the road.  If Palmer can play as well as the Raiders think he can, the Raiders just became one of the most dangerous teams in the AFC.
And if not now, then when?  We've been waiting a decade to be relevant.  We can't let that relevance pass without taking a big shot at making it count right now.