BCS Rankings 2011: Michigan and 5 Teams That Are Horribly Overrated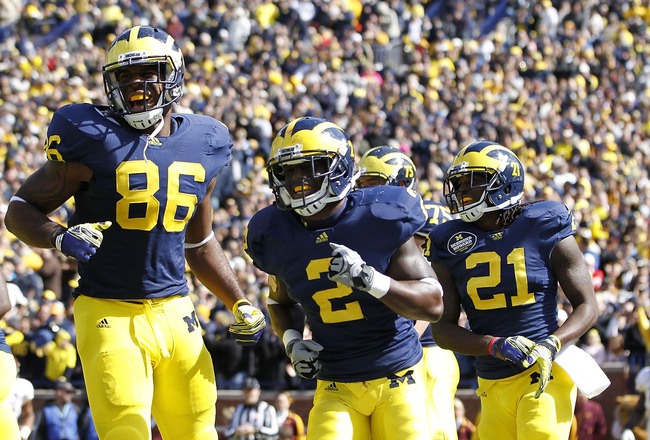 Leon Halip/Getty Images
The first BCS standings are out for 2011 and, as always, there are debates all around the country over who should be ranked where.
Everyone has a different opinion on who has been ranked too highly or has been hard done by.
Here is a look at five teams that could be considered lucky to be as high as they are.
No. 11 Kansas State (6-0)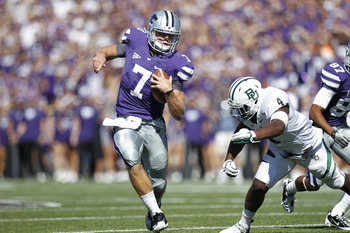 Joe Robbins/Getty Images
Kansas State has surprised many with their perfect 6-0 start to the season in a strong Big-12 conference.
It is probably a bit harsh to be putting them in an overrated list, but even with an unbeaten record, a BCS ranking of No. 11 seems a bit high for the Wildcats.
They have beaten some decent opposition, noticeably Baylor and Texas Tech, but they have a daunting few weeks coming up. Kansas State fans should enjoy the lofty heights of No. 11 while they can.
They face four ranked teams, Oklahoma, Oklahoma State, Texas A&M, and Texas in four straight weeks. That will bring them back down to Earth.
No. 12 Virginia Tech (6-1)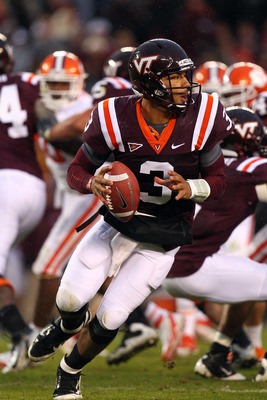 Ned Dishman/Getty Images
Virginia Tech has quietly moved to 6-1-good enough for 12th in the BCS standings.
But when you look at who the Hokies have played so far, it seems to be a very generous ranking.
They have faced only one ranked team this year, Clemson, and were well beaten. Additionally, they only just got past East Carolina and Miami.
Looking at their remaining schedule, Virginia Tech has a good chance of getting several more wins in a reasonably weak ACC Coastal division. But at this stage, they shouldn't be considered among the top 12 teams in the country.
No. 14 South Carolina (6-1)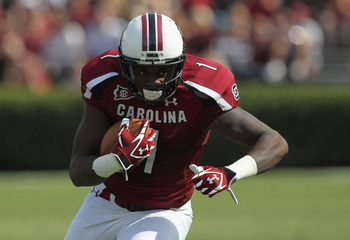 Streeter Lecka/Getty Images
This could be seen as a bit harsh to consider 6-1 South Carolina overrated with their BCS ranking of 14.
But this is more of a prediction of what is to come. A large chunk of the Gamecock attack is now missing in the form of running back Marcus Lattimore—out for the season with a knee injury.
Also, troubled by uncertainty at the quarterback position, they have been fortunate to scrape through a few of their wins including Georgia, Navy and Mississippi State.
Their only slip up was a 3-point loss to Auburn. The Gamecocks are undoubtedly a talented squad, but their upcoming schedule includes top 10 BCS teams Clemson and Arkansas.
No. 15 West Virginia (5-1)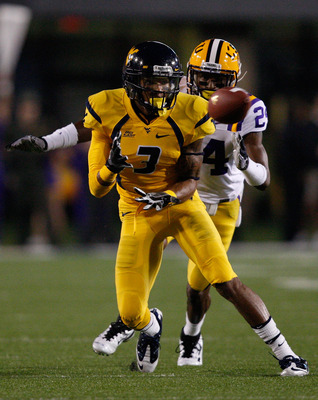 Jared Wickerham/Getty Images
West Virginia has had several convincing wins this season and are sitting at 5-1.
But they haven't really played anyone good other than No. 1 in the country LSU who handed the Mountaineers their only loss of the season.
With a reasonably straight forward run through the Big East conference in the coming weeks, West Virginia may well keep on winning.
But with the strength of their schedule, they shouldn't be considered as a top 15 team. They are definitely one of the more overrated teams at the moment.
No. 18 Michigan (6-1)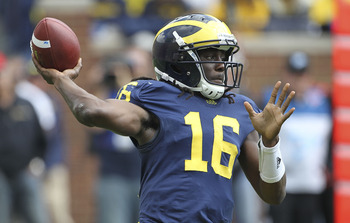 Leon Halip/Getty Images
To be fair to Michigan, they have been an improved squad this year and currently hold a 6-1 record.
However, like West Virginia, the Wolverines haven't really played anyone of note other than Michigan State who beat them over the weekend.
They face a tough schedule in the next few weeks and will probably lose at least two more games this season.
A BCS ranking of 18 seems a bit high for a team who have yet to really prove anything.
Keep Reading