Milwaukee Brewers: Can They Get Back to Postseason Without Prince Fielder?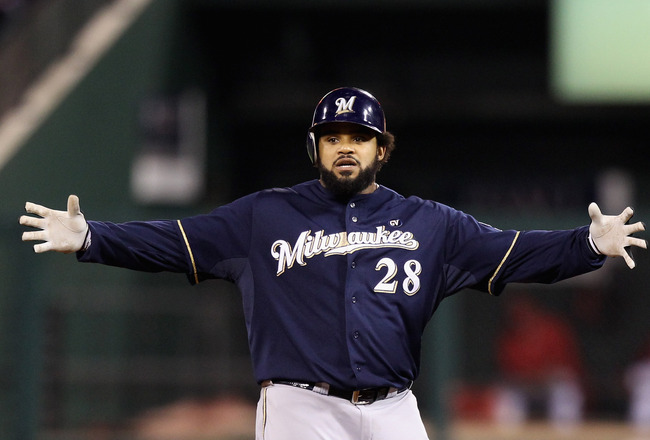 Christian Petersen/Getty Images
The Milwaukee Brewers made big strides this season.
They were crowned the National League Central champions after a 96-66 regular season record.
The Brew Crew then fell one step short of a World Series appearance, losing to the St Louis Cardinals 4-2 in the National League Championship Series.
As they look forward to next season, they do so knowing they will probably be without one of the main reasons they got to the playoffs—first baseman Prince Fielder.
Here is a look at some reasons, for and against, as to whether the Brewers can make it back to the postseason without Fielder.
Why They Will Go Back: The Brewers Rotation Will Remain Intact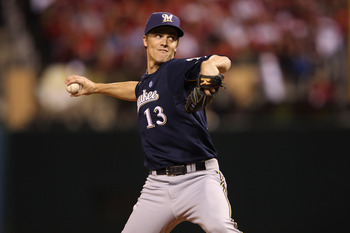 Jamie Squire/Getty Images
The most important reason that Milwaukee can get back to the postseason is the return of their entire starting pitching rotation.
Barring any trades, the Brewers will have Zack Greinke, Yovani Gallardo, Shaun Marcum, Randy Wolf and Chris Narveson returning to Miller Park.
While the pitching faded down the stretch this season, they are still one of the better starting rotations in baseball and are full of quality arms for a small market team.
There may be some changes to the bullpen, which could probably do with some freshening up anyway, but they shouldn't be too significant.
Why They Won't Get Back: The Prince's Production Will Be Gone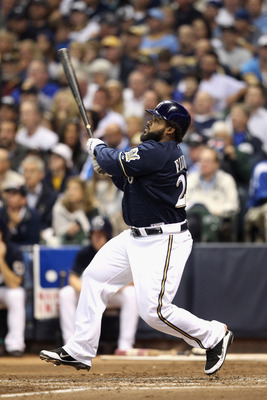 Christian Petersen/Getty Images
The most important reason that Milwaukee may struggle to get back to the postseason is just how much offense they will lose when Prince Fielder leaves.
It is hard to replace someone who was second in Major League Baseball in RBIs (120) and had the fifth most home runs (38).
Fielder was also high up the list in on base percentage and slugging percentage.
Another key stat with Fielder is his durability—he was the only player in the majors to start all 162 games this season.
He will be irreplaceable for Milwaukee and is a pretty safe bet for a team willing to splash the cash on a world-class slugging first baseman.
Why They Will Go Back: The Team Now Has Playoff Experience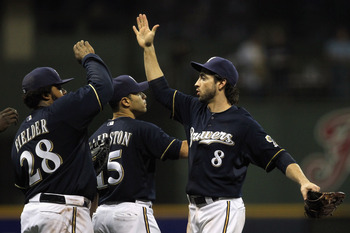 Jonathan Daniel/Getty Images
For a baseball club that has been starved of playoff baseball for the past couple of decades, Milwaukee now has a core group of players who have that experience.
The majority of the starting line-up will return and will be so much richer for the experience of the 2011 playoffs, while many also appeared in the Brewers National League Division Series in 2008.
And after such a good season, potential free-agents like relievers LaTroy Hawkins and Takashi Saito, and utility man Jerry Hairston Jr., might be keen to hang around on a potential playoff roster.
Key figures that Milwaukee will lean to outside of their pitching staff include Ryan Braun, Rickie Weeks and Corey Hart.
Why They Won't Go Back: Defense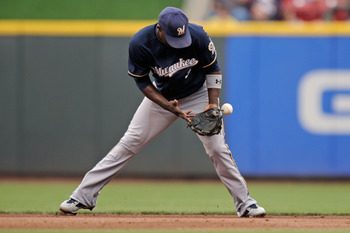 Jamie Sabau/Getty Images
This was clearly a huge problem for the Brewers throughout the season and, in particular, the postseason.
During the regular season, Milwaukee had 111 errors which was the ninth worst in Major League Baseball.
And when it mattered most, they got even worse. They had nine errors in six National League Championship Series games and 12 in total in their 11 postseason games.
Their lapses on defense cost them a number of games this year. This needs a big improvement because in what is likely to be another tight National League Central race next year, they will need to squeeze out every win they can.
The Bottom Line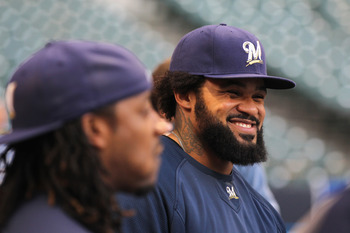 Jonathan Daniel/Getty Images
The loss of one player, even one as big as Prince Fielder, is not enough to suggest the Brewers can't make it back-to-back postseasons for the first time since 1981-82.
He will be impossible to replace and leaves a big hole to fill at first base. However, other than that most of the pieces are in place for another postseason run.
After listening to the comments of the players after their National League Championship Series loss to the St Louis Cardinals, they certainly believe they have what it takes to return to October baseball in 2012.
Keep Reading

Milwaukee Brewers: Like this team?