15 Predictions for the 2011 MLB Offseason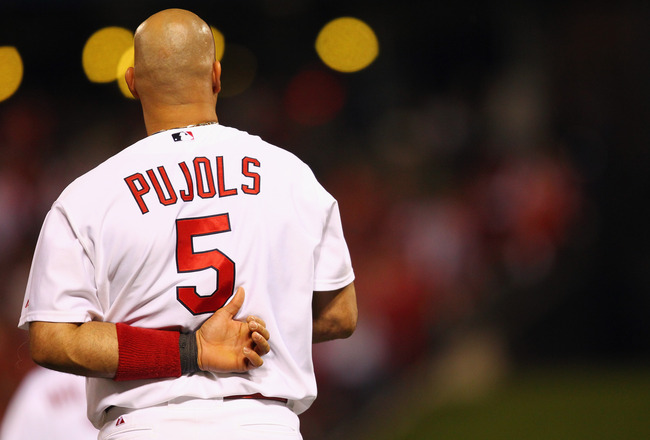 Dilip Vishwanat/Getty Images
After a whirlwind 2010 offseason we could expect even more in 2011. Albert Pujols, Jose Reyes, Prince Fielder, C.J. Wilson, CC Sabathia and Roy Oswalt are all potential free agents. And who can ignore the next up-and-comer from Japan, Yu Darvish?
There will be a lot of money flying through the market.
However, it is not just the free-agent market. After disappointing seasons for many teams, the trade market is abound with names, from James Shields to Joey Votto. The Dodgers, and their financial woes, will attempt to bring back Matt Kemp, Andre Ethier and Clayton Kershaw—but can they?
The following is a preview of predictions for this winter. Some are bolder than others, but in the MLB all have a level of possibility.
The Los Angeles Angels Sign Jose Reyes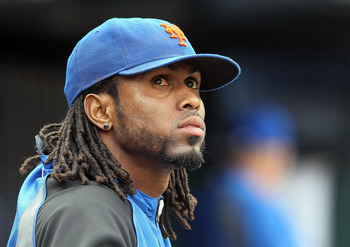 Jim McIsaac/Getty Images
Last season the Los Angeles Angels went hard after Carl Crawford and missed out. Instead, they had to settle for Vernon Wells (who had an abysmal season). 2011 gives the Angels a second chance, as Jose Reyes is poised to hit the market.
Reyes fits the same bill as Crawford. The 28-year-old is a career .292/.341/.441 hitter and is coming off a season in which he had a career high in OPS (.877) and won the MLB batting title (.337). The light-footed switch-hitter has averaged 41 steals a year over his nine MLB seasons and has stolen as many as 78 in one season (2006).
Reyes' athletic build, horsepower and contact swing make him a perfect fit in Mike Scioscia's lineup. His glove is versatile, as he has played both second base and shortstop in his career. Combined with Howie Kendrick and Erick Aybar, LA could have a plethora of fielding setups at its disposal.
Reyes will require a sizable financial commitment, but the Angles can handle it; LA could see up to $50-plus million coming off the books in the next two seasons. Once slotted in the lineup the Angels could have one of the quickest—and most potent—lineups in all of baseball.
Potential 2012 Angels Lineup:
C Jeff Mathis
1B Kendry Morales
2B Howie Kendrick
SS Jose Reyes
3B Erick Aybar
LF Torii Hunter
CF Mike Trout
RF Vernon Wells
DH Mark Trumbo
The Rangers Sign CC Sabathia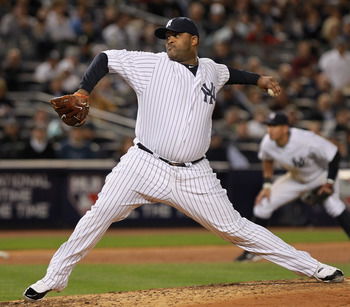 Nick Laham/Getty Images
Before the playoffs were even over, a report leaked that the Texas Rangers were preparing to throw money at CC Sabathia. After losing Cliff Lee last season, and possibly losing C.J. Wilson this season, the Rangers cannot afford to enter 2012 without an ace.
Sabathia currently has an opt-out clause that will allow him to hit free agency and bypass the last four seasons on his contract. Though the ace pitcher has displayed a love for New York, there is no reason for him to not opt out. His stock has certainly risen since going to the Yankees, and in a down market for starters he could make a lot more money.
The power lefty has the build Texas team president Nolan Ryan loves. He has a devastating repertoire, headlined by an epic fastball; he is a workhorse, accumulating more than 230 innings every season, since 2007; and he displays pinpoint control, headlined by a career 2.78 K/BB and 2.3 BB/nine.
The Rangers have made it to the World Series two seasons in a row and are ready to throw money at Sabathia. Despite his success in New York, Sabathia will be hard-pressed to not weigh all his options. In the end, there is a great chance Texas will win him over.
The Brewers Re-Sign Prince Fielder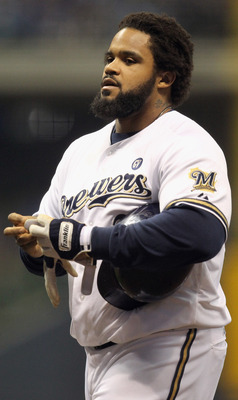 Jonathan Daniel/Getty Images
Despite speculating that 2011 could be his last season in Milwaukee, there is a chance Prince Fielder could stay with the Brew Crew. Fielder has seen great success in his career with the Brewers. The big lefty has spent his entire career in blue and gold and it's brought success. Fielder has a career line of .282/.390/.540, while posting 30-plus home runs every season from 2007-2011.
2010 saw the Brewers make some great trades, bolstering their rotation with Shaun Marcum and Zack Greinke. Milwaukee came close in 2011, falling just short to St. Louis in the NLCS. The bottom line is the Brew Crew showed they are prepared to fight for their division and compete. Without Fielder, that goal becomes that much further out of reach.
Mark Attanasio, owner of the Brewers, has already stated he is ready to make an effort to re-sign Fielder for 2012. In 2009, Milwaukee did make an attempt to keep Sabathia from leaving to free agency; however, that year it was competing against the Yankees. In the current market the Brewers have a leg up. Most of the big spending teams have first basemen locked up; also, Fielder profiles as a DH in the AL and no AL team will want to throw over $20 million a year for a DH.
With the current market, and Milwaukee's determination, Fielder is not going anywhere.
C.J. Wilson Heads to Detroit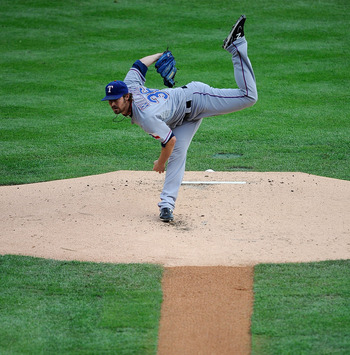 Kevork Djansezian/Getty Images
Despite dominating the AL Central and coming close to the World Series, the Detroit Tigers are an incomplete team heading into the 2011 winter. Despite having Justin Verlander, the playoffs showed they lack solid pitching. In their six playoff losses, opponents averaged 8.5 runs per game (take out the Rangers' 15 runs from Game 4 of the ALCS and it is still 7.2 runs per game).
This year's free-agent pool gives the Tigers the perfect opportunity to strengthen their rotation by signing C.J. Wilson.
Wilson, age 30, is coming off his best year yet, in which he went 16-7 with a 2.94 ERA in 223.1 IP. The left-hander posted his second season in a row with 200-plus innings and his first season ever of 200-plus strikeouts. Wilson has great numbers for someone who pitchers in a hitter's park, and his away numbers show great promise. Put him in a pitcher's park like Comerica and he could flourish.
With the signing, Detroit would have one of the best rotations in baseball:
1. Justin Verlander
2. C.J. Wilson
3. Doug Fister
4. Max Scherzer
5. Rick Porcello
Another thing Detroit has going for it is that it certainly has the money. As the second-best starter on the market (if Sabathia opts out), Wilson could command $15-$20 million per year, for four to six years. After averaging a $128,921,913 payroll from '08-'10, the Tigers cut back spending in 2011, posting only a $106,953,000 payroll. Detroit can shave off a potential $30 million to free agents.
Dave Dombrowski has money to spend and is looking to get his team back in the World Series; C.J. Wilson would be a step in the right direction for 2012.
The Chicago Cubs Land Albert Pujols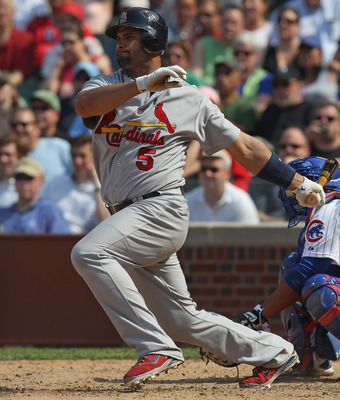 Jonathan Daniel/Getty Images
He is arguably the best hitter of the 21st century. His career line is .328/.420/.617 and he has never had fewer than 30 home runs or has a career batting average of 3.28. From 2001 (the start of his career) to 2011, he leads all players in WAR at 87.8. As for hardware, he has three MVPs, two Gold Gloves and one World Series ring.
Through seven NLDS, five NLCS and two World Series appearances, he has hit .339/.441/.603 with 15 home runs. He is Albert Pujols and, for the first time in his career, the "Prince" could hit free agency.
It seems crazy that St. Louis would let its prolific first baseman go, but that seems to be where things are headed. For two years now the Cardinals have failed to further extend the right-hander. With a franchise-high $109,048,000 payroll in 2011 and minimal money coming off the books for 2012, Cardinal's GM John Mozeliak does not have much financial wiggle room. The two parties have never seemed on the same page and they are running out of time for an extension.
Meanwhile, the inter-division rival Chicago Cubs look poised to make a push for the NL Central. Chicago's highest franchise payroll came in 2010 at $144,359,000; this season it was only $134,004,000. The Cubs could see up to $40-plus million come off the books this offseason.
What better way for new Cub's GM Theo Epstein to make a statement to the division than signing the best player in baseball?
Pujols would give Chicago a franchise player to build around. His bat and glove are exactly what the anemic Cubs lineup needs. Prince Albert is approaching 32 but has never shown any sign of slowing down, and his track record with injuries and surgeries is incredibly impressive.
If St. Louis lets No. 5 go, there is a good chance he is not leaving the division, always reminding the Cardinals of the one that got away.
David Wright Hits the Trade Block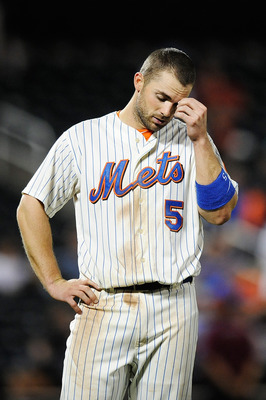 Patrick McDermott/Getty Images
Another No. 5 (not quite as prolific as Pujols) who could be changing teams this season is the Mets' David Wright.
Despite having a career line of .300/.380/.508, Wright has struggled the last three seasons. After moving to Citi Field in 2009, the right-hander hit well but posted a career-low .447 slugging percentage. 2010 saw the power return to the tune of 29 bombs, but his strikeout percentage rose by two percent while his walk percentage fell by two percent.
Finally, 2011 seemed a lost year, as Wright had a career-low .771 OPS while missing two months to injury. The glove has also disintegrated, with the third baseman posting a -10+ UZR for three years in a row.
Mets' owner Fred Wilpon has been negative of his star player. In May 2011 he described Wright as "a really good kid, a very good player. Not a superstar."
As New York looks to remodel its team, now might be the time to shop Wright. Third base is a hot commodity on the market. Even though he had a bad 2011, Wright will be 29 on opening day of 2012. He is a former member of the 30-30 club. Some team will easily take a chance on a player like Wright.
As we approach winter it seems more and more likely that David Wright will be on the trade block for 2012.
The Red Sox Make a Blockbuster Trade for a Starter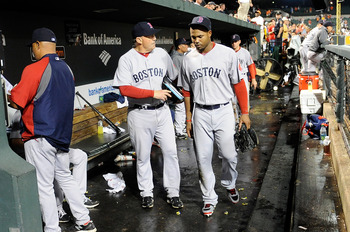 Greg Fiume/Getty Images
In 2010 the Boston Red Sox scored 5.05 runs per game. The team finished third in the AL East, and it became obvious the lagging offense needed a talent injection. During the offseason Theo Epstein went out and acquired Adrian Gonzalez; as a result, the Sox scored 5.40 runs per game, leading all teams in 2011.
As Bostonians lament their dreadful September, one thing remains clear: The Red Sox pitching needs a serious upgrade. To fix the offense Boston went out, made a blockbuster trade and got its man. To fix the pitching, the Sox need to approach this offseason the same way.
The trade market for aces is deep, and Boston needs that blockbuster to get it back on top. What better way for Ben Cherrington to ingrain himself as the new Red Sox GM? When Boston wants a man, it goes out and gets it—expect the same this winter.
The Boston Red Sox will make sparks fly when they finally acquire that No. 2 ace to back up Jon Lester.
Frank McCourt Loses the Los Angeles Dodgers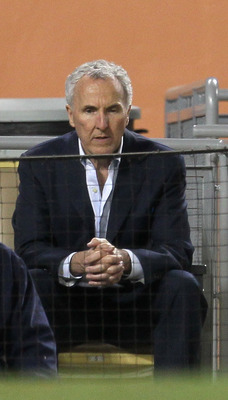 Stephen Dunn/Getty Images
With the McCourt divorce finally settled, the Dodgers ownership battle with Bud Selig is headed for closure. With all possible outlets—and loans—denied, it seems the MLB is set on wrestling control of the Los Angeles franchise out of Frank McCourt's hands. The bottom line is that McCourt spent all of 2011 under scrutiny for his handling of the Dodgers financials and Selig has constantly stone-walled him when it came to getting loans.
McCourt has received offers to buy the team but has yet to respond. Selig has given him ways out, but he refuses to relinquish control. Once the season comes to a close it will be Selig's No. 1 priority to see this thing come to an end.
The only outcome MLB wants: Frank McCourt loses the Los Angeles Dodgers.
The Bronx Bombers Acquire Matt Cain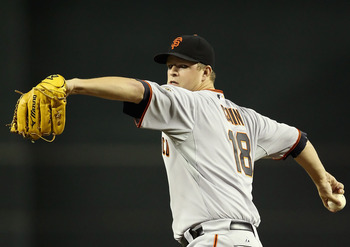 Christian Petersen/Getty Images
It seems absurd. Why would the San Francisco Giants let Matt Cain go? The ace has five seasons of 200-plus innings, a career 3.35 ERA and is coming off a season in which he went 12-11 with a 2.88 ERA and 2.84 K/BB. Cain does not have overly powerful stuff, as evidenced by his 7.4 career K/nine, but he has always exhibited pinpoint control and good pitches.
Why trade a 27-year-old workhorse who has really come into his own the last three seasons? Because there is a strong market for him.
San Francisco has Tim Lincecum to build a rotation around, and the emergence of Madison Bumgarner makes Cain expendable. The Giants are in desperate need of offense, and this could be the best way to acquire some prospects.
Meanwhile, the New York Yankees are desperate for pitching. They got strong results from Bartolo Colon and Freddy Garcia in 2011, but they cannot continue to rely on striking it big with washed-up talent. The Bronx Bombers have already been connected to Cain, with trades being built around Jesus Montero.
Montero, a 21-year-old catcher out of Venezula, has a stunning minor league line of .308/.366/.501. He profiles as a catcher, so San Francisco will have to play the lineup game with Buster Posey, Brandon Bel, and Montero switching between catcher, first and possibly left field.
However, with a need for young hitting, the Giants cannot afford to sit on Cain.
Aramis Ramirez Puts on Dodger Blue
Tasos Katopodis/Getty Images
Despite having a $16 million team option, all signs point to the Chicago Cubs letting go of Aramis Ramirez this winter. Ramirez holds a career line of .284/.342/.510 and averaging 27 home runs a year over the last 11 seasons. The 33-year-old has never had a strong glove, but his bat is potent enough.
This year the Dodgers will be losing Casey Blake from the hot corner and will be looking for a strong replacement. Ramirez is the perfect fit. The right-handed bat brings power to the lineup.
LA will be losing a lot of players to free agency, and Ned Colletti will have some money to play with. A three-year, $45 million deal for Ramirez would be a perfect fit. The issue for the Dodgers is knowing where their payroll will lie. With ownership in flux, a change could mean a cut in spending. Once a payroll is set, you can bet that Colletti will weigh all his options.
Potential 2012 Dodgers Lineup:

C Rod Barajas
1B James Loney
2B Jamey Carroll
SS Dee Gordon
3B Aramis Ramirez
LF Tony Gwynn
CF Matt Kemp
RF Andre Ethier
The Atlanta Braves Sign Jimmy Rollins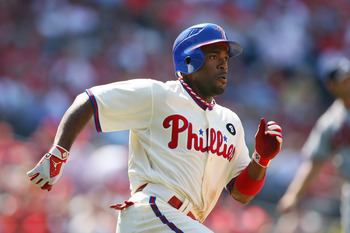 Hunter Martin/Getty Images
Despite lacking a replacement, the Phillies seem poised to let shortstop Jimmy Rollins go in 2011. Philadelphia pushed a $165,976,381 payroll this season and will be looking for a way to shave as much money as it can.
Despite a less-than-stellar .272/.329/.432 career line, J-Roll excels on the base paths and with the glove. The 33-year-old switch hitter has averaged 31 swipes a year over his career; also, he averages 90 runs scored a season. Rollins has used his athleticism to garner three Gold Gloves over his career, and he consistently posts a strong UZR.
The Braves need everything Rollins is: a leadoff hitter and a good glove. Atlanta's offense has withered without a stellar leadoff man and bad defense has cost it a number of games. With an aging Chipper Jones at third, the Braves could stand to shore up the left side of the field. Frank Wren should have just enough financial wiggle room to nab Rollins.
Paired with the acquisition of Michael Bourn, during the 2011 season, the Braves could feature one of the fastest one-two punches in all of baseball.
The Colorado Rockies Nab Michael Cuddyer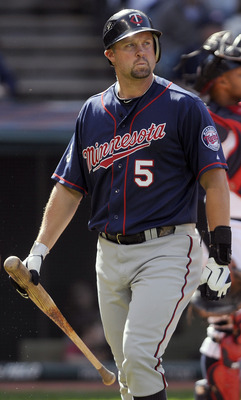 Jason Miller/Getty Images
It has been a while since the Rockies have seen production out of third or second base. Hope lies in the bat of Ian Stewart, and though just 26 it has become more and more apparent he cannot make the transition to the MLB. The Rockies rotation is set after trading Ubaldo Jimenez for two promising pitchers in Alex White and Drew Pomeranz. Dan O'Dowd must now focus his attention on balancing his lineup.
The Rockies' best option is Michael Cuddyer. The 32-year-old has come into his own the last few seasons and has a .272/.343/.451 career line, while having average right-handed power. Cuddyer's true value lies in his ability to play the field. He could easily be classified as a super utility player, having experience at every position except for catcher and shortstop. Where most utility players fall short in that they cannot support an every-day bat, Cuddyer excels.
Cuddyer's flexible glove and more-than-adequate bat make him the perfect fit for the Colorado Rockies.
The Minnesota Twins Make a Move for James Shields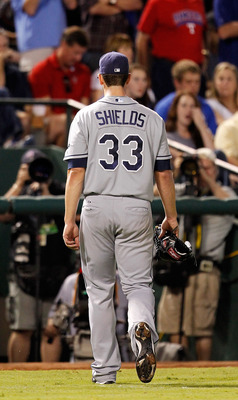 Tom Pennington/Getty Images
With one of the most well-stocked farm systems in baseball, the Tampa Bay Rays are able to continuously turn established players into lucrative trades, all while staying competitive.
Their next player to be shipped out could be pitcher James Shields. After two disappointing seasons, Shields had a huge 2011, going 16-12 with a 2.82 ERA, 11 complete games and a 3.46 K/BB. The 29-year-old has always had fantastic control, but he took his game to a new level this past season. With only options left on his contract, now is the perfect time for the Rays to shop their star workhorse.
Meanwhile, the Minnesota Twins are in desperate need of pitching. After winning the division two years in a row, the Twins had an abysmal 2011, finishing last in the AL Central. Only one of their starters had a winning record, while only one was able to pitch 200 innings. Shields' workhorse mentality makes him the perfect fit for Minnesota.
The biggest issue is the Twins are not exactly deep in MLB ready talent. If they want to acquire a stud like James Shields, they might have to get creative.
Joey Votto Stays Put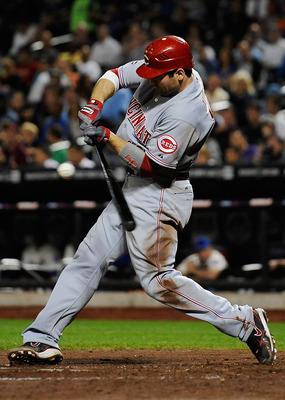 Patrick McDermott/Getty Images
These rumors are gaining a lot of steam.
After a disappointing 2011, the Reds are searching for a way to make their team better. The current theory is that they are shopping All-Star first baseman Joey Votto. The powerful lefty has emerged as one of the best players in baseball, touting a career .313/.405/.550 line and averaging 27 home runs a season over the last four years.
However, the Cincinnati payroll is pushing its limit, and with only two years left on Votto's contract the belief is he will be too expensive for Walt Jocketty's tastes.
With top prospect Yonder Alonso ready to take over at first it could be a good time for Votto to be shopped. The biggest issue is who would deal for him. The top candidates are Seattle, Tampa and Toronto.
Tampa
Possible Tampa Bay trades revolve around a Votto for Shields swap. The Reds could use a veteran pitcher, and the Rays have an anemic offense. However, it is not the Rays' style to trade for big hitters. Also, why trade a couple seasons of Shields for a couple of seasons of Votto? If Shields was traded for prospects, the Rays would gain longer-term returns.
Seattle
Once again, not the franchise's style. Jack Zduriencik has spent his time as Seattle's GM building the Mariners farm system. Seattle is on the verge of one of the best rotations in baseball, and it would be foolish to relinquish that talent. First base is also covered by Justin Smoak, who has shown a lot of promise.
Toronto

The Jays could use the first baseman and have the talent to spare. However, Alex Anthopoulos has spent his tenure acquiring fantastic young talent and has his team on the verge of competing in the AL East. It seems unlikely he changes his approach now.
The Offseason Becomes One for the History Books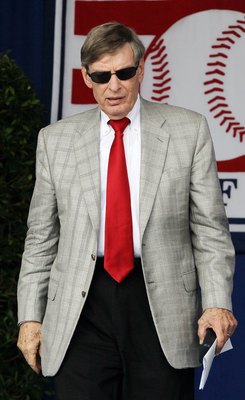 Jim McIsaac/Getty Images
The bottom line of all these predictions: We are in store for an exciting 2011-2012 offseason. Pujols and Sabathia lead an explosive free-agent market that is not particularly deep but has some amazing talent. The trade market is incredibly deep with the potential for a lot of swaps, particularly with starting pitching.
Then there is still Yu Darvish, but after the Dice-K disaster, who knows who will take a shot on the latest Japanese phenom.
With the Royals, Pirates and Indians putting up fights in 2011, there might be some surprise players in the markets this season, which, is another thing to look forward to. This will certainly be a dynamic offseason and one all baseball fans should enjoy.
Keep Reading