Bandwagon Ride Over: Thanks for the Memories, Milwaukee Brewers
October 18, 2011
Jonathan Daniel/Getty Images
Preface No. 1:  I am a die-hard Cleveland Indians fans.  I am talking a big-time, MLB Extra Innings-having, jersey-wearing, at-least-once-a-year-road-tripping-to-Cleveland, Jim Thome-loving Tribe fan.
Preface No. 2:  My girlfriend moved to Milwaukee this summer for grad school, and I have fallen for the city of Milwaukee.
Those two reasons, my love of my Tribe and being a part of a suffering fan base, and my proximity to the city of Milwaukee, allowed me to hop on the Brewers bandwagon for the last two months or so, and enjoy the ride for all it was worth.
I've always kind of liked the Brewers, if for no other reason than I hate the Cubs and White Sox and don't care for the Cardinals—all the "local" teams to someone in the Quad City (Iowa/Illinois) area.  But, until this fall, I didn't pay too much attention to the team or the fan base.
When my girlfriend decided where she was going to grad school, I immediately got excited because I had never lived within three hours of any MLB park.  Granted, I wasn't moving to Milwaukee yet, but pretty darn close.  When her apartment turned out to be 10 minutes from Miller Park, I took a real interest in the NL Central race.
We attended a late-season Brewers-Cubs game.  Nothing can get me rooting for a team like pitting them against the Cubs.  In that game I saw Yovani Gallardo pitch in person for the first time since his rookie season, and saw Ryan Braun go deep for the first time in person.  It was great fun.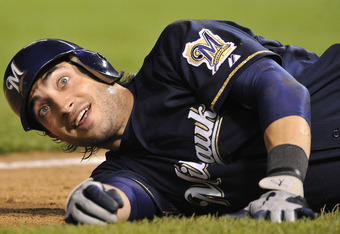 David Banks/Getty Images
Due to the Tigers pulling away by late August, the Tribe were out of the race.  With the playoffs approaching, I took to the Brewers.  I cheered when they wrapped up the division.  I loved when I saw my favorite athlete of all time, Reggie Miller, applauding his neighbor, Ryan Braun, as he fell rounding third base.  I entered into the drawing for Brewers playoff tickets and somehow won a chance to purchase tickets to Game 1 of the NLDS against Arizona.
We went to Game 1 and tailgated with the Brewer faithful.  I wore a Brewers hat and shirt, and felt a little bit like a traitor, but if anybody asked me, all October, I always said I was a Tribe fan first and a Brewer fan second.
On a side note, I hate fake fans.  I don't mean people like myself, who stay loyal to a team, but cheer for another team in hopes that they and their fanbase can experience joy when my own team is already out of it.  I mean fake fans in the sense that they don't pay attention to their own team until the grass is green and the sun is shining.  This is why I consider my pulling for the Brewers to be acceptable sports fan etiquette.
I love the Tribe, but the Brewers gave me a month or so of excitement and welcomed me onto their Beast Mode Bandwagon. 
I enjoyed my time tailgating and cheering with the Milwaukeeians.  I drank some Miller and ate a brat.  I sat in literally the farthest row away from the action in Miller Park and witnessed my first ever live MLB Playoff game.
What did this bandwagon do for me?  Two things.  First, it made me like the Brewers franchise and its fans a little bit more, providing me with a team to follow in the NL, especially while I have ties to the city. 
Second, it got me more excited, if possible, for the next October run by the Cleveland Indians.  Seeing the joy of the long tortured Brewers fans as they won the NLDS on Nyjer Morgan's RBI single made me long for the days of Jaret Wright, the days of C.C. Sabathia and the days of the Midges.
So in summary: Thank you, Milwaukee.  You captured the interest of America and allowed me to enjoy your city in spite of the fact it has stolen my girlfriend for two years of school.  Your fans, your park and your beer have been great.  You have a new sort of fan in Geoff Estes.
Unless, of course, they are playing the Indians.  In which case, I hope you start Shaun Marcum.