Minka Kelly: The Hottest Pics Ever of MLB's Sexiest WAG
With the seemingly impending restoration of Minka Kelly and Derek Jeter's relationship, let us appreciate her past and possibly why their reconciliation is beneficial.
Arguably baseball's sexiest WAG, the Charlie's Angel has never been shy for her fans, always presenting iconic, yet subtly cute displays of affection on the camera.
Her quiet aura complemented the high-flying lifestyle of her illustrious "former" beau. Now they may be joining forces yet again.
Here's the best of Minka Kelly in 20 distinct shots.
Enjoy.
Begin Slideshow

»
Right here she is portraying the typical innocent actress on set who lacks a clue as to why the surrounding paparazzi are following her.
In reality, she is very aware of her fanbase.
Minka Kelly was naturally named "Sexiest Woman Alive" in the 2010 issue of Esquire magazine.
She clearly knows she is appreciated by her loyal fanbase.
Derek Jeter seems to appreciate her the most.
Whether she is displaying her ability to take care of a pet successfully or taking her modeling to a different level is debatable, but it is still interesting to appreciate.
There is no look that doesn't fit Minka Kelly.
Thank you Esquire for discovering the best in this American beauty.
She may be known as an actress, but Minka Kelly's modeling is just as prolific.
Derek Jeter must be proud.
They may have broken up once, but the couple of Minka Kelly and Derek Jeter seems destined to reunite.
Maybe for power, or maybe for fame—these two will be the "American Beckham's."
Sounds weird in retrospect.
The same iconic, Mona Lisa-esque smile, with a different, insignificant outfit.
Everything is planned, positions perfected.
With the Yanks out of the playoffs, their shortstop would have more time to spend with the new Charlie's Angel.
She was Lyla Garrity on Friday Night Lights, so clearly nothing gets in Minka Kelly's way.
Ready to take over the world of MLB WAGs, Kelly will shine in her old role.
Her WAG status has only increased her popularity.
While she does resemble Angelina Jolie in this shot, her lack of superfluous tattoos proves her authenticity.
Derek Jeter might want to do better than Brad Pitt, though.
Before her breakup with Derek Jeter, Minka Kelly was quickly climbing the lists of MLB's hottest WAGs.
She is undoubtedly hoping to regain that title if she reenters the world of wives and girlfriends.
We're expecting it.
At this point clearly a prolific model, Minka Kelly is showing fans every side of her personality.
The stripes are a nice change of pace from the cliched skirt or suit-pants.
We approve.
When she needs to get "did up," Minka Kelly can clearly get the job done.
While we prefer the routinely-relaxed atmosphere often displayed in her pics, this look also works nicely.
She is multi-talented.
As Sara Matthews in The Roommate, Minka Kelly finds out that her roommate has a serious obsession with her.
While it seemed like a scary collection of scenes, Minka Kelly still showed fans that she is the perfect companion.
Derek Jeter must've approved.
Minka Kelly isn't routine in her process, nor is she mundane in her presentation, but she is thoroughly classy in her demeanor.
She and the captain and shortstop of the Yankees can potentially form arguably the most prolific tandem in sports.
Only time will tell.
As she calmly turns around and embraces the audience, Minka Kelly understands that her fanbase requires perfection.
She is perfect every time.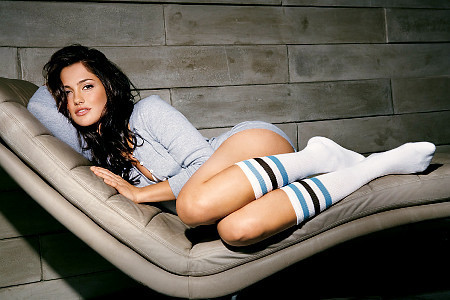 While she is known for starring on the NBC series Friday Night Lights, Minka Kelly seems to have the attitude to pose for a living.
She appears to be confident in her relaxed state.
Acting may have to take a back seat.
While the first run in her relationship with the Yankees shortstop didn't go as planned, the two seem inclined to give it another shot.
Minka Kelly won't fret, she seems to be going with the flow.
Pulling this move out of her repertoire was not only unexpected, but quite engaging.
The element of surprise always brings in a distracted fanbase.
Derek Jeter seemed very distracted against the Detroit Tigers.
While her fans understandably respect and admire her, Minka Kelly also admires herself.
She is without question nearing the top of the media food chain.
Arguably the best catch of Derek Jeter's life, Minka Kelly is one for the ages.
Jeter undoubtedly sees a future with the illustrious actress.
It's only a matter of time before she gets that ring.