BYU Independence Puts Pressure on Mormon Tag and Collegiate Branding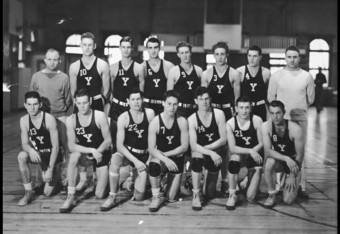 BYU Uniforms with block Y circa 1938

BYU is entering a new era, not the era of independence that so many others have written about, but the era of brand identification.
We all know what the uniform of Notre Dame looks like. We know the colors and uniforms of Southern Cal, Michigan and Florida. Their logos and symbols of athletic prowess adorn sports shops nationwide. It is a symbol of successful branding.
When you see a Southern California Trojan on a T-shirt in Kenya, you probably aren't looking at a Southern Cal alumnus or fan, but you are looking at successful branding by the school in exporting its image half way around the world.
When you see the iconic gold UCLA on a light blue sweatshirt, you are seeing branding. Not fan support. Every school receives money from the licensee for making and selling that image. One of the biggest revenue generators in every sport is the result of successful branding.
In professional sports, the Oakland Raiders have enjoyed tremendous revenues year in and year out as gangs, thugs, tuffs and wannabes have embraced the Raider logo on everything they could plaster it on. While not many teams feel a need to follow that example, many have done their best to out do the Raiders in their own branding efforts.
One of the most successful branding efforts is that of Walt Disney in the use of a cute little mouse, whose ears are immediately recognizable and create a warm and friendly memory in nearly every country of the world.
BYU is now standing on the threshold of that kind of opportunity. If you look at the current branding BYU offers. it doesn't even say B Y U. It says, Y, sort of. BYU can't even decide which Y to use. There are many in use on T-shirts, sweatshirts, mountains, end zones, hats, on and on. Fans who are loyal to BYU, or the Y, or whatever you call the school, are loyal to the Y they know best.
Few know that one of the first basketball teams at BYU took the court sans the Y, or BYU, they had a big block serif M on the front. From 1907 through the late 1940s, the block Y graced most BYU uniforms. Then the block Y transformed into the block letters BYU.
BYU was aware after the war with returning veterans that it was entering a new era. It was playing games outside of the mountain west and the Wasatch front and no one knew who the Y was, hence, the uniforms gracing the schools initials so people would know what school was on the field. BYU, stood for Brigham Young University, not Yale, or Youngstown State or Yangzi University.
In the 60s, BYU on the basketball team uniforms was replaced with Cougars. BYU was still trying to find itself, and its identity.
Now, BYU stands on the threshold of another identity opportunity. Is it the drooping arm Y, BYU, Cougars, or what? Who is BYU? Is it a Mormon school with a funny logo on its helmets or is it a national sports and educational powerhouse?
Will BYU or Y shirts be worn in Ukraine, Thailand, Peru and share the sales stall with USC, Cal and the Michigan M?
BYU is going to have to decide if it wants to be known as "the Y". Or brand itself as Brigham Young University.
The branding trail that BYU takes can enhance its overall revenue in the world of independence as fans of America's sports teams don the uniforms, T-shirts, sweatshirts, ball caps and other sports paraphernalia. Now the decision is: What kind of image does BYU want to present to the world, and be identified with?
Until BYU has established its brand as BYU, that stands for Brigham Young University, the Y will merely reflect a letter in the alphabet on a shirt or helmet, and nobody outside of Utah really knows what the heck that thing on their helmet is, or ever will.
This article is
What is the duplicate article?
Why is this article offensive?
Where is this article plagiarized from?
Why is this article poorly edited?

BYU Football: Like this team?