Denver Broncos: Is John Fox Setting Tebow Up to Fail by Trading Brandon Lloyd?
October 17, 2011
Grant Halverson/Getty Images
It's official: the Denver Broncos have traded leading receiver Brandon Lloyd to the St. Louis Rams.
Although quarterback Sam Bradford and the Rams have to be elated with getting the NFL's leading receiver from 2010, you have to wonder what head coach John Fox is thinking with this trade.
Fox has recently chosen to make a change at quarterback after Tim Tebow came off the bench for Kyle Orton in the fourth quarter of the game against the San Diego Chargers and nearly pulled off the comeback.
As Tebow prepares to make his first start this coming week against the Miami Dolphins, he'll be without the team's No. 1 receiver.
Although it seems like a crazy move in conjunction with the decision to start Tebow, Fox's decision may not turn out to be a bad one. Brandon Lloyd was leading the team with 283 yards, but he has yet to catch a touchdown and is being shown up by an unlikely youngster.
Minnesota prospect Eric Decker has 22 receptions for 266 yards and four touchdowns, establishing himself as the team's top scoring weapon through the air this season. Decker likely would have been Tebow's top target even if Lloyd had been in the lineup.
The Broncos also have two receivers that seem to have been forgotten.
Eddie Royal was a stud in his rookie season but has been severely underutilized in recent seasons. Lloyd's departure may force the Broncos to remember what they have in Royal (which never should have been forgotten).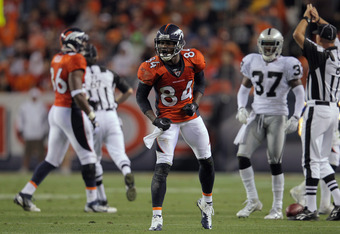 Doug Pensinger/Getty Images
Recent first-round draft pick Demaryius Thomas is also a player who could make an impact. Though Thomas was taken two rounds before Decker in the same draft, he has failed to make an impact thus far and has yet to make a reception this season. That said, he was a formidable big play threat in college and could be a dangerous weapon in the right role.
With Decker and Thomas as the team's starting wideouts and Royal in at slot receiver, along with Daniel Fells at tight end and Knowshon Moreno out of the backfield, Tebow could find himself with a formidable receiving corps even without Lloyd.
The biggest problem with the Lloyd trade is that St. Louis had to give up only a fifth or sixth round pick for the top receiver, depending on whether or not he records 30 receptions for the receiver-challenged Rams. If Fox could have gotten better value, this could have been a great trade for the Broncos.
Still, if Fox utilizes his remaining weapons correctly, he won't be setting his controversial starter up for failure, but rather success.