NFL Week 6: Despite Mistakes, 49ers Deliver Lions First Defeat
October 17, 2011
Leon Halip/Getty Images
49ers' head coach Jim Harbaugh is once again in the headlines following his team's victory over the previously unbeaten Detroit Lions on Sunday.
Harbaugh, who is known for his passion and enthusiasm, got into a brief entanglement with Lions' head coach Jim Schwartz following San Francisco's 25-19 win on the road.  According to Schwartz, Harbaugh's conduct at the game's conclusion went against protocol and was unwarranted.  Schwartz claimed he heard an expletive from the 49ers' coach and pursued Harbaugh down the field, where they had to be separated by players from both teams.
Harbaugh has been known to engage in similar antics with other head coaches, most notably when he was head coach at Stanford.  Most notably, Harbaugh engaged in a brief altercation with former USC, now Seattle Seahawks' head coach Pete Carroll.
Despite the almost comical antics, Harbaugh's 49ers are doing something that few around the league thought they had a chance to do. 
Don't look now, but the 49ers are 5-1.
Fans and analysts alike felt that San Francisco, under Harbaugh's reign, would need at least a full season or two to develop a team worthy of competing for a division title.  With nearly the same roster that the 49ers had last season, San Francisco seemed poised to repeat another "rebuilding" season, with outside hope at turning their once meager franchise into something worth paying attention to.
Suddenly, those prospects are at the forefront of the 49ers' success in 2011.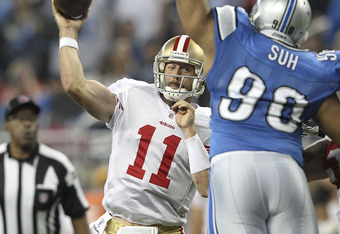 Leon Halip/Getty Images
The buzz certainly began with San Francisco's come from behind win versus the Philadelphia Eagles two weeks ago.  The 49ers then trounced the visiting Tampa Bay Buccaneers at home the following week.  The biggest challenge to date would be a road game against the surprisingly unbeaten Detroit Lions; a team known for its explosive offense and dynamic second half scoring ability.
San Francisco did not get off to a smooth start, however.
A series of false starts haunted the 49ers' offense in the first quarter and seemed to energize the already boisterous crowd at Ford Field.  In all, San Francisco would be penalized 15 times, totaling 120 yards. 
One key penalty went against Harbaugh himself after he attempted to challenge a Detroit touchdown reception by Lions' tight end Brandon Pettigrew.  With all touchdowns reviewed by the officials, challenging the play resulted in an unsportsmanlike conduct penalty against Harbaugh, costing San Francisco 15 yards. 
49ers' quarterback Alex Smith also fumbled the ball on San Francisco's opening drive, leading to a Detroit field goal at the 11:35 mark in the first quarter.
In fact, the Lions dominated the first quarter and led 10-0 going into the second. San Francisco was able to rebound before the half, however, with a touchdown and field goal of their own.  They also sacked Lions quarterback Matthew Stafford in the end-zone, forcing a safety.  San Francisco took a 12-10 lead heading into the half.
That slim lead seemed doomed, however.  The Lions had enjoyed three come-from-behind wins over the past three weeks as their explosive offense, led by Stafford and wide receiver Calvin Johnson, was in a great position to showcase why the Lions were 5-0 coming into the game.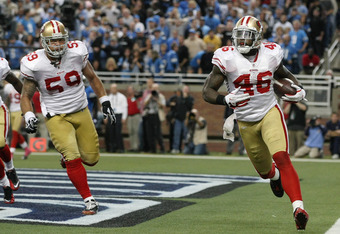 Dave Reginek/Getty Images
San Francisco's defense proved up to the challenge.  Despite a tremendous performance by Johnson (seven receptions for 113 yards), Detroit only managed a single field goal in the third.
In the fourth quarter the Lions gained momentum, as Stafford connected with wide receiver Nate Burleson to give Detroit the lead.  Despite a failed two-point conversion, the Lions led 19-15 and placed pressure on the 49ers to mount another late comeback.
San Francisco did just that.
Smith connected with tight end Delanie Walker on a fourth and goal situation from the six yard line with 1:51 left on the clock, putting San Francisco in the lead for good.  Following a failed drive from Detroit, 49ers' kicker David Akers tacked on another field goal at the 1:02 mark.
As time expired, a jubilant Harbaugh ran out on the field as if his team had won a playoff game.  His subsequent antics may be viewed as immature by some, inspirational to others and emotional by all.  If the 49ers had started this season like they had last year (0-5 in 2010), fans may not be so accepting.
Yet the 49ers' record speaks for itself.  Regardless of how the league views Harbaugh's actions on Sunday, the rookie head coach has made an incredible difference for a team that was a laughing stock one year ago.  He is getting solid performances out of Smith, Frank Gore, Vernon Davis, Walker and Michael Crabtree.  San Francisco's defense, especially in the red zone, continues to play great.
Antics or not, this 49ers' team is worth paying attention to.  That alone is something San Francisco fans have not enjoyed in some time.