Reggie Wayne Trade Rumors: Latest NFL Deadline News and Analysis on Colts WR
October 17, 2011
Marc Serota/Getty Images
The trade rumors swirling around the NFL ahead of Tuesday's deadline have swept up longtime Indianapolis Colts wide receiver Reggie Wayne. With Pierre Garcon fast becoming Curtis Painter's favorite target and the team going nowhere without Peyton Manning this season, the five-time Pro Bowler may yet become a casualty of the 0-6 Colts' "Suck For (Andrew) Luck" campaign.
UPDATE: Tuesday, Oct. 18 at 5:55 p.m. EDT
The trade deadline passed and Reggie Wayne remained a Colt as Owner Jim Irsay promised, much to the dismay of Wayne probably as he will stay on a losing team.
UPDATE: Monday, Oct. 17 at 3:21 p.m. EDT
Colts owner Jim Irsay shot down the notion that Wayne would be traded away by Tuesday's deadline, in typical Irsay fashion: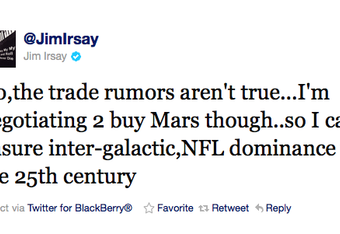 A number of NFL talking heads, including ESPN's Adam Schefter, have speculated that Wayne and defensive end Robert Mathis could (or perhaps should) be traded, as both will be free agents in 2012 and could garner fourth-round draft picks in return.
Unless Indy GM Bill Polian is planning to re-sign Wayne in the offseason, trading him now makes perfect sense. The Colts clearly aren't going to win many games this season and don't have a lot of talent to build around for the future. As such, they need to do whatever they can to stock up on draft picks and quality young players to make sure that Peyton Manning's last good years aren't wasted.
And with Brandon Lloyd off the market, Wayne becomes far and away the best wide receiver on a trade market flooded with contending teams looking for quality pass catchers.