Brandon Jacobs Injury: Updates on Giants Star's Week 8 Status and Fantasy Value
October 17, 2011
Al Bello/Getty Images
New York Giants running back Brandon Jacobs has missed the team's last two games, including Sunday's win over the Buffalo Bills, due to a severely swollen knee. The Giants have a bye in Week 7 and are hopeful Jacobs can return against the Miami Dolphins in Week 8, but his status is uncertain.
Keep checking back to this page over the next two weeks for updates on his availability and fantasy value leading up to the Oct. 30 game.
Sunday, Oct. 30 at 11:44 a.m. EDT by Brandon Galvin
Brandon Jacobs is active today, as expected, according to Newark Star-Ledger's Mike Garafolo.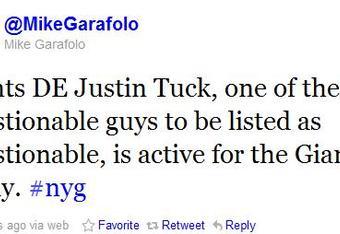 Wednesday, Oct. 26 at 8:45 p.m. EDT
ESPN is reporting that the New York Giants have, for the first time this season, had a practice with every last bit of personnel on the roster. 
Jacobs practiced on Monday, but it's a great sign that he was back on the field again Wednesday. It looks like the Giants are confident that he will play against the Dolphins Sunday. 
There was also this tweet from Dion Caputi giving added hope that the lingering knee issues is behind Jacobs for now.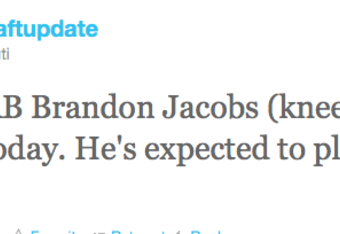 Fantasy owners would be wise to continue monitoring this thing. But this is a very encouraging sign that he will be in the lineup in a few short days. 
Monday, Oct. 24 at 1:19 p.m. EDT by Brandon Galvin
Brandon Jacobs (knee) is on track to play Sunday against Miami as he has resumed practicing with the team, according to ESPNewYork.com's Ohm Youngmisuk. 
Tuesday, Oct. 18 at 2:01 p.m. EDT by Brandon Galvin
Good news for Giants fans and Brand Jacobs' fantasy owners, the star veteran RB is making great progress with his knee, according to NY Daily News' Ralph Vacchiano.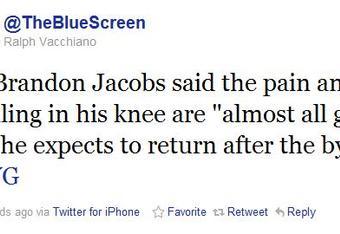 Monday, Oct. 17 at 2:15 p.m. EDT
Yahoo! Sports updated Brandon Jacobs' status as a part of their team report following yesterday's win, and it sounds like the running back isn't the only reinforcement on the horizon.
The good news for the Giants is that they should be getting healthier when they return from their bye week. Defensive end Justin Tuck, who has missed three games due to neck and groin injuries, vowed that he would be back in time for the Giants' game against the Dolphins.

The Giants will also probably get back fullback Henry Hynoski (neck), right guard Chris Snee (concussion), running back Brandon Jacobs (knee) and cornerback Prince Amukamara (foot).
After Ahmad Bradshaw's strong performance against Buffalo, Jacobs workload will be a major question mark once he does return to the field. It's a situation worth monitoring over the next couple weeks.