The State of the Nation: Ohio State Football 10-17-11
October 17, 2011
Jonathan Daniel/Getty Images
First, let me give some props to Jim Bollman for his first half play-calling against Nebraska. 
It was obvious the fan-lashing found its way to the top, but Jim relapsed in the second half when he decided that the best way to salt-away a victory was to let Bauserman throw the ball on every play. 
It was not all Jim's fault. 
The secondary spent the better part of the fourth quarter trying to act out "a bull-fighting-fan" in a game of talking charades.
Jim, we wanted you to throw the ball a little more, but NOT in that situation.  Geesh.
I'm not a high stakes poker guy, but I'd love to sit in a high stakes game with Dave Wannstedt, Jim Bollman and Ron Zook. 
The Zooker decided against trying for points with 1:32 left in the first half (with three timeouts and good field position), and later went for it on fourth and four, down 10 points on the Ohio State 18-yard line, with the score 17-7.
That wasn't it, either.
Zooker punted it on fourth and three from the Ohio State 32-yard line (you cannot make that stuff up). It was the worst game management I have seen since Wannstedt won that tight, high-scoring game against Navy about four years ago. That Pitt game was the worst coached game I have seen in 30 years.  Dave would have been looking for a job if it wasn't for his players making up for his bad decisions against an over-matched Navy team.  My guess is that Dave burnt that tape, and every copy at ESPN, to make sure that it was never seen again.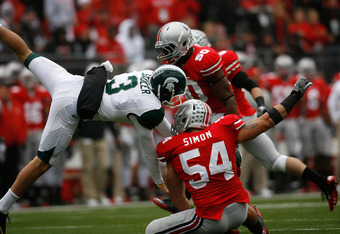 Kirk Irwin/Getty Images
I am always going against trends on my weekly parlays: Little did I know I could get a seven-figure job doing it.
Ohio State fans are already murmuring Urban Meyer, but hey, at least we don't have Wannstedt or The Zooker. 
Fickell looks like Woody Hayes compared to those clowns.
It was a good win against Illinois. 
The Illini may not have been worthy of that No. 16 ranking, but it is a good win for the Buckeyes nonetheless.
ESPN's Bob Davies made some good points about last Saturday's game being a possible breaking point.  The team held together, and even started to fire on all cylinders at certain times Saturday.
The biggest difference is Mike Adams and Boom Herron's return. 
Adams came back against Nebraska, but really started road-grating Saturday against Illinois.  You could tell that these two were All Big Ten performers, and the team is infinitely better with them on the field. 
Saturday the Buckeyes let Herron and Hall follow Andrew Norwell (LG) and Mike Adams (LT), and Illinois was powerless to stop it—even though they had to know it was coming.
Can I call Boom Herron the best running back in the country now that Marcus Lattimore is out for the season? 
Herron's rare combination of power, quickness and juking (in this aspect HE IS the best), makes Herron one of, if not the best running back in the entire country.  I've watched Richardson, Dunbar, Rainey, Wilson, Graham, James, Pierce and others this season, and I wouldn't trade Herron for any of 'em. 
Laugh all you want, but Herron could break the thousand-yard mark in seven games this season, and no defender in the entire country stands a chance against Herron one-on-one in the open field. 
I swear the guy has a PS3-L2 chip in his brain.
The wind played a major factor in Saturday's game.  It contributed to Ohio State only completing one pass, as well as the two Illinois interceptions.  Of course, throwing the ball a total of four times can contribute to completing only one pass, but who's nitpicking?
What really stood out Saturday was Johnathan Hankins' performance.  Officially, "Big Hank" had nine tackles, but I had him for 11.5.  That gives the big man 36 tackles, two sacks and seven tackles for loss on the season, and we're only 30 minutes past the halfway mark. 
Hankins, Bellamy, Simon, Goebel and Bennett are all back next year. Wow, that sounds good.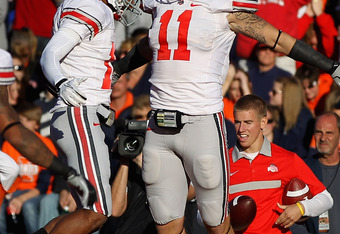 Jonathan Daniel/Getty Images
The bad news is that Ohio State is looking at a 7-6 or 8-5 season this year—potentially 9-4, but I'll get to that later. 
The great news is that next year's defense is shaping up as one of the best to ever don the Scarlet and Gray. 
The unit will return 10 of 11 in 2012 and may get back another impact player. Right now, the only weaknesses for this defense are some occasionally shaky tackling in the defensive backfield, and the lack of a pure pass-rusher. 
Nathan Williams was the best pass-rusher coming into the season, but sat out after a knee injury.
Ohio State enters their bye week at the perfect time. 
An extra week to prepare for a night game in The Shoe is like ordering a thick New York Strip from Ruth's Chris and saying, "Sure," to the waiter when he asks if you would like dessert. 
Does Ohio State stand a chance against the mighty Badgers? Sure. 
A night game in The Shoe is a completely different animal.  Instead of the normal, sit-on-their-hands day crowd, you get the rowdy, drunk-as-heathens crowd, who have spent the better half of the afternoon building vocal boxes and fan support with every swig of Great Lakes beer.
Wisconsin has a potent offense, maybe the most potent in the land, but their defense has yet to be tested by a power running game like Ohio State featured last Saturday.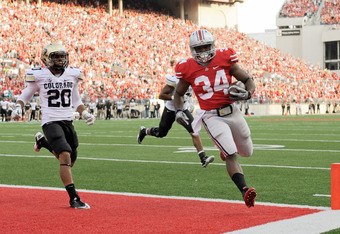 Jamie Sabau/Getty Images
Ohio State moved the ball quite well against the Badgers last year with their OL and Herron, and many variables are still the same.  A win against the Badgers would mean two-in-a-row against undefeated ranked teams, and could mean a return to the Top 25.
The Badgers will also be coming off of a tough physical matchup against the most formidable defensive line in the league: Michigan State.
The Buckeyes will work on the passing game over the next two weeks, but will still depend on their running game to keep them in what they hope to be a low-scoring affair.
Thanks for reading.
"Boom Herron" goes the dynamite.