New England Patriots: 5 Positives from Comeback Win over Dallas Cowboys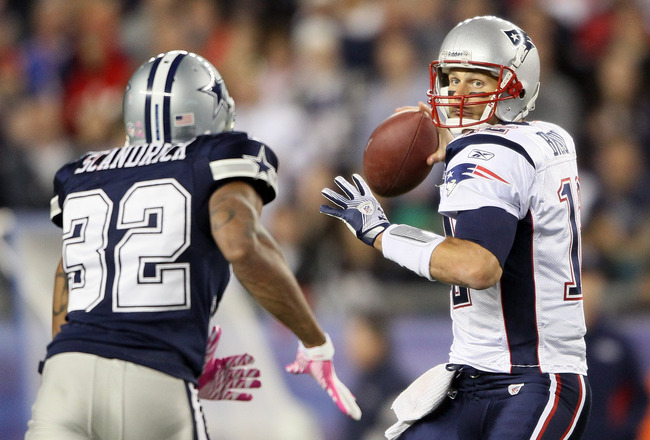 Oops, Tom Brady and the Patriots did it again
Elsa/Getty Images
If you're a New England Patriots fan, you have to feel pretty good about your team right now. Heading into the bye week, the Pats are 5-1 and now sit atop the AFC East after a critical 20-16 comeback victory over the Dallas Cowboys.
There were many positives to take away from the big win; here are five in particular.
The Defense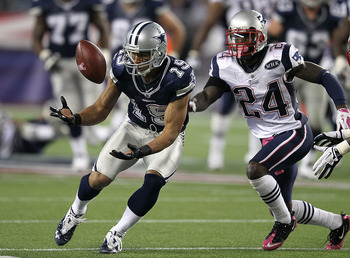 Kyle Arrington continues to impress for New England
Jim Rogash/Getty Images
The Patriots defense has taken New England fans on quite the roller coaster ride in 2011. They struggled to contain the opposition even in victory, and looked downright dreadful in their only loss to Buffalo.
But could it be that Bill Belichick's defense is starting to turn a critical corner? They kept the Jets and Mark Sanchez in check (although that's not hard to do these days) and, for once, actually bailed out the offense against a potent Cowboys attack.
Tony Romo did throw for over 300 yards, but you got the sense that New England's defense was the deciding factor in victory. Patrick Chung (10 tackles) had a monster game, although he was out of place on Dez Bryant's highlight-reel deke after a catch.
And Chung wasn't the only one who played well.
Kyle Arrington had a key interception and continues to impress in the secondary, while Andre Carter finally showed the pass-rushing prowess he flashed in the preseason. And let's give Albert Haynesworth some love. He didn't show up in the stat sheet much, but he pushed the pocket very effectively, giving Carter and others opportunities to pressure Romo.
Aaron Hernandez
Aaron Hernandez and Tom Brady: reunited, and it feels so good
Jim Rogash/Getty Images
Two weeks ago, I gasped when I heard that Hernandez was returning against the Jets, only three weeks after suffering a sprained MCL against the Chargers. A sprained MCL isn't an injury to take lightly, and I thought he perhaps was being rushed back too soon for an important early-season game against New York.
Thankfully, Hernandez is gradually returning to his exciting form. He hauled in eight catches for 68 yards and the game-winning touchdown with less than 30 seconds remaining. The catch itself was a thing of beauty.
Hernandez used his beastly physique to shield away Mike Jenkins—who's actually a pretty good cornerback—on a dig route in the back of the end zone. Hernandez's hands still are inconsistent at times. Two weeks ago, he dropped a touchdown that ended up in the mitts of Jets cornerback Antonio Cromartie and on Sunday he was stripped of the ball when the Pats were poised to hit pay dirt early in the final quarter.
But Hernandez is becoming more comfortable playing with a knee brace, as he had several impressive jukes after catches against the Cowboys. It's becoming clear that Hernandez and Wes Welker are Tom Brady's receivers of choice, so it's good to have No. 81 back on the field.
Balance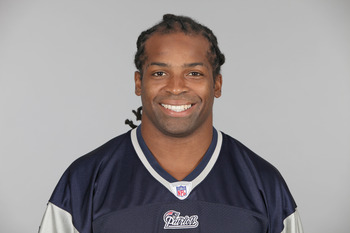 BenJarvus Green-Ellis has become quite the power back
Handout/Getty Images
New England's new-found offensive balance remained on display against the Cowboys. The Patriots ran the ball 25 times and threw 27 in the win.
Don't let Tom Brady's gaudy passing stats fool you; if the Patriots are going to make any noise in the playoffs, they're going to need balance like this. It's the balance they had when back when they were winning Super Bowls. And it's a lack of balance that resulted in the Super Bowl loss to the Giants, the upset playoff defeat to the Jets and the only loss so far this season in Buffalo.
If you're a Pats fan, you have to feel good about the stable of running backs the team has at its disposal. BenJarvus Green-Ellis is turning into quite the power back, able to get tough yards in between the tackles when needed. Danny Woodhead is very capable of catching key third-down passes out of the backfield. And rookie Stevan Ridley has already proven he can do a little bit of both.
Yes, Tom Brady is one heckuva quarterback, but it's never good to place so much pressure even on him. With New England's offensive balance, it's nice to see they don't have to.
It's Nice to Have Tom Brady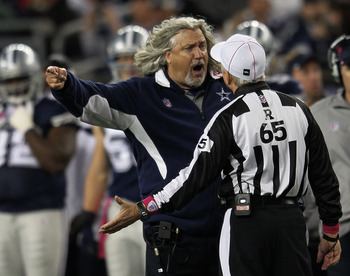 Rob Ryan had a similar reaction after New England's game-winning touchdown; Tom Brady will do that to you
Jim Rogash/Getty Images
While I just noted you never want to place too much pressure on Tom Brady, isn't it great to know that he still thrives in it?
With the game on the line, Brady did what he did what he does best in calmly leading New England's offense on the game-winning 80-yard drive that was capped off with him hitting Aaron Hernandez on an 8-yard touchdown pass with just seconds remaining.
Of course, Brady didn't have a great overall game, by any means. For the second straight meeting, he struggled to solve coordinator Rob Ryan's complex strategy. Brady also tossed two interceptions, the second one (to Sean Lee) of which I had no idea whom he was trying to throw to.
Nevertheless, despite failing to score 30 points and struggling to stay upright against the Cowboys' pass rush, a vintage Brady methodically carved the defense up when it mattered the most, leaving a helpless Rob Ryan stunned in disbelief. Following the game, Bill Belichick reiterated that he's glad he has Tom Brady as his quarterback. It's easy to see why.
The Patriots Won Ugly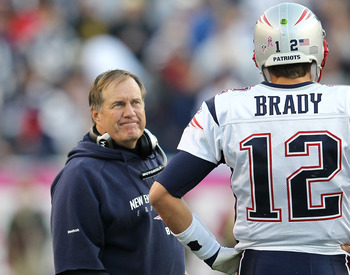 With the win, Bill Belichick and Tom Brady became the winningest coach-quarterback tandem in league history
Jim Rogash/Getty Images
Winning ugly can be a beautiful thing in pro football, and the Patriots got a much-needed ugly victory against Dallas. Pats fans should be encouraged that their team emerged victorious in a 20-16 contest against a quality opponent.
Honestly, when was the last time New England won a game this low-scoring in which they committed four turnovers? It seems like that was ages ago, back when they were in their dynasty run.
Now they've proven they can win an ugly, grind-it-out kind of game, which bodes well come playoff time. Let's face it; to win the Super Bowl, you must excel in close, sloppy games. The Jets have advanced to the past two AFC championship games on the basis of that philosophy, while the Packers got to the Super Bowl on the heels of an ugly game against the Bears.
The verdict is still out on whether this version of the Patriots can win several games of this caliber, but that doesn't diminish the significance of an ugly/beautiful New England win.
Keep Reading

New England Patriots: Like this team?