Hurricanes Haters Can Take a Seat: Why the "U" Shows Tremendous Promise
October 17, 2011
Al Messerschmidt/Getty Images
Sure they started off 3-3. Yeah they lost two of their first three ACC games. It may look like their defense can't stop a nosebleed.
But the 'Canes are coming back. Many of you jumped on, and subsequently right off, the Al Golden bandwagon when he came in with his promises and hype and then seemingly couldn't deliver, but all of you seem to forget that it's his first year at the helm. Sure Larry Coker won a championship his first year as coach, but he also inherited a star-studded team full of future NFL players.
Golden, on the other hand, came into a team that finished last season 7-6, fresh off of a three-game losing streak. While the team had a few standouts, it was nothing to be overly thrilled about. Not only is this Golden's first year, but it also marks the beginning for most of the other coaches as well.
When you overhaul a team and put completely new systems in place it doesn't just happen overnight. On top of trying to revamp a middle-of-the-road team with extremely high expectations, the 'Canes were hit with news of a major scandal this offseason, which involved most of the aforementioned standouts and resulted in multiple game suspensions for some.
The offense has looked good on the back of none other than Jacory Harris. The one-time Heisman watch candidate looks like his former self again, showing the flashes of brilliance we all expected from him; it's amazing what a little coaching can do.
The offense has been gelling most of the season, aside from a few poor play calls and mental mistakes. The addition of young stars like Allen Hurns and the duo of Mike "Smash" James and Lamar "Dash" Miller have this team on a roll, averaging just over 30 points per game.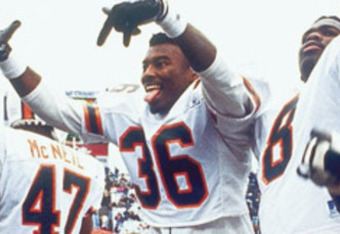 The other side of the ball, however, is a completely different story. The offense is unable to overcome gaping holes in the defense, and the team has yet to post a victory when it has allowed 28 points or more. Although there have been times where the offense has failed to help them out, it seems like the D cant get a big stop when its necessary.
Even with these shortcomings, the 'Canes only lost all three of their games by a grand total of 15 points, all of which could have easily gone the other way.
While the team no longer consists of lifeless zombies that were under Randy Shannon's reign, they still don't have the same drive and hunger. What the 'Canes need is that little bit of swagger the classic U carried with it everywhere. It seems to me that they go into games not trying to win, but rather trying not to lose. The team needs come together and find that extra "oomph" within itself in order to start winning games.
I'm probably going to take some flak for this next part, but it's my opinion, and I feel like it needs to be said. The 'Canes need to have more fun with their game. They need go out on the field with some old school flare. Don't get caught up in the press, don't worry about expectations, go out there, have fun, and leave every ounce of yourself on the field.
Golden just ripped the team for showboating, but I don't believe that it's all bad. It's one thing to think that you're God's gift to football and then go out and under achieve on the field while rejecting coaching.
It is entirely different to believe in your abilities and play with the belief that you can't be stopped. The entire team needs to adopt that very mentality; if it played like an unstoppable band of brothers (excuse the cliché) the team would be a lot closer to 6-0 right now. If you don't carry yourself like you're the best, you never will be.
They need to step onto the field looking to dominate, but also have fun with their game. The best ball they've played in recent years has come when they were hyped up and hungry. Coaching takes time, but heart can't be taught. With the entire team back together as one unit, someone needs to step up and become the heart of this team and bring swag back to the U.