NFL Trade Rumors: Why Kyle Orton, Denver Broncos Should Pump the Brakes on Trade
October 17, 2011
Justin Edmonds/Getty Images
It seems that an idle week is the Broncos' workshop.
It would appear that the Denver bye week was anything but uneventful, as shortly after Sunday's Week 6 games concluded, revelations of reported trade requests were rampant.
Not long after Eddie Royal rumors surfaced Sunday, quarterback Kyle Orton has reportedly asked for a trade as well, according to Rotoworld.com.
Orton was recently replaced as Denver's starting quarterback by second-year player Tim Tebow in a decision that has received mixed reviews from fans and media alike.
But what is clear in Colorado is that there's an uncomfortable air of uncertainty as Tuesday's trade deadline looms.
But just as quickly as Orton was supplanted as Denver's starter after one subpar half against San Diego in Week 5, so might be this decision and reaction by both the seventh-year QB and the Broncos.
If this report is true, perhaps it's time for both parties to pump the breaks.
Tebow hasn't even gotten his first start of 2011 after replacing Orton in last week's loss.
Yes, Tebow gave the Broncos much-needed second-half energy following Orton's stale start against San Diego, but he still had struggles of his own.
And Orton has barely sat down.
Tebow's spot on the bench is still warm.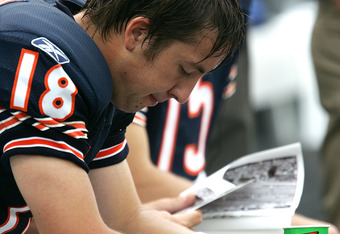 Jonathan Daniel/Getty Images
Denver's one bad break away from Brady Quinn taking snaps under center, which likely means the Broncos will remain a front-runner in the Andrew Luck sweepstakes.
But Broncos fans aren't willing to concede a season in a winnable division, despite the 1-4 start to 2011.
Yes the Chargers are strong, again, but the Raiders just lost a key player when solid starting quarterback Jason Campbell went down with a season-ending broken collarbone against the Browns—a play that seemingly started the spinning of the Orton-to-Oakland whispers by early Sunday afternoon.
The point is that there are games to be won for Denver, and pulling the trigger on Tebow seems a bit premature.
And it seems that way for Orton, who needs to be reminded that the grass isn't always greener.
There's no guarantee that Orton won't be Denver's starter again in a week or two.
What makes this situation interesting for Denver is that like Eddie Royal and standout wideout Brandon Lloyd, who began the alleged mass exodus towards trade Tuesday, Orton will be a free agent in 2012.
UPDATE: Orton Claims Reports of Trade Demands Are False
In an update posted on the same website, Rotoworld.com, that originally reported Orton wanted out of Denver prior to Tuesday's trade deadline, the recently replaced Denver starting quarterback told Vic Lombardi of Denver's CBS 4, that there was no truth to those reports.
In fact, Rotoworld's post continues, Orton cites his new role as a father as at least one reason that he's content in his current city and situation.
In an even more recent update from Rotoworld.com, it's worth noting that the Associated Press article that first claimed Orton was interested in being traded has been removed, and the AP explains that the writer confused the situation with an early July trade request, which had nothing to do with recent events.