BCS Rankings: More Proof College Football Needs a Playoff
October 17, 2011
Kevin C. Cox/Getty Images
I have 10 reasons why the debut of the 2011 BCS rankings proves that playoffs are absolutely needed for college football.
They are, in no particular order, Wisconsin, Alabama, Clemson, Houston, LSU, Kansas State, Oklahoma, Boise State, and Oklahoma State.
The computers are all-intelligent.
The computers know the difference between No. 1 BCS-ranked LSU and No. 19 BCS-ranked Houston.
LSU has played a more difficult schedule. You can't slip that one past the computers.
The problem is this. Nobody has beaten the Tigers. Nobody has beaten the Cougars.
LSU and Houston are equal.
Yes, on paper, LSU and Houston are equal. If the two teams met next week, I would predict LSU to win. However, I do not have any concrete proof they would.
What I have is speculation.
The SEC is always superior to the C-USA. The SEC has more money, better recruitment, better procedures to hide illegal fractions against NCAA policy, etc, etc. History tells me this. I know, "without a doubt", (just as the computers know) that LSU is superior to Houston.
Unbeaten LSU would demolish unbeaten Houston by eight touchdowns. I KNOW this. The computers KNOW this.
Question: since when does computer science function on the principle that faith is knowledge?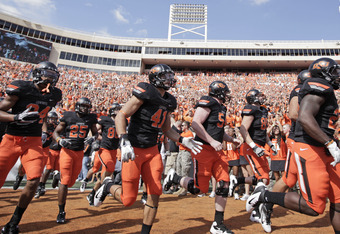 Brett Deering/Getty Images
Until I see the final score of four quarters, two halves and 60 minutes of LSU versus Houston, I do not know which team is superior. And neither, folks, do the computers.
Why do we choose our national collegiate football champion the same way we choose the president of our nation?
Voting sure is fun. But—
In a political election I have no guarantee that a particular candidate will do what he or she says. I weigh the candidate's speeches. I compare the most important issue each candidate raises and I place my vote for whoever seems the strongest in getting done what I think should get done.
In football, winning games is what should get done. So, who the hell am I supposed to vote for when 10 teams have all completed a perfect record of doing what should get done?
Once a politician has completed his or her term, I can measure his/her success based on what was accomplished in office.
For instance, in my personal view, President George Bush was superior to President George W. Bush. I have determined this for myself based on each president's completed record in office.
The political BCS system determines which teams are superior without allowing each team to complete its campaign. The BCS is a world of speculation.
The system is incomplete.
Let the athletes determine superiority on the field, please. It is time.
Let's occupy the BCS corporate offices. Who's with me?