Syracuse Orange BCS Buster and BCS Bowl Predictions
October 17, 2011
Chris McGrath/Getty Images
Again, Syracuse is absent from any major BCS discussion as the Orange have yet to crack national contention. However, this does not mean that the Syracuse squad cannot be impacted or have an impact on the BCS within the Big East.
First and foremost, the 15th ranked West Virginia Mountaineers come to the Dome this Friday night in a game for the ages.
Whether or not Syracuse can pull the upset is entirely dependent upon whether or not the Orange secondary shows up (this will be dissected later in the week) but a win would be huge not just for the Orange but also for the Big East within the BCS discussion.
If WVU loses to a team that lost to a Rutgers team that has dominated Pitt and could keep on winning, does Rutgers get a BCS mention? Or do no Big East teams make the BCS cut? Even more peculiar, where does Syracuse fall with loses to USC and Rutgers and wins over Wake Forrest and WVU?
Of course, Syracuse could very well lose and West Virginia totally validates their high ranking.
The Big East is anything but predictable and stable and there is a very high likelihood that if Syracuse is not the team to defeat WVU, someone else like Rutgers, Pitt or USF could.
For the Orange, those three before mentioned teams are the only other Big East candidates for BCS contention (though Pitt may be eliminated at this point) and a win over USF when they come to the Dome would further complicate the Big East's BCS outlook.
In the miraculous chance Syracuse runs the table from here on out and Rutgers loses two games, Syracuse would receive both BCS ranking and a BCS Bowl berth, but do not place any bets on this happening.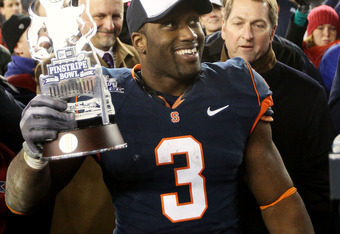 Chris McGrath/Getty Images
A more likely scenario for the Ottoman Empire is a bowl berth for the middle of the Big East pack.
The Orange on paper will suffer two more Big East losses with Pitt being a toss up in their favor at this point. There is little doubt the Orange will be bowl eligible again this year with just how bad the bottom of the Big East is. Assuming that Syracuse follows the predictions, they would finish 8-4.
That would more than likely mean another Pinstripe Bowl berth for the Orange, something Dr. Gross is surely excited about.
If Rutgers finishes ahead of the Orange in the standings, they could very well snag this bid and then leave Syracuse looking for a bid with either the Compass Bowl or Beef O'Brady bowl. The worst-case scenario is losses to WVU, USF, Cincinnati and Pitt leaving Syracuse praying for bowl desperation and missing a bowl.
So 'Cuse fans take heart, while the Orange may not be ranked, nor ever be ranked this year, they may be able to have some pull in the Big East BCS bowl dance.