BCS Standings 2011: Breaking Down the Alabama Crimson Tide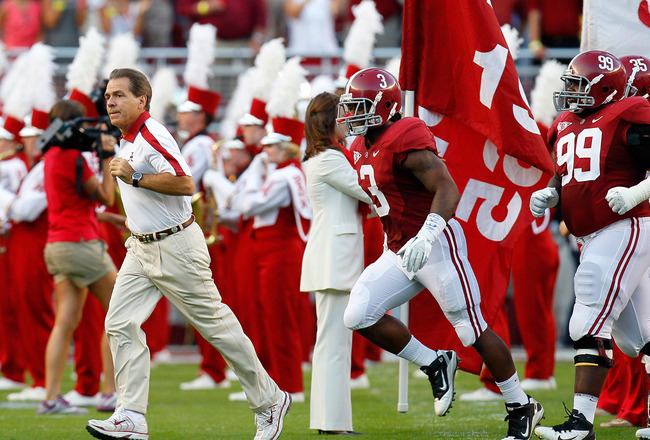 Kevin C. Cox/Getty Images
The first 2011 BCS standing are hot off the press, and as expected, Alabama is in the middle of the spotlight.
The BCS ranking is made up of three components: the computers, the Harris Poll and the Coaches Poll, and are, of course, the standings that decide who will play for the national championship in January.
The debates and discussions of who should be higher and lower in these standings have already begun and will continue over the next seven weeks.
In this slide show, I will take a look at the Crimson Tide and their current standing and future possibilities within the rankings.
BCS Ranking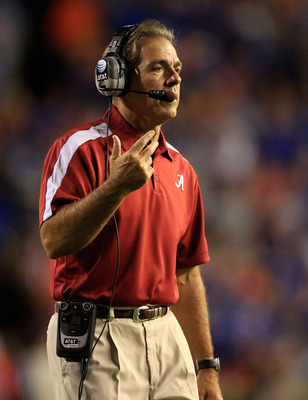 Sam Greenwood/Getty Images
Alabama is second in the initial BCS standing released this evening.
The top 10 as announced on ESPN:
1. LSU
2. Alabama
3. Oklahoma
4. Oklahoma State
5. Boise State
6. Wisconsin
7. Clemson
8. Stanford
9. Arkansas
10. Oregon
How They Got There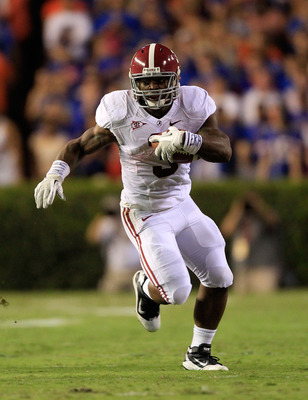 Sam Greenwood/Getty Images
Alabama earned a top two ranking in the first BCS ranking by playing dominating defense and running the football.
The Tide rank first in the SEC and 12th in the nation in rushing yards per game, with over 240 rush yards per game so far this season.
Trent Richardson is a legitimate Heisman front runner with an outstanding 912 rushing yards and 15 touchdowns in just seven games.
When a team lines up against the Alabama offense, they can expect a heavy dose of quality run blocking lineman and Richardson, a hard to catch and hard to tackle running back.
Alabama can pass some too, as A.J. McCarron is getting better each game after a slow start in game one. Alabama averages 420 total yards per game, good for second in the SEC in total offense.
However, with all do respect to Trent and the offense, the best unit on this team is the defense.
This is the best defense in the nation, and through seven games, may be one of the better overall defenses you will ever see.
The Tide are first in the nation in total defense, giving up a stingy 184 yards per game.
Alabama is giving up just 34 rushing yards per game on defense. Yes, 34. That is not a typo. That is dominant defense.
The Tide defense is fifth in the nation in passing defense, giving up only 128 pass yards a game. It is hard to rush or pass againt this squad.
This pretty much sums it up: In an average game this season, Alabama averages 236 more yards on offense than their opponent.
Alabama has outscore the competition an average of 40 to 7 so far in 2011.
While it may not be against the toughest schedule in the country so far, the Tide still have wins over top 25 Penn State on the road, and top 10 Arkansas at home. They also beat Florida, when they were undefeated, had a health John Brantley and were ranked in the top 25.
This is a team that deserves a top ranking.
Best Win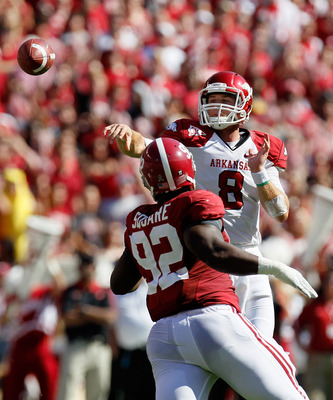 Kevin C. Cox/Getty Images
The best win for Alabama this season was the 38-14 victory over Arkansas in Week 4 of the season.
Arkansas is now ranked No. 9 and have a 5-1 record. They have beaten top 25 ranked Texas A&M and Auburn, and their only loss is to the Tide.
Alabama shut down the prolific Razorback offense by holding them to just 226 total yards and intercepting two passes.
The Crimson Tide also ran the ball well, rumbling for almost 200 yards against the Arkansas defense.
Remaining Schedule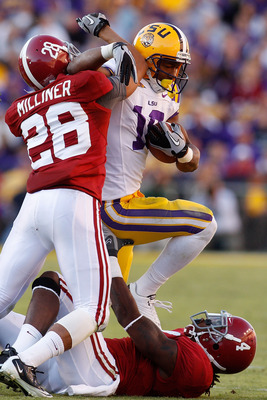 Chris Graythen/Getty Images
Alabama has raced out to a 7-0 record and have five games remaining on their regular season schedule.
If Alabama wins these remaining games and is victorious in the SEC Championship, they should earn a birth in the BCS National Championship game in New Orleans:
10/22 Tennessee
11/05 LSU
11/12 at Mississippi State
11/19 Georgia Southern
11/26 at Auburn
This remaining schedule is no picnic, with a rivalry game against Tennessee, an epic battle against No. 1 ranked LSU, a road game against upset-minded Mississippi State and a final game on the road against rival and top 20 ranked Auburn.
Obviously, the toughest matchup will be against LSU. The Tigers have a solid defense and a capable offense and will be a challenge.
The upset alert should be sounding loudly for the road game against Auburn. In a rebuilding year, where things are going somewhat better than expected, there is nothing the rival Tigers would like better than to ruin Alabama's championship run.
I believe Alabama will win each of these games, but it is certainly not an easy road.
Bowl Projection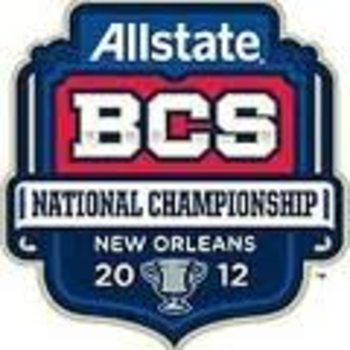 I project Alabama to play in the BCS National Championship game after a win over Georgia in the SEC Championship Game.
BCS National Championship (New Orleans, LA): Alabama Vs. Oklahoma
Keep Reading

Alabama Crimson Tide Football: Like this team?