BCS Rankings 2011: Odds on Which of the Nation's 10 Unbeatens Will Run the Table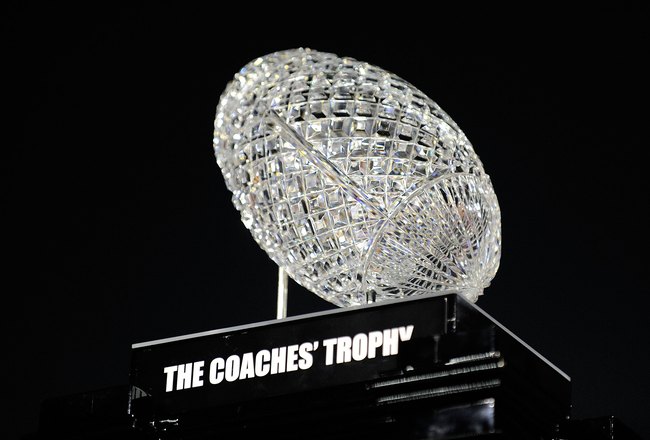 Kevork Djansezian/Getty Images
Everyone wants glory. Pure, unblemished, unaltered, perfect glory.
This dream is still alive for 10 teams left in the FBS. Traditional powerhouses like LSU, Oklahoma, Alabama and Wisconsin top the list, but some outsiders have managed to survive through seven weeks of college football unscathed.
At the outset, it seems like the national championship runs through Bryant-Denny Stadium in Tuscaloosa on Nov. 5 when the Alabama Crimson Tide do battle with the LSU Tigers. It's not a matter of conjecture at this point, as the past five BCS titles were claimed by the SEC.
However, some powerful adversaries could be on the rise this year.
Kansas State has everyone talking this year, as do perennial underdogs Boise State. There could also be some surprise games coming up, as we break down each team's odds of running their tables. Let's take a look at each unbeaten left and try to predict whether they have what it takes.
10. Houston (6-0, 2-0 C-USA, BCS Rank: 19)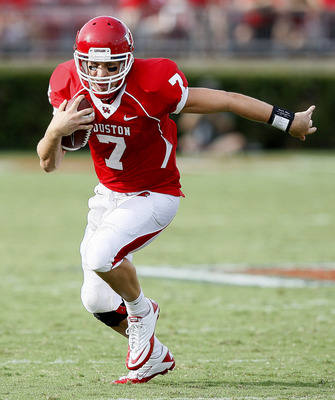 Senior QB Case Keenum.
Bob Levey/Getty Images
Key Wins:
Sept. 3, 38-34 vs. UCLA
Strength of Schedule: D-
Yes, the trumpets are sounding in Houston, as the Cougars are 6-0. The bad news: Yes, they still play in C-USA. As fearsome as Tulane was in 1998 when it went undefeated, it still didn't play in the national title game that year. Because it plays in C-USA.
Still, Houston's six wins have featured an offensive explosion led by senior QB Case Keenum, who leads all FBS quarterbacks in passing yards with 2,309, is sixth in the FBS in QB rating at 174.8 and eighth in completion percentage at 71.4.
It will be tough to stop the No. 1-ranked passing attack in college football, but the Cougars don't play a strength of schedule up to par with the other unbeatens. And they've already survived some close calls recently.
For a team that has yet to score fewer than 35 points in a game, it's a shame half of those wins were decided by a total of 12 points. When Louisiana Tech loses to you by one, sure it's a victory, but not something BCS voters will fawn over. Still, Houston's unbeaten, and has a strong chance to finish the season without a blemish on its record.
Odds: 10-1
9. Kansas State (6-0, 3-0 Big 12, BCS Rank: 11)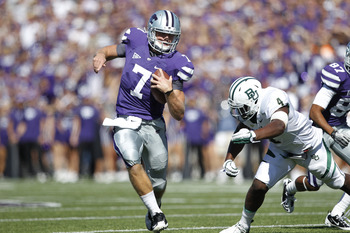 Junior QB Collin Klein evades the Baylor defense. Kansas State defeated the Bears, 36-35.
Joe Robbins/Getty Images
Key Wins:
Sept. 24, 28-24 at Miami (FL)
Oct. 1, 36-35 vs. No. 15 Baylor
Oct. 15, 41-34 at Texas Tech
Strength of Schedule: A-
The Wildcats are back in Manhattan, Kan. Behind Collin "Loveland" Klein's dual-threat capabilities as a runner and increasingly-effective passer, Kansas State boasts a 6-0 record, a sturdy defense and impeccable clock management.
In the 41-34 comeback win at Texas Tech this past Saturday, the Collin Klein Show took over in the second half, scoring the go-ahead touchdown at the end of the third quarter on a two-yard run, followed by the icing early in the fourth quarter on a one-yard scamper for a TD. In addition to his 23 carries for 110 yards and three TDs, he also threw 12-of-18 for 146 yards and a TD pass.
Added to Klein's effort was a great performance by the Wildcat defense, forcing four turnovers, including three interceptions of Texas Tech QB Seth Doege, who had previously thrown only one pick all year.
The Kansas State schedule only gets tougher as the Cats tune up against a weak Kansas squad before the meat of its schedule: home against No. 3 Oklahoma, visits to No. 4 Oklahoma State and No. 24 Texas, with a home game against No. 17 Texas A&M in between. It's going to be a hellacious journey, but if the defense is up for it, odds are the Big 12 has only seen the beginning of Collin Klein.
Odds: 30-1

8. Clemson (7-0, 4-0 ACC, BCS Rank: 7)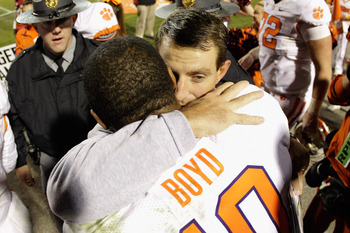 Clemson head coach Dabo Swinney hugs his quarterback, Tajh Boyd, in a win against Maryland.
Rob Carr/Getty Images
Key Wins:
Sept. 17, 38-24 vs. No. 21 Auburn
Sept. 24, 35-30 vs. No. 11 Florida State
Oct. 1, 23-3 at No. 11 Virginia Tech
Oct. 15, 56-45 at Maryland
Strength of Schedule: B
For some reason, it just didn't come together in 2010 for Clemson, which saw its hopes of an undefeated season dashed in a 27-24 overtime loss at No. 16 Auburn, the eventual national champions.
This season, the Tigers have an edge, and we're talking about the Tigers from South Carolina.
Clemson has already become the first ACC school to beat three straight ranked schools, but this year's Tigers are coming together thanks to the efforts of sophomore QB Tajh Boyd, who went 30-of-42 for 386 passing yards and four TDs in this year's 38-24 defeat of rival Auburn. Following those wins with impressive displays against Florida State and at Virginia Tech, the Clemson Tigers find themselves at the outskirts of the "best team" discussion.
It will be tough from here, however. Clemson must still travel to Georgia Tech, which is always a tough environment, and it has to go to South Carolina for the final regular-season game. It might be easier for Clemson to prevail against the Gamecocks, who just lost RB Marcus Lattimore for the season with a knee injury, but as the rule goes, when Clemson and South Carolina square up, you can throw the rankings out of the window.
It's always personal.
Odds: 20-1
7. Stanford (6-0, 4-0 Pac-12, BCS Rank: 8)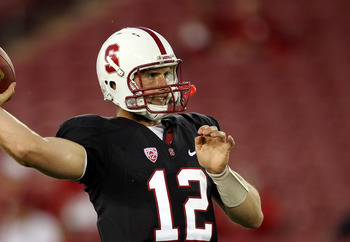 Stanford QB and Sweepstakes Namesake Andrew Luck.
Ezra Shaw/Getty Images
Key Wins:
Oct. 1, 45-19 vs. UCLA
Strength of Schedule: C
For the hoopla about senior QB and NFL Messiah-in-Training Andrew Luck, the Stanford Cardinal don't have to play many teams this year.
In the Pac-12, there aren't many top-tier opponents anymore. USC has fallen off, Oregon State isn't the same and Arizona, UCLA and Colorado fight to be the latest slow-moving players trailing behind LaMichael James on a short SportsCenter highlight.
Still, there's plenty to be said about Stanford as a whole. It ranks fifth in both points scored and points allowed, winning by an average of 34 points per game. The latest victim, Washington State, picked off Luck on his first pass.
Then allowed four touchdown passes.
Stanford is solid, but its true tests are coming. After a home battle against No. 25 Washington and then road trips to USC and Oregon State, the big test comes on Nov. 12 at home against Oregon. Don't forget the regular-season finale against Notre Dame, but the Cardinal should finish, at the very least, as Pac-12 champions. As far as going undefeated, only time will tell.
Odds: 18-1
6. Oklahoma State (6-0, 3-0 Big 12, BCS Rank: 4)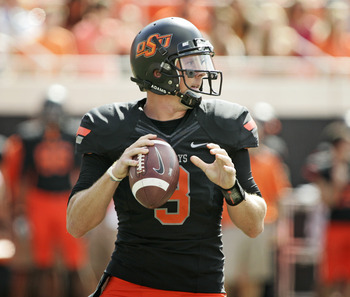 Senior QB Brandon Weeden.
Brett Deering/Getty Images
Key Wins:
Sept. 24, 30-29 at No. 8 Texas A&M
Oct. 8, 70-28 vs. Kansas
Oct. 15, 38-26 at No. 22 Texas
Strength of Schedule: B-
What do you do when your defense allows 27.3 points per game, good for 68th in the FBS?
If you're Oklahoma State, simple: Give the ball to Brandon Weeden.
With the senior gunslinger at the helm, the Cowboys rank second in the FBS in passing yards and points scored, averaging a shocking 49.2 points per game. And this Cowboys team has been tested, with early road wins against both Texas A&M and Texas. They can play well from behind, erasing a 17-point halftime deficit against Texas A&M, with Weeden throwing for 438 yards and two TDs.
The glaring hole for this Cowboy team is the defense, but barring an injury to Weeden, this problem should be well neutralized.
Their upcoming schedule features two should-wins before two straight showdowns against rival unbeatens Oklahoma and Kansas State. However, if Weeden keeps throwing like he does, and the defense can shape up against some upcoming powerhouses, there's no reason why Oklahoma State won't find itself in New Orleans in early January.
Odds: 25-1
5: Boise State (6-0, 1-0 Mountain West, BCS Rank: 5)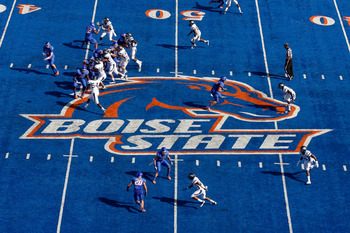 That blue turf. All about that Boise State blue turf.
Otto Kitsinger III/Getty Images
Key Wins:
Sept. 3, 35-21 at No. 19 Georgia
Strength of Schedule: F
It's the same story every year. Complaints from the Idaho area about some team that claims to be in the FBS, claims to beat everybody and clamors for recognition from the big conferences in college football.
With realignment being the new buzz word, rumors of a Boise State defection from the Mountain West continue to swirl, but until that happens, the Broncos are doomed to life in the "just not good enough" category of college football teams when you really start talking about the best.
Boise State QB Kellen Moore will probably have success in the NFL, as this season he holds a 75.9 completion percentage, sits fourth among FBS passers in QB rating at 179.7 and is tied for second with 21 TD passes.
For the purposes of this slideshow, Boise State's odds of going unbeaten are very strong, but until it schedules tougher teams to play or move to a bigger conference, it shouldn't ever play in the BCS National Championship Game.
At least, not with that blue turf. Dude, this ain't the Independence Bowl.
Odds: 3-1
4. Wisconsin (6-0, 2-0 Big Ten, BCS Rank: 6)
Wisconsin RB Montee Ball, right, celebrates after scoring a TD against Nebraska.
John Gress/Getty Images
Key Wins:
Oct. 1, 48-17 vs. No. 8 Nebraska
Strength of Schedule: B-
Soak in that key win by Wisconsin. 48-17 against No. 8 Nebraska. That's the closest any team has gotten against Wisconsin this year.
31 points.
No one scores more points this year than the Badgers, who average just over 50 per game. They rank ninth in points allowed per game at 9.7. That should say everything you need to know. The average visitor to Camp Randall Stadium in Madison gets beaten by an average of 39.5 points per game.
When Wisconsin calls a running play, the offensive line is so big and blocks so well it looks like it's literally picking up the defense and moving it out of the way, sometimes two at a time. When the hole is made, make way for junior RB Montee Ball, who ranks second among all FBS running backs with 16 rushing touchdowns.
This is a near perfect team, but their biggest flaw up until this point: They haven't played a single game on the road.
The next two weeks provide two legit road tests as the Badgers head to Michigan State and Ohio State, finishing the year with battles at Illinois and at home against Penn State. However, the way Wisconsin's been playing, it wouldn't be surprising to see it remain steadily explosive en route to a magical season.
Odds: 7-1
3. Oklahoma (6-0, 3-0 Big 12, BCS Rank: 3)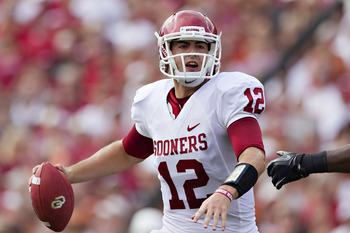 Junior QB Landry Jones.
Wesley Hitt/Getty Images
Key Wins:
Sept. 17, 23-13 at No. 5 Florida State
Sept. 24, 38-28 vs. Missouri
Oct. 8, 55-17 vs. No. 11 Texas (played at Cotton Bowl)
Strength of Schedule: A-
Oklahoma is back in a big way. The offense is clicking on all cylinders, it might have the Heisman Trophy winner in junior QB Landry Jones and the defense has played tremendously well to balance the Sooners' overall attack.
To this point, the Sooners remain unbeaten, but this is one of the more curious football teams in the nation. They were challenged and almost allowed Missouri to come back and beat them at home on Sept. 24. Then, a scant two weeks later, they demolish archrival Texas by 38 points in the Red River Shootout.
Coming up in the next five weeks? Four very tough challenges, as the Sooners host Texas Tech, reeling from a home loss against Kansas State, who plays Oklahoma the week after. Then they host Texas A&M before going to Baylor, a tuneup against Iowa State and the de facto Big 12 Championship at Oklahoma State.
Whatever the future holds for Oklahoma, if it makes it to the promised land, it will be the result of true grit. More than a little luck is needed to propel them to the BCS title game, especially considering if it's the Sooners, then they'll probably be playing one of the next two teams.
Odds: 20-1
2. Alabama (7-0, 4-0 SEC, BCS Rank: 2)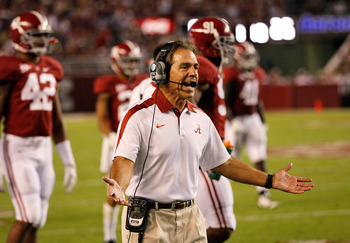 Alabama head coach Nick Saban.
Kevin C. Cox/Getty Images
Key Wins:
Sept. 10, 27-11 at No. 23 Penn State
Sept. 24, 38-14 vs. No. 14 Arkansas
Oct. 1, 38-10 at No. 12 Florida
Strength of Schedule: A
The Alabama Crimson Tide have the best defense in college football, if points allowed is the measure. No team has scored more than 14 against the Tide, who allow a stingy seven points per game.
They also have a Heisman-caliber running back in junior Trent Richardson, who ranks second in the FBS in rushing yards and third in rushing TDs.
Combined with a Nick Saban-led defense, the Tide continue to roll, but they have two tests to take.
The second is their final game of the year at No. 20 Auburn. The Tigers have played well this year with two notable exceptions at Clemson and Arkansas, but they handed South Carolina its only loss and could very well do the same when they host Alabama in the regular-season finale. In the SEC, you learn to live Saturday to Saturday.
However, Alabama might have another Saturday in mind: Nov. 5, in what's being called everything from the de facto national semifinal to college football's game of the year, against No-1 ranked LSU. It's a safe bet that the winner of this game will be going to the national championship game (and probably winning it all), but Alabama's road was slightly easier, and it will never face a test like it will three Saturdays from now.
Odds: 5-1
1. LSU (7-0, 4-0 SEC, BCS Rank: 1)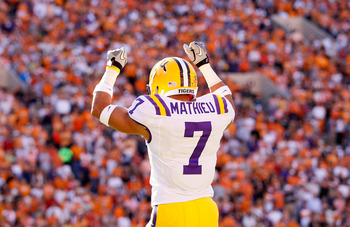 LSU cornerback Tyrann "Honey Badger" Mathieu.
Kevin C. Cox/Getty Images
Key Wins:
Sept. 3, 40-27 vs. No. 3 Oregon (neutral site)
Sept. 15, 19-6 at No. 25 Mississippi State
Sept. 24, 47-21 at No. 16 West Virginia
Oct. 8, 41-11 vs. No. 17 Florida
Strength of Schedule: A+
There's no question about it: The LSU Tigers are No. 1 in the country.
And by "no question," of course I mean many questions.
But there shouldn't be any. The Tigers have unquestionably the toughest schedule of any BCS-ranked team, with the early Oregon test, a journey out of conference at West Virginia and, of course, the pressures of an SEC schedule. However, the Tigers have shown, week in and week out, that their holes are few and far between.
Some thought the QB controversy would loom over the season like a curse. When senior QB Jordan Jefferson was suspended and other senior QB Jarrett Lee took over, fans wondered about his readiness, and he proved the haters wrong. Now Jefferson has been reinstated, and LSU head coach Les Miles has employed the two in a dual-QB attack reminiscent of their championship run in 2007 when they started two QBs over the course of the season.
The coming schedule has many tests, including two tough home battles against Auburn this coming week and Arkansas the day after Thanksgiving. However, this season gets its energy in anticipation of the epic clash against No. 2 Alabama, led by former LSU head coach Nick Saban.
With the history of these two coaches, Miles and Saban, the rivalry within the conference and the fact that the teams will probably be ranked No. 1 and No. 2, probably will constitute a national semifinal and probably will determine the eventual national champion, the pressure will most definitely be on both these teams. I'll give the early edge to LSU, as it's faced bigger game situations this year and has so few holes in its team from running the ball to stopping the run.
Even LSU's punter, Brad Wing, has swagger.
We'll let LSU and Alabama fight for it themselves. But here's your best bet: The winner of their Nov. 5 matchup probably has better odds than anyone to win it all.
Odds: 4-1
Keep Reading

LSU Football: Like this team?