BCS Standings 2011: Live Blog for the First BCS Rankings Announcement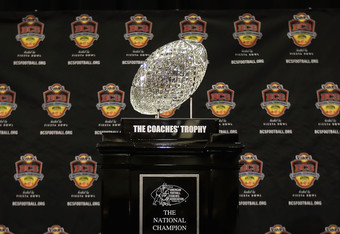 Christian Petersen/Getty Images
Welcome to the first revealing of the Bowl Championship Series standings. It's a confusing process, filled with different polls coming up with a formula to determine where the best teams in college football rank.
There has been a lot of speculation as to who should be at No. 1. In the USA Today Coaches Poll, the Oklahoma Sooners are No. 1.
But, if you ask who the BCS experts are predicting at No. 1, it's between No. 2 LSU Tigers and No. 3 Alabama Crimson Tide.
If it sounds confusing as to why the No. 1 team in the country will not be one of the top two teams when the rankings are announced in a couple of hours, well let me tell you that you're not alone.
So stick around—won't you?—as we will be keeping you updated up to and through the teams being announced. And then through the early fallout afterward.
If you have anything interesting to share, you can join in by tweeting me at @tjmcaloon.
Stick around, because it's going to be a bumpy ride.
Joe Robbins/Getty Images
Which team needs the most help in gaining spots in the BCS Standings?
Well, according to ESPN.com's Mark Schlabach it's the Wisconsin Badgers.
As he writes in his ESPN.com column, "The Badgers' are undoubtedly hurt by their soft non-conference schedule. Wisconsin's three nonconference FBS opponents -- UNLV, Oregon State and Northern Illinois -- have a combined record of 6-13. Only the Huskies have a winning record. The Badgers also played FCS foe South Dakota."
He does go onto have a bright side for the Badgers.
"The good news for Wisconsin? The Badgers will probably play at least two more games against ranked opponents, starting with Saturday's road trip to No. 15 Michigan State. Wisconsin also plays at No. 23 Illinois on Nov. 19 and its last regular-season opponent, Penn State, is off to a 5-1 start."
You can read his full article here.
Wisconsin is the best team in the Big Ten or B1G. They will play in Indianapolis, IN for the first Big-Ten championship game against the winner of the Leaders division. If they keep on winning, it will be hard to keep the Badgers from the National Title game.
Allen Kee/Getty Images
Listen, Skip Bayless is a media type that is paid BIG money to make opinions felt that the public either hates or loves.
Since ESPN pays him that money to throw crap against the wall and see what get's the public to sway one way or another. Bayless has taken to the world of Twitter to make his opinions felt about a number of topics, in which we will showcase some of his finest.
@RealSkipBayless: NO WAY Alabama belongs above Oklahoma in initial BCS standings.
@RealSkipBayless: Please don't tell me Alabama's No. 1! Overhyped "Heisman Moment" for TRich.
And
@RealSKipBayless: Sorry about Jason Campbell's collarbone. Good guy. I've always been a fan/defender of his. Never a fan of Kyle (I Should've Been a) Bowler.
Okay that last one has nothing to do with college but it's a funny tweet.
He's a media type people, and he'll continue to make outlandish statements and you'll continue to have an opinion one way or another.
Kevin C. Cox/Getty Images
The Top 4 is made up of teams that all have to play each other either on November 5th (LSU vs. Alabama) or on December 3rd (Oklahoma vs. Oklahoma State)
These games should feature four undefeated teams with the BCS Championship game being determined from the winners of these games.
But, let's take a look at the four teams with the best chance at playing for the National Title, as Featured Columnist, Ryan Rudnansky, see's it.
He has Wisconsin, LSU, Oklahoma and Alabama as his top four contenders for the '11 Title.
As he has this to say about his choice for Alabama,
"This is debatable, but I believe Alabama has the best defense in the nation. The Crimson Tide also have Trent Richardson and the best head coach in college football, Nick Saban.
The Crimson Tide have one obstacle to returning to the BCS Championship Game for the first time since 2009 and LSU is that obstacle. But I see Alabama defeating LSU and making it to the title game."
Erich Schlegel/Getty Images
Some of you may have some anger at why Oklahoma or Alabama is not the top team in the first BCS Standings. Heck, some of you have beef as to why Clemson isn't ranked higher, or why Wisconsin is ranked so low in the computers.
But, what this live blogger has a problem with is the Texas Longhorns at No. 24.
You can make the case for Washington at No. 25, for Penn State at No. 21 and for Auburn at No. 20.
But, a Longhorns team that is coming off of two straight losses to both Oklahoma schools (OU and Ok. St) is unacceptable.
This week, the Longhorns are off and could be passed up by a team like Notre Dame.
That is if Notre Dame get's past a good USC Trojans.
Bob Levey/Getty Images
We have taken a look at every team ranked No. 1 through No. 16. We have taken a look at where they start at in this poll, where they may play in the BCS Bowls and how the computers look at these teams.
But, we haven't taken a look at the bottom half of the first BCS standings.
Here are the teams ranked No. 17 through No. 25. They may not make a lot of "noise" in the BCS, but, they are ranked and have as good of a shot as anyone else.
No. 17 Texas A&M
No. 18 Michigan
No. 19 Houston
No. 20 Auburn
No. 21 Penn State
No. 22 Georgia Tech
No. 23 Illinois
No. 24 Texas
No. 25 Washington
Erich Schlegel/Getty Images
Now, that we have time to break down the BCS Standings, let's take a look at some surprising numbers that come to us in the first poll.
Oklahoma State is the best team in college football, according to the computers. In their polls they rank No. 1 in the average and have the highest percentage at .970 percent of the people who make up the computer poll.
Wisconsin is hated by the people who make up the computer average; as they rank on average No. 11 with a .600 percent.
Luckily for Wisconsin the overall BCS ranking isn't made up from the computers.
However, it's a shame for Oklahoma State that there are three other factors that determine who's No. 1.
Jeff Gross/Getty Images
So now that the rankings are out, where do these teams play at in the BCS Bowls?
According to ESPN's Bruce Feldman it looks like this:
BCS Championship Game: LSU vs. Alabama
Tostitos Fiesta Bowl: Oklahoma vs. Oregon Ducks
All State Sugar Bowl: Oklahoma State vs. Boise State
Fed Ex Orange Bowl: Clemson vs. West Virginia
Rose Bowl: Wisconsin vs. Stanford
It's interesting that Oregon makes the leap from No. 10 all the way into a BCS Bowl game. But, it's because of the fact that the SEC cannot have more than two teams in the BCS Bowls. The same rule applies for the Big-12 as well.
So, because of these rules, Oregon get's the nod for the Fiesta Bowl against Oklahoma.
Note: All of these bowl projections are on today's first BCS Standings.
Chris Graythen/Getty Images
The top teams of the BCS are announced and your BCS National Championship Game will be, between No. 2 Alabama Crimson Tide versus No. 1 LSU Tigers.
And you can watch this championship game LIVE on CBS November 5th from Bryant-Denny Stadium in Alabama.
Wait what? But I thought the National Championship Game was in January?
Well, it is, but, in the eyes of the computers, which make up the BCS Standings, the two teams that open this BCS Standings for the 2011 season is LSU and Alabama.
But, there are five other teams that have as good of a shot at making a serious run at this year's BCS National Championship. Here is your five best college football teams, according to the BCS.
No. 5 Boise State
No. 4 Oklahoma State
No. 3 Oklahoma
No. 2 Alabama
No. 1 LSU
Jonathan Ferrey/Getty Images
And we have our first group of BCS ranked teams. Coming in from No. 10 through No. 6 there are some surprises.
At No. 10 it's the one-loss Oregon Ducks. The Ducks lost their first game against potential No. 1 LSU.
At No. 9 is another one-loss team in Arkansas. They benefit from playing in the SEC, as their only loss is against Alabama.
At No. 8 is Stanford Cardinal. They need a lot of help from the opponents of the top teams in the BCS to knock them off, opening up opportunities for them to climb up the poll.
At No.7 i's the surprise team of the college football year in Clemson. Clemson still has to prove themselves as a viable contender and they will, as they still have two games against ranked teams.
At No. 6 it's the Wisconsin Badgers of the B1G aka the Big-Ten. They need some of their conference members to score bigger wins this year, as their strength of schedule is hurting them in this first poll.
Numbers one through five will be out in a second.
Joe Robbins/Getty Images
AND WE'RE OFF!
ESPN just threw at us the first group of teams at us, like an air cannon full of confetti. We weren't expecting it and BAM, Rece Davis fires off teams No. 25- No. 11.
Here is how it looks from No. 11 through No. 16:
No. 11 Kansas St
No. 12 Virginia Tech
No. 13 Nebraska
No. 14 South Carolina
No. 15 West Virginia
No. 16 Michigan State
Out of the first group of rankings, it looks like Arkansas is going to open in the Top 10 of the first BCS rankings, probably at No. 9.
Jeff Golden/Getty Images
Here we go people, LIVE on ESPN, it's the BCS Selection show.
We have all of the ESPN analysits on site for the unveiling of the first BCS Poll.
Who do you think will be at No. 1? LSU, Alabama or Oklahoma?
Where will teams like Stanford, Boise State, Wisconsin, Oklahoma State and Clemson fall in the first poll?
Which team has the best chance, that isn't in the Top 10, has the best chance to make the BCS Championship game?
All of these questions and more will be answered now!
Ezra Shaw/Getty Images
For those teams who get "screwed" by the first BCS Standings, they can take solace in knowing that there is still a month and a half of football left to play, to make up ground.
However, there are teams like Stanford that will not be able to make up any ground, because of their weak non-conference schedule and their lack of playing ranked teams inside of their conference.
This is brought out in great detail, by Featured Columnist Tim Daniels in his column about the Cardinal and their eventual shortcomings in the BCS Standings:
"The other bad news, as if the Cardinal needed it, is that the Pac-12 South is weak this season. So even if Stanford runs the table, there's a good chance their Conference Championship Game foe will be unranked, which would be a huge disappointment.
Even though they are the class of the Pac-12 right now, a loss to Oregon would derail a once promising season."
If Cardinal fans want to see their school in the BCS Title game, they will have to hope for a perfect season and a lot of losing to the top half of the BCS Standings.
Follow Tim on Twitter @TimDanielsBR
Chris Graythen/Getty Images
Another BCS projection is out and it's another No. 1 spot for the Alabama Crimson Tide.
According to the website, "BCSKnowhow.com", it's Alabama followed by LSU then Oklahoma.
As the website see's it, "Right now, the difference between the three is miniscule, about .007 actually. Any slight change could spell any of the three taking No. 1"
After the top three teams, the website sees it as, Wisconsin, Oklahoma State, Boise State and Stanford are right behind them.
But, as the first BCS poll is about to come out in less than an hour, whomever is in the top five-or-six teams, will have to change before the end of the season.
As out of the projected top seven teams, LSU and Alabama play on November 5th and Oklahoma and Oklahoma State play on December 3rd.
These four teams will make up who get's to play for the "Coaches Trophy" on January 9th.
Follow BCSKnowhow on Twitter @BCSKnowHow
Jamie Squire/Getty Images
How will you react if your team isn't ranked No. 1 when the first BCS Poll is released in about an hour? Will you rejoice, just because your team is up there, having a great chance at playing for a BCS Title?
Or will you be upset, at the fact that your team isn't No. 1?
Even if your team is ranked No. 1 in the Coaches Poll and hasn't lost any games this year after winning two games on the road against ranked teams.
Yes, I'm talking to you Oklahoma Sooners fan.
How are you going to react if your team isn't at the top of the first BCS Standing?
It's not like if you win the rest of your games you won't have a chance to play for the National Title. You know LSU and Alabama have to play on November 5th, so why will you be so upset?
Maybe, all of this hostility that we're seeing on Twitter is for nothing. Maybe Sooner fans shouldn't be like this fan, expecting the worst, preparing for a let down.
Chin up Sooner fans; if you don't get the top spot, it doesn't mean you won't have a chance to play in the title game in January.
Butch Dill/Getty Images
According to CBS Sports, College Football Rankings, they see the Alabama Crimson Tide opening up at No. 1 in the first BCS Standings.
With a .9485 BCS average, Alabama edges out No. 2 Oklahoma by only .0017 points as Oklahoma opens up the BCS Standings with .9468.
Coming in a close third place is the Assocaited Press's No. 1 in their poll, the LSU Tigers with .9455.
After the very tight top three teams, it's another cluster with the teams ranked No. 4 through No. 7.
As Oklahoma State is No. 4 with .8568, Boise State at No. 5 with .8127, Wisconsin at No. 6 with .7708 and finally Stanford at No. 7 with .7551.
Here's the link to the rest of the Top 25 and to see how the BCS Experts at CBS Sports came up with their Top 25.
Kevin C. Cox/Getty Images
According to Bleacher Report's own Danny Flynn, it will be the LSU Tigers who will open up at No. 1 in the first BCS poll.
As Danny sees it, "The LSU Tigers are clawing their way through the toughest schedule in college football, and so far, there's not a team in the country that has a stronger resume than Les Miles' crew.
The Tigers already have four wins overranked opponents.
The scary part is, they now look like they're really starting to hit their stride.

Tennessee didn't stand a chance yesterday, as the Vols became the latest team to feel the wrath of LSU's tenacious defense.

After a 38-7 romp in Knoxville, LSU is now 7-0 on the season.
After the Tigers, he has Alabama, Oklahoma and then Oklahoma State as his next three teams with the Boise State Broncos rounding out the Top 5.
This article is
What is the duplicate article?
Why is this article offensive?
Where is this article plagiarized from?
Why is this article poorly edited?