Newcastle United: Can Toon Army Be Shock Champions League Qualifiers?
October 17, 2011
Ian Walton/Getty Images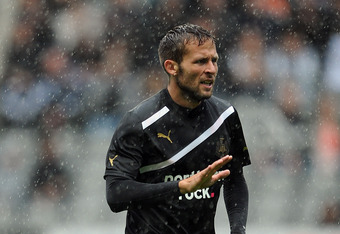 Chris Brunskill/Getty Images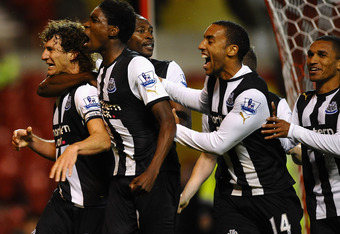 Laurence Griffiths/Getty Images
Newcastle United hero Shola Ameobi once again proved his continued worth to the club when a superb effort saw him best Tottenham keeper Brad Friedel for the equalizing goal in Saturday's 2-2 match. Ameobi's goal ensured that the Magpies remained undefeated after eight matches.
The Toon currently sit in fourth place of the Barclays English Premier League on 16 points. They are two points above Liverpool in fifth and six points back of Manchester City at the top of the pile with 22.
It has been a decade—almost to the day—that Newcastle had a start this good.
Newcastle United last started a season as strongly in 2001-02, when they ran up 14 points from four wins and a pair each of draws and losses. Before that their best start of the last 20 years was in 1996-97 under Kenny Keegan, when they had 18 points from six wins and two losses, but even then they failed to remain undefeated.
This season's start to the Magpies' campaign has us all wondering the same thing: Are Newcastle United really as good as they seem? And are they capable of European qualification in either the Champions League or the Europa League?
At the moment they certainly seem capable of achieving a great season. Alan Pardew has them playing excellent football. The summer acquisitions as well as the retained stars are showing great composure and combined ability.
No one would have believed that after the sales and departures of Andy Carroll, Kevin Nolan, Wayne Routledge, Jose Enrique and Joey Barton that there would have been a club put back together stronger than before.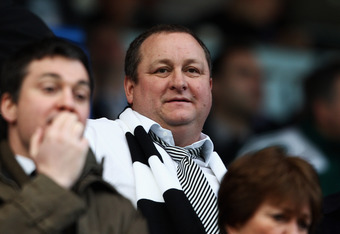 Dean Mouhtaropoulos/Getty Images
January and Summer transfers of Hatem Ben Arfa, Yohan Cabaye, Demba Ba, Sylvain Marveaux, Mehdi Abeid, Gabriel Obertan, Robert Elliot and Davide Santon have made the team more solid than it was before.
The negative effects of Joey Barton have been replaced by a midfield combination of Cabaye's creativity and Cheik Tiote's tenacity and drive. The latter is probably one of the most underrated midfielders in the league.
A no-nonsense front line of Demba Ba, Leon Best and Shola Ameobi have been of great surprise so far and the backline of Danny Simpson, Steven Taylor, Fabricio Coloccini and Ryan Taylor have been solid.
Out on the wings has seen an excellent combination of attributes from newly recommitted Jonas Gutierrez, Gabriel Obertan, Sylvain Marveaux and a fit Hatem Ben Arfa.
Most of all, the highlight play of goalkeeper Tim Krul has been outstanding and the unity of the locker room has been the key factor in this season's great start according to manager Alan Pardew.
Newcastle have put together a club that relies on a team effort and not all-out star power.
In doing so their club has gone from relegated, promoted and middle of the table to possibly a European return in only three seasons—all while moving nearly back into the black financially.
Club manager Pardew has called for a new respect to be leveled at club owner Mike Ashley as there is a renewed buzz about the club after such a great start to the season.
Ashley has spent years in the negative thoughts of Newcastle fans.
The sale of Andy Carroll last January looked like one of his most hated moments, but now he appears to be winning a few back as he pushes for the club to continue its financially sound rebirth and rejuvenation.
Newcastle United's managing director Derek Llambias announced in an article published on ESPNsoccernet.com that the club has reversed an operating deficit of £37.7 million in 2008-09 to £4.7 million in 2010-11, and should move back into FIFA financial play rule compliance by the end of the 2011-12 season.
In a glowing statement ending the article he was quoted as saying:
"To make our ambitions clear to supporters and stakeholders, our aim for the 2011-12 season is at least a top 10 finish in the Barclays Premier League. We are fully aware that Newcastle United holds a unique place in the lives of Geordies around the world.

"Our supporters are the lifeblood of the club and the Board understands that it has been charged with ensuring their club is properly run and continues its growth both on and off the field over the next year and beyond.

"In declaring our aims for this season, we are demonstrating our commitment to taking this club forward from what is now becoming a stronger and more healthy position.''
With all of that in consideration the question still remains—can they find a way to break the top five to qualify for at least the UEFA Europa League?
There are still 30 games left in the season with the Magpies yet to play Manchester United, Manchester City and Liverpool or return legs against Arsenal or Tottenham. Although Arsenal have had a tough start to their season, they have weapons capable of doing much damage if they all are on the same page.
In the last 10 years of EPL action it has taken an average of 62.6 points to achieve a fifth-place finish in order to qualify for at least the UEFA Europa League. The lowest qualifying point total was 56. Ironically, Newcastle United were that club in the 2003-04 season.
If the Magpies keep the same pace over the next 30 games as they have in the first eight they would total 60 points in the table, which may be more than enough if the competition is as stiff this season as it seems it could be.
However, that means they will definitely have to continue to get results.
Next week on October 22nd they face Wigan Athletic at home, which should be a victory for the home side. Yet the next five matches could be the ones that define their character early on.
Following Wigan the Magpies face a trip to Stoke City and the Britannia Stadium, host Everton, play two straight away games at Manchester City's Etihad Stadium and then Manchester United's Old Trafford. Their two trips to Manchester end in a return to St. James' Park against Chelsea.
If they can manage to run that gauntlet of teams, earn a respectable amount of points and not fall down the table then they will appear more legitimate candidates for a European qualification.
In the long run Newcastle certainly look as if they have a shot at pushing for a top-half place, but I do not know if they can maintain the momentum or have the overall quality to finish top five. However, I truly hope the Magpies can push the top clubs at the top as they are a club that should be in the top half every season.
Thanks for following me and be sure to read further on Bleacher Report and at the links below. You can follow me on Twitter @thedailyatz and Facebook or visit my Website.