MLB Playoffs: Has Cardinals' Tony LaRussa Found the Right Formula for an Upset?
October 16, 2011
Rich Schultz/Getty Images
Tony LaRussa has spiked MLB's drinking water, and consequently he might just steal a World Series title.
After the dispatching of Jim Leyland's Tigers in Texas Saturday night, 30 postseason games have been played, thus far.
This October, the way teams are playing, the way managers are managing, bares little resemblance to a season that had seen the continued renaissance of the role of the starting pitcher.
In a season when for the first four months, complete games were occurring on a schedule like your Flintstone Vitamins—one a day—there's been exactly one CG this playoff go-round. Chris Carpenter's closeout gem over Halladay and the Phillies.
During the regular season's 2,429 games (the Dodgers and Nationals wound up playing only 161), a starting pitcher worked through the seventh inning 1,634 times.  In 4,858 MLB starting pitching assignments, the guy got at least 21 outs, 33.6 percent of the time.
In 60 playoff "starts," a mere 11 such long starts—and two of them rendered by rookies.  Even if we disregard the two games, which were severely disrupted by weather, that's only 19.6 percent of playoff starting pitching efforts that have lasted at least seven innings.
The Yankees (57, 35 percent of their games) were the least frequent "long starters" among the eight playoff teams; the Phillies (89, 55 percent) and the Rays (79, 49 percent), the most.
Consider how our playoff teams fared in games when its starting pitcher earned the decision:
| | | | | | |
| --- | --- | --- | --- | --- | --- |
|   | Starters |   | MLB Rank | Bullpen Games | Long Starts |
| Texas | 74-40 | .649 | 1 | 48 | 61 (11th) |
| Philadelphia | 76-42 | .644 | 2 | 44 | 89 (1st) |
| Milwaukee | 73-43 | .629 | 3 | 46 | 62 (9th) |
| New York | 71-45 | .612 | 4 | 46 | 57 (13th) |
| Detroit | 71-46 | .607 | 5 | 45 | 63 (8th) |
| St. Louis | 62-41 | .602 | 6 | 59 | 61 (11th) |
| Arizona | 72-53 | .576 | 7 | 37 | 66 (5th) |
| Tampa Bay | 67-56 | .545 | 11 | 39 | 79 (2nd) |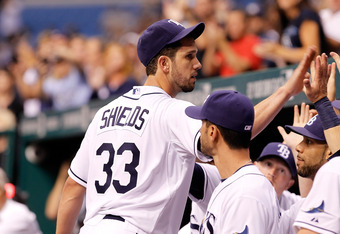 J. Meric/Getty Images
Notice that LaRussa was required to manage his bullpen to a decision, far more often than any other playoff team. Indeed, more often than any other team in the MLB, save the floundering Florida Marlins.
The configuration of the MLB playoffs—an off-day scheduled at every change of venue—induces a manager to shorten his starting rotation and often to alter relief patterns.  Inevitably, somebody (a utility player or a setup man) is informed that he is not good enough and that another player will be filling that role, but is told to "stay ready!" Confidence is shaken, at least a little bit, and at times chemistry altered. 'Tis indeed a slippery slope.  (I'll see your Alexi Ogando success story, and raise you a Brad Penny bombing.)
Let's go back for a moment to Friday, April 22 in St. Louis.  Six pitches into the top of the first inning that night the game was delayed for two hours.  Given the ominous weather conditions, LaRussa had chosen to "start" soon-to-be-released Miguel Batista and was able to relieve with his scheduled starter Kyle McClellan when play resumed.  Cincinnati Reds' manager Dusty Baker was unable to use Edwin Volquez, his opening day starter.  The Cards won, also two nights later on national TV when the resuscitated Volquez offered insufficient resistance.
Baker ought to feel ashamed.
Thus far in this year's playoffs (again, disregarding the two AL weather-afflicted games), starting pitchers are averaging 5.53 innings per outing.  (Alas, Abacus did not track the average length of MLB starts this season.  As we used to say on the schoolyard when the ball rolled away, "Little help, please?")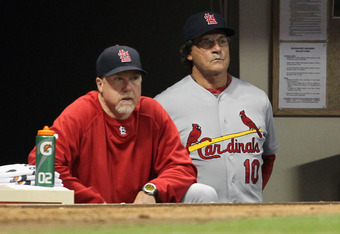 Jonathan Daniel/Getty Images
That leaves 10 or 11 outs to be negotiated.
Tony La Lawyer seems to have them all playing the game his way.
The Braves couldn't hold him off.
Charlie Manuel's stacked Phillies came up short.
The Brewers are one misstep from Prohibition.
And Nolan Ryan's World Series-bound Rangers—among the initiators of the Rebirth of the Ironman Starter—have yet to experience a seven-inning playoff effort through two rounds.
The Methuselah of sports journalism, Bob Ryan, has for years bemoaned what he enjoys calling "Creeping LaRussa-ism," the data-driven, matchup centric approach to managing.
If Mr. Ryan's not careful, LaRussa might just creep his way along until there's no one else standing.
What do you suppose he's put in that drinking water?