Tony Romo and 3 Keys to His Success Against the New England Patriots
October 16, 2011
Ronald Martinez/Getty Images
Tony Romo has been on the hot seat this season.
Many critics do not think that the Dallas Cowboys will amount to anything if he is behind center taking snaps.
Romo needs to prove his critics wrong and there is no better way than to play a great game against the New England Patriots.
Here are three keys to his success.
Being Conservative
Tony Romo has tried to be a hero one too many times so far this season. Tony Romo has thrown the ball into way too tight of coverage late in games.
Romo has five interceptions already on the season. This is something that he cannot do if he wants to be able to hold onto his role as the starting quarterback of the Cowboys.
Romo, however, has been a very good quarterback in the first three quarters of the game. He plays conservative and this has resulted in his completion percentage being 65 percent this season.
Utilize Miles Austin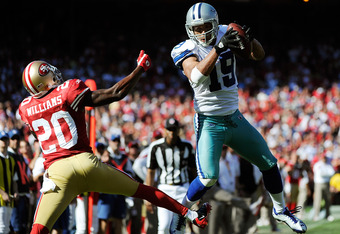 Thearon W. Henderson/Getty Images
Miles Austin, the Cowboys No. 1 wide receiver, is making his comeback after injury.
Austin will allow the Cowboys to have a very legitimate deep threat and also gives Tony Romo another set of assured hands besides Jason Witten's.
This is something that will help the Cowboys keep up with the play of Tom Brady.
Throw the Ball Away
When the game is in crunch time, Romo needs to realize that throwing the ball away, instead of into double and triple coverage, is the best play.
When plays break down it is not time to become a hero, it is time to be conservative and keep the drive alive.
The best quarterbacks are the ones that truly read the game and know when to play his hand or when to fold.
This is something that Tony Romo has not shown he knows how to do.