BCS Rankings 2011: Boise State and 3 Teams Whose Ranking Have Already Peaked
October 16, 2011
Doug Pensinger/Getty Images
Fans of Boise State, Oklahoma State and Penn State will be excited to see their teams in the initial BCS rankings tonight. Well take a picture, because it's not going to last.
Boise State Broncos
Projected BCS Rank: 5
Through no fault of their own, the Broncos won't rise any higher than fifth. Boise State is fighting against glass ceilings imposed by both the human pollsters and the computers.
Though many writers and college football analysts are quick to give Boise State credit for its domination of lesser opponents, the Broncos will never really be evaluated on the same scale as teams from conferences like the Big Ten, SEC or Pac-12. Boise State is on a perpetual quest to prove it belongs, but with no games remaining against BCS-level opponents, the Broncos won't have another opportunity this season to show off for the pollsters.
Even as the teams ranked around them pile up losses, there's no guarantee that Boise State will benefit in the polls. If LSU loses on the road to Alabama, do you really think that the Tigers will drop behind the Broncos in the polls?
The story is much the same for the computers. Boise State's Achilles' heel is, and always will be, strength of schedule. The Broncos are usually able to schedule one strong opponent early on in the year (this season it was the Georgia Bulldogs) to boost their strength of schedule. It's a great way for Boise to get itself on to the national radar, but as the season progresses and Boise State plays Wyoming, New Mexico and the rest of their weak conference schedule, the impact of that early game is diminished.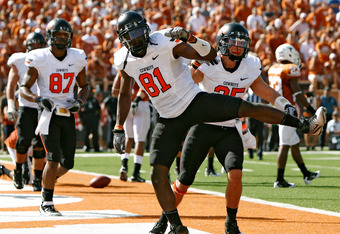 Erich Schlegel/Getty Images
According to the Sagarin computer rankings, Boise State has played the 29th toughest schedule so far. By the end of the year, that number will undoubtedly rise above 75. In 2010, Boise State finished the year having played the 81st most difficult schedule.
Style points are important, and the Broncos will rack up plenty of them, but with absolutely no substance remaining in its schedule, Boise State's BCS ranking will peak this week.
Oklahoma State Cowboys
Projected BCS Rank: 6
Oklahoma State is what it's always been during the Mike Gundy era. Incomplete.
The Cowboys have an outstanding offense led by Brandon Weeden and Justin Blackmon, but sometime soon, the porous OSU defense is going to crush the BCS dreams in Stillwater.
Oklahoma State currently ranks 100th in total defense, surrendering over 425 yards per game.
Mike Gundy's team deserves a ton of credit for running its record to 6-0, but the Cowboys two signature wins are much less impressive than they initially appear. Texas A&M began the season highly ranked, but its defense (102nd in total defense) is even worse than Oklahoma State's. Texas got off to a hot start, but once the Longhorns were faced with a difficult opponent, they folded. Twice. So while the Cowboys can claim wins over two ranked teams, none of those wins are great resume builders.
As Oklahoma State continues to face more and more good teams (starting next week at Missouri and its 13th ranked total offense), the OSU defense will ultimately collapse. Not only will the Cowboys not finish the season unscathed, they'll be the next unbeaten team to lose.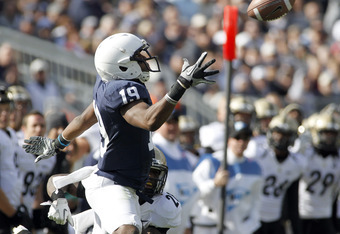 Justin K. Aller/Getty Images
Penn State Nittany Lions
Projected BCS Rank: 18
Penn State has been anything but impressive this season. The Nittany Lions have rolled two terrible teams (Indiana State and Eastern Michigan), squeaked out victories over a few mediocre teams (Temple, Indiana, Iowa and Purdue) and been hammered by the one elite team they've faced (Alabama). It's not a disappointing record, but it's certainly not indicative of a team on the rise.
The Penn State defense is excellent, but the offense is ultimately going to lead this team out of the rankings. The Nittany Lions have gained just 5.2 yards per play this season, placing them 81st in the nation, behind the aforementioned Eastern Michigan Eagles. I'm sure Matt McGloin and Rob Bolden are trying very hard, but both have proven to be utterly incapable of piloting a successful offense. So far, Penn State has been able to get by without scoring much, but that's going to change very soon.
The Nittany Lions travel to Northwestern next week, then face Illinois, Nebraska and Ohio State before closing out the season at Wisconsin. Given its offensive performance so far, it's hard to imagine Penn State winning more than two of those games.