Arsenal FC: 5 Takeaways from Arsenal's Win Against Sunderland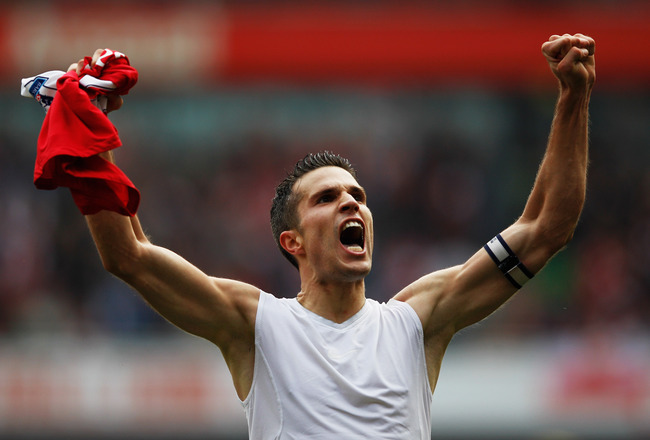 Paul Gilham/Getty Images
After 90 minutes of play and five minutes of stoppage time, Arsenal are victorious over Sunderland.
This victory takes them to 10th overall in the English Premier League table—much better than the 15th place they were in at the beginning of the game.
Arsenal can look ahead to their fixture next week on a high note after rescuing a win from a brilliantly taken Robin Van Persie free kick.
The Gunners can take a few notes from this game, though.
Here is what Arsenal can take away from this victory over the Black Cats.
They Can Score When Needed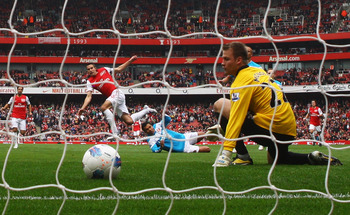 Julian Finney/Getty Images
They came flying out of the gates like they needed to, with a Robin Van Persie goal 29 seconds into the match. They looked strong throughout, having 20+ shots taken, but only scored two goals.
Van Persie is in insane form with four goals in the last two games.
He can't carry the goal load, though.
With all the chances Arsenal had, they should've had more goals. Key chances included the chip that Van Persie had in the first half that came careening off the post, and the weaving run from Arshavin in the second half that skirted just wide of the post.
Van Persie came through on a free kick though, after a series of three absolutely awful free kicks from Arteta, Andre Santos and Walcott.
Side note: Walcott should never be taking free kicks. Ever.
Jenkinson Can Play Really Well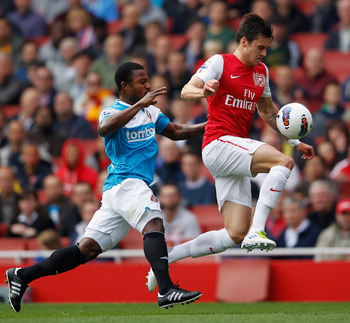 Paul Gilham/Getty Images
If there's one thing noticed over and over again, its the driving runs up the right side of the pitch from Carl Jenkinson.
He was the one who pounded down the flank, getting open and drove crosses across the box.
He may have had a shaky start to his Arsenal career with various own goals and slip-ups occurring in the games he's played, but he seems to be well on his way to a solid Arsenal back line figure.
Rosicky Can Hold His Own in the Middle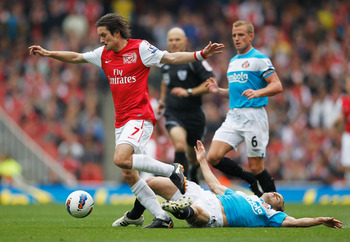 Paul Gilham/Getty Images
After shocking news of an Aaron Ramsey injury, Tomas Rosicky got the nod to start for the gunners against Sunderland.
Boy, did he play well!
With the Arsenal midfield looking more like the one of old, with their slick play and incisive tackling to win the ball back, Rosicky put in a performance to remind us all why he's here.
He ran Sunderland's midfield ragged. His electrifying run up the length of the pitch is the one that opened up the free kick opportunity for Captain Van Persie.
He also played rather solid defense on the other side of the ball, providing depth and counter-play to Sunderland's attacks.
Defense Is Still Frail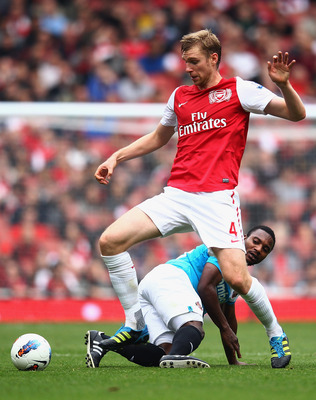 Julian Finney/Getty Images
With Sessegnon and the Sunderland attack playing rather well against the Arsenal side, the defensive line was under question again.
Kieran Gibbs put in a questionable performance, looking lethargic and genuinely uninterested in the play at times. He went off around the 60th minute, with questions of injury, and to make way for Andre Santos, who put in a rather sparkling performance at left back.
Mertesacker won several key balls played through in the air, but his pace was put to question again whenever Sunderland broke on the counterattack.
Koscielny played rather well, holding down the middle of the defense, but his continual runs through the middle, were questionable, leaving the defense vulnerable to counter attacks.
Three Points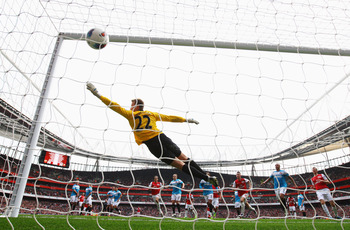 Paul Gilham/Getty Images
When all is said and done, Arsenal took three points when they needed it most.
This game was a statement to where they wanted to be in the EPL, and that is up towards the top of the table, scrapping with the other top teams for a chance at silverware.
It was a nervy 90 minutes, especially following the spectacular Van Persie free kick special. The Sunderland side looked to have tied it back up, but had it called back for offsides.
When the final whistle had blown though, Arsenal had taken three points and a win at home to continue their recovery from a horrid start to the 2011-2012 EPL campaign.
In Conclusion...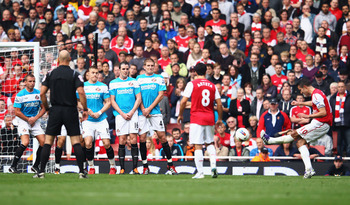 Julian Finney/Getty Images
This Sunday league fixture was well-played by the North London side.
There were some questions as to their true quality at times, but all questions were put to rest when the final whistle blew on a fairly contested game.
With this win, Arsenal bumped themselves up to 10th place, where Sunderland sank to 17th, flirting with the Relegation Zone only eight games in.
Arsenal look forward to their next two fixtures this week, away at Marseille in the Champions' League this Wednesday and then hosting the Stoke City rugby squad, I mean football club, this coming up Sunday in the league.
Keep Reading

Arsenal: Like this team?