Bernard Hopkins Loses by TKO to Chad Dawson: A Strange Night for Boxing
October 16, 2011
Stephen Dunn/Getty Images
It was a good night for boxing except for one fight. Unfortunately, for boxing fans, it was the main event that disappointed. It's a shame that this overshadowed what ended up being an excellent undercard—one of the best we've seen in years.
When Bernard Hopkins hit the canvas in a non-knockdown during the second round of his fight, it looked like little more than a bit of nudging gone wrong. Unfortunately, Hopkins was deemed unable to continue due to a reported left shoulder injury.
Partisans from both sides have their points, which we will no doubt hear repeated innumerable times over the coming days and weeks.
Hopkins—a cagey veteran known for occasionally engaging in some rough, marginally-legal tactics—initiated the scuffle when he came in and leaned on Dawson after a missed right cross. Dawson seemed upset by the gesture, and probably overreacted by leaning his shoulder back into Hopkins, and grabbing Hopkins' right leg, toppling the 46-year-old fighter to the canvas.
It was ruled by the referee to be a non-foul, and certainly a non-knockdown. Due to this ruling, and Hopkins' subsequent inability to continue, there was no choice but to rule the fight a TKO loss for Hopkins. Had there been a foul, it likely would have been a no-contest.
At first glance, there didn't appear to be an obvious major impact that caused the shoulder injury, but Hopkins' left elbow was the first thing to hit the ground, so it's possible his shoulder could have been jammed. HBO's Max Kellerman commented during a post-fight interview with Hopkins that it did look like Hopkins' left shoulder was slightly raised, but controversy and discussion will continue.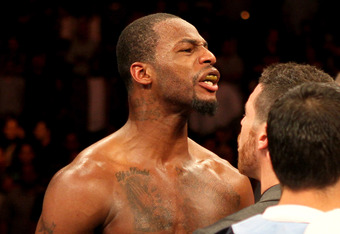 Stephen Dunn/Getty Images
Dawson claimed that Hopkins was faking the injury because he did not want to fight Dawson. From a naked-eye account, it's not hard to understand his point of view either. It was not a particularly heavy-looking fall, and though we certainly don't know the extent of the damage it caused Hopkins, disappointed boxing fans were understandably upset with Hopkins' non-continuance.
Dawson, for his part, pulled no punches in calling Hopkins' injury a fake, and said that he doesn't want a rematch with a fighter who would probably be 47 by the time they next fought. Dawson wants to avenge his controversial 2010 loss to Jean Pascal—the French-Canadian fighter who lost his title to Hopkins in May to set up the Hopkins-Dawson matchup.
In the end, it was a frustrating conclusion to what was otherwise an eventful fight card with three solid undercard bouts featuring name opponents.
Undercard
Even the non-televised portion of the undercard was impressive—it featured a Luis Collazo vs. Freddy Hernandez fight that could easily have been televised on most fight cards. Dewey Bozella—age 52—also recorded an inspiring victory in another interesting non-televised matchup.
The televised undercard didn't disappoint either. Paulie Malignaggi—a fan-favorite who is among the sport's most entertaining characters—recorded a convincing unanimous decision victory over 28-1 Orlando Lora.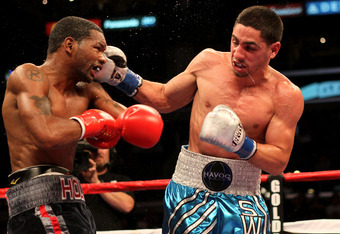 Stephen Dunn/Getty Images
Then Kendall Holt and Danny Garcia turned in what was possibly the best fight of the evening—a close back-and-forth affair that ended with a split decision victory for Garcia. Former two-time world champion Holt fought well and had a noticeable edge in hand speed, but Garcia's youth, power, and aggression kept the fight very close throughout.
The fight seemed too close to call until Garcia recorded a fairly powerful 12th round, but in the end, Garcia retained his undefeated record. A rematch of this fight would be welcomed by boxing fans, and could do great things for both fighters' careers.
Jorge Linares vs. Antonio DeMarco—An Interesting Storyline
The last televised undercard bout also brought arguably the day's most interesting storyline. Highly-touted Jorge Linares has looked very impressive since his stunning first-round KO loss to Juan Carlos Salgado two years ago. Linares was favored in his matchup with Antonio DeMarco, in a match between two former world champions looking to add the vacant WBC lightweight belt to their trophy case.
Linares had a clear advantage in hand-speed, and looked to be winning the fight. However, in the 11th round, the referee called a stop to the bout after he deemed the severely-bloodied Linares unable to continue.
It was a stunning decision to say the least, and if it weren't for a deep gash on the bridge of Linares' nose, he could have very possibly pulled off a comfortable decision victory. However, it was instead the crowning achievement of DeMarco's career. DeMarco had held a world title for one bout in 2009 before his loss to the late Edwin Valero.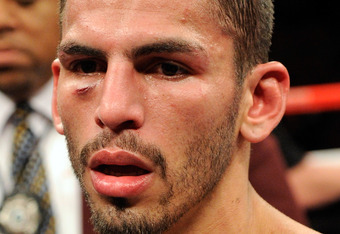 Ethan Miller/Getty Images
It remains to be seen if this will be viewed as a setback for Linares, the once-highly touted prospect who lost a lot of steam after the shocking KO against Salgado. Linares was valiant in defeat, and his natural abilities were evident. A further testament to his ability is the fact that he is being trained by Freddie Roach, whose star client Manny Pacquiao was also in the audience tonight.
Linares could very well have earned "victory through defeat" tonight, as he impressed a lot of fans with his chin and hand speed. It won't be unexpected if we hear Linares' camp talking about how DeMarco's head may have won him the fight, and if it weren't for the blood Linares had lost, then the stoppage would have been heavily scrutinized. Linares still clearly had some fight left in him when referee Raul Caiz, Sr. called a stop to the bout, but Caiz can't be blamed for calling a stop to a bout where one of the competitors had clearly lost a significant amount of blood.
In my opinion, Linares and DeMarco should both benefit from this fight, and will have some lucrative options going forward, including a possible rematch.
But What of Hopkins vs. Dawson?
In the end, however, it is tough to call a fight card a significant success when the main event ends in disappointment. We will probably never know the truth behind what happened with Hopkins in the second round, though by my estimation, Dawson seemed to be a bit too much for the 46-year-old Philadelphian to Handle.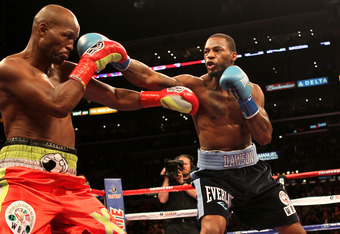 Stephen Dunn/Getty Images
Dawson was noticeably larger, and was landing some decent shots against Hopkins, but more importantly was evading Hopkins' punches. But Bernard Hopkins has made the last decade of his career about proving naysayers wrong, and Dawson didn't have such a stunning advantage that Hopkins could be counted out.
Still, it's not hard to see the other side of the equation. Many boxers have gotten up from far more vicious-looking falls than the one Hopkins experienced tonight, and perhaps it's a sign that age has finally started to catch up to "The Executioner."
For detractors of Hopkins—and there are many, probably even more after tonight's fight—it could also be interpreted as some of his "veteran tactics" coming back to haunt him. Hopkins has recently gained notoriety for pulling out every trick in the book to overcome younger, more sprightly fighters. But tonight, it backfired. Hopkins clearly leaned on Dawson after "Bad Chad" had easily ducked under a right by Bernard, and was clearly off-balance when Dawson decided to retaliate by leaning his shoulder in.
There could have been a number of results. The TKO that referee Pat Russell called was only one possibility. Dawson could have been called for a foul, which would have resulted in a no contest, or possibly even a disqualification. Being a referee is all about making tough decisions, and there was no decision tougher than tonight. It's hard to call a knockout on a fighter who may have been the victim of some dirty tactics, but it's just as difficult to let a minor infraction turn into something more significant in light of a questionable injury by a fighter who is not above using a good acting job to advance his case.
In the end, it was a frustration conclusion to what should have been a much more telling fight. However, I think Pat Russell made an appropriate decision. He called what he saw, and few people will be screaming injustice after what he did. Dawson earned some redemption (as well as capturing Ring magazine's Light Heavyweight championship), and will definitely have some good options to choose from: a rematch with Hopkins, a rematch with Pascal, or perhaps even another bout against the always-entertaining Glen Johnson.
As for Hopkins, it is undoubtedly a setback for the living legend, no matter how you interpret what happened. If it was a genuine injury, it points to some negative signs. Aside from the obvious detrimental effects of a shoulder injury—which would be exacerbated by a longer recovery time due to his age—he also did not put in an impressive performance, and it's reasonable to think that a younger fighter may have been able to bounce back from such a fall. If he was exaggerating its effects, then he secured another payday, but at his age, he doesn't have many fights left, and even if tonight doesn't hurt his career, his abilities are fading with each passing day.
In a night with many fighters—Holt, Malignaggi, Linares, DeMarco, Dawson, Hopkins—ending up with a mixed prognosis, fight fans didn't end up in a much better spot either. It certainly wasn't a disappointing evening as a whole—there were too many good bouts and interesting stories, and too much controversy and discussion for that—but our strongest memories are of the last fight we saw.
The results for boxing fans tonight were bittersweet, but tonight's action clearly shows that there are still a lot of viable, compelling storylines in the sweet science, and the drama of boxing is alive and well.