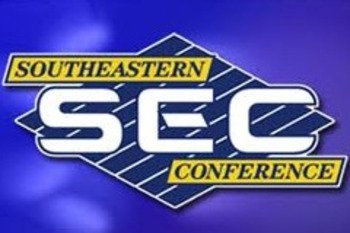 From the Kentucky Wildcats in the north and Florida Gators in the south to the Arkansas Razorbacks in the west to the South Carolina Gamecocks in the east, the Southeastern Conference (SEC) mascots are as varied as they are geographically dispersed.
I'll take a look at each of them and rank them according to a "highly scientific method," what my kids think of them. What? You were expecting a complicated, ridiculous computer ranking system that no one understands?
University of South Carolina Gamecocks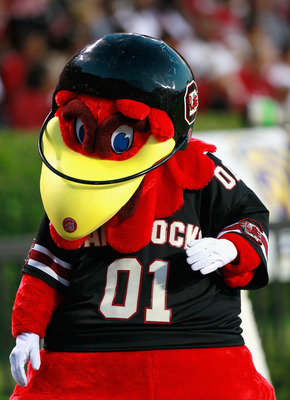 Kevin C. Cox/Getty Images
Gamecocks = Chickens. According to my son, "no one is scared of a chicken, Dad." Granted the Gamecocks attempt to make their chicken scary with fighting spurs, crazy feathers, attitude and a fancy name, but it's just not working. Chickens are everywhere so no geographical uniqueness points. Gamecocks seem pretty fierce when they're fighting each other but I don't think I'd put much stock in one taking on, say a tiger, elephant or even an eagle. Overall, they're best fried...or for you healthy folks, skinless and baked.
Famous Alumni: Hootie & the Blowfish (Grammy Award Winners) and Sterling Sharpe (NFL)
Mascot Ranking: 12
University of Kentucky Wildcats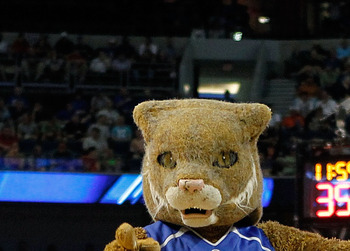 J. Meric/Getty Images
Cats, even wild ones, aren't overly scary. Sure, if one jumped on your head it would claw the crap out of you, but unless it lands a really, really lucky "punch" it's not going to kill you. Wildcats are everywhere so no geographical uniqueness points. Both kids are dog people so they weren't even interested in talking about a "stupid cat." Overall, they're best for catching mice.
Famous Alumni: Happy Chandler (MLB Commissioner) and Ashley Judd (Actress)
Mascot Ranking: 11
Mississippi State Bulldogs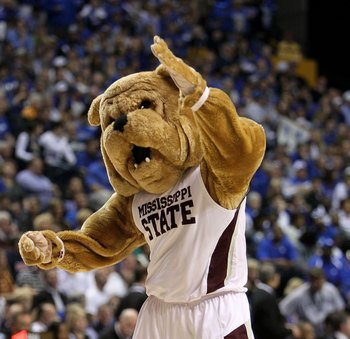 Andy Lyons/Getty Images
The Bulldogs lose some points here because there is another mascot of the same name in the conference. Don't worry, I'm going to dock them too. The kids like the puppy, but don't think he's very scary. Sure, I know bulldogs are tenacious and all of that. But I'm pretty sure even my neighbor with the rascal cart could outrun a bulldog. They're likable, which hurts them in the scariness category, plus there's the snoring and drool. Bulldogs are from everywhere so no extra points for geographic uniqueness. Overall, they're a lovable family pet.
Famous Alumni: Will Clark (Giants/Cardinals) and John Grisham (Author)
Mascot Ranking: 10
University of Georgia Bulldogs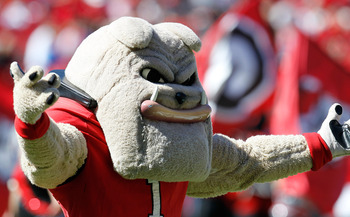 Kevin C. Cox/Getty Images
Georgia gets credit, and one place higher ranking, because they were bulldogs first (1785 versus 1788). They too lose points because there is another mascot of the same name in the conference. The kids still like the puppy, but said "didn't we already see that one?" So there you have it. Lack of creativity. But, then again, how creative can you be with a bulldog? They're still tenacious and still not scary. Overall, they're best at destroying pillows and ruining their doggy beds with drool.
Famous Alumni: Herschel Walker (NFL Hall of Fame), Bill Goldberg (WWE) and R.E.M. (Grammy Award winners)
Mascot Ranking: 9
University of Arkansas Razorbacks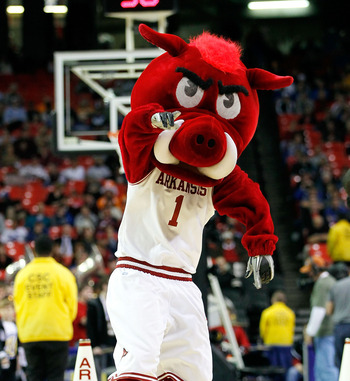 Kevin C. Cox/Getty Images
Ah, the Hogs, they rank here because, well, at least they're wild animals. Hogs are mean, elusive, smelly, and have those dang tusks. They're not very likable, for many of the same reasons, but the mascot is unique to the area so gets a few cool points on that basis. But, in the end, they're pigs, and taste good with grilling sauce on them.
Famous Alumni: Jerry Jones (Dallas Cowboys owner) and John Daly (PGA)
Mascot Ranking: 8
University of Tennessee Volunteers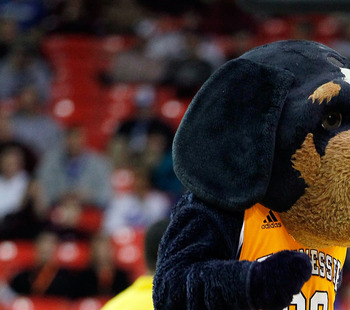 Kevin C. Cox/Getty Images
The Volunteers were off to a good start going with a historical reference as a mascot. But they fell considerably in the rankings when it was all but impossible to determine what in the heck the mascot actually was; the coon-skin cap wearing frontiersman, the coon hound or the letter "T"? Time to go back on your meds Tennessee. The split-personality thing is confusing for anyone who doesn't swear by the orange. Which, I must admit, their choice of color is one of the most usable of all the college sports. Wear it to the big game on Saturday and out hunting on Sunday!
Famous Alumni: Peyton Manning (Colts) and Al Gore (Vice President)
Mascot Ranking: 7
Vanderbilt University Commodores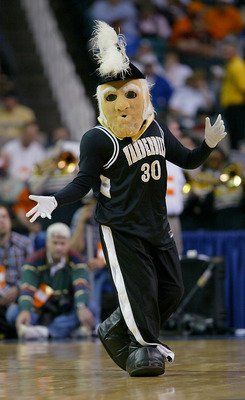 Doug Pensinger/Getty Images
Commodores sure makes them sound impressive, or at least important, doesn't it? They rank above other schools because a guy with a sword is someone you'd watch out for. But, they lose points because they're not near the ocean so the old Commodore isn't commanding a fleet or anything bigger than a rowboat. While I'm at it...the star is an improvement over this logo (but that's a whole other article)...cause this one is crap. They're where they are in the ranking because of the sword and the obviously delusional sailor wielding it.
Famous Alumni: Mack Brown (Head Coach, Texas Longhorns) and Dierks Bentley (Grammy Award winner)
Mascot Ranking: 6
University of Mississippi Rebel Black Bears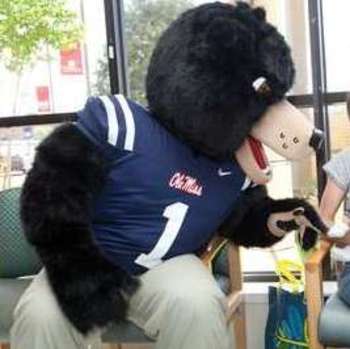 Ole Miss, what have you done to yourselves? Sure, retiring Colonel Reb was a good idea for political reasons. But the bear is just silly. You get a few points because, yes, there are bears in Mississippi (two types of them actually, look it up brainiacs) and the whole Theodore Roosevelt "Teddy Bear" thing is based on an event that occurred in Mississippi. A bear can be pretty bad ass, not withstanding the cute part, what with their claws, huge teeth and bad attitude. The old lady gardening hat though? Dumb. Dumb with a capital "D".
Famous Alumni: Eli Manning (New York Giants) and Kate Jackson (Charlie's Angels)
Mascot Ranking: 5
Louisiana State University Tigers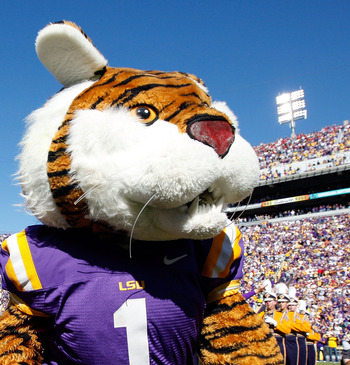 Chris Graythen/Getty Images
Tigers are great hunters, ferocious, and, oh yeah, endangered. Apparently kids also think they're cuddly and pretty darn good at selling corn flakes. I'm not sure what the mascot has to do with the area other than a Civil War legend. The fact that they're both cuddly AND could kill you with one swat of their paw gives them a bit of a "Cybil" mystique in my book. Lastly, the fact that another school in the conference has the same mascot, although they're even more confusing, hurts them in the points because they were second.
Famous Alumni: Shaq (NBA) and Hubert Humphrey (38th Vice President)
Mascot Ranking: 4
Auburn University Tigers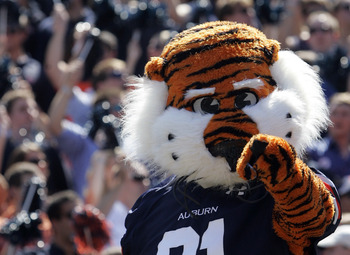 Butch Dill/Getty Images
Another tiger. Apparently a circus went through town when they were thinking of names for the school's athletic teams. As we've already discussed, tigers are great hunters and have that whole, could kill you in an instant thing going for them. There are also no tigers anywhere near the "jungles" of Alabama. Based on the Journey song, "Eye of the Tiger" logo and the fact that they're four years older than the other tiger school puts them one spot higher.
Famous Alumni: Bo Jackson (Raiders/Royals/White Sox) and Tim Cook (President of Apple, Inc)
Mascot Ranking: 3
University of Alabama Crimson Tide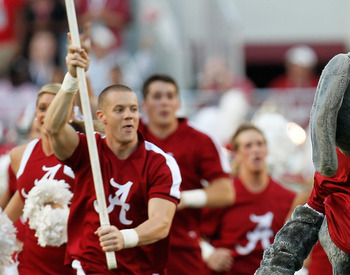 Kevin C. Cox/Getty Images
They're the Tide because the cheerleaders would just sound silly if they spelled elephant every time. Elephants, although they may look docile and slow, can bring the pain when they want to. Don't believe me? Watch one of those "When Animals Attack" videos about some goofball at the circus poking an elephant with a stick. Not good. The tusks are nasty to deal with as is the sheer size of the animal. Which is exactly why they're this high on the list
Famous Alumni: Joe Namath (Jets, NFL Hall of Fame), Debra Marshall (WWE) and Bernie Madoff (Ponzi scheme guru)
Mascot Ranking: 2
University of Florida Gators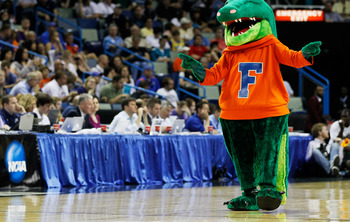 Kevin C. Cox/Getty Images
Gators are bad business and I don't know anyone who doesn't give them a wide berth. Well, except for maybe the guys on Swamp People. They're fast, unpredictable, can live in the water AND on land and can hold their breath for, well, a helluva lot longer than I can. All those teeth don't help them look pleasant either. And their nasty attitude isn't because they don't have a toothbrush, Bobby Boucher! Gators are easily the least lovable of the SEC mascots as well as the biggest bad asses. They're the winners. Hands, err, feet down. "Choot'em, Lizbeth, choot'em!"
Famous Alumni: Steve Spurrier (Coach, Heisman Trophy winner) and Erin Andrews (ESPN analyst)
Mascot Ranking: 1
Keep Reading