Big Ten Power Rankings Week 10: Cornhuskers Creeping on Conference Lead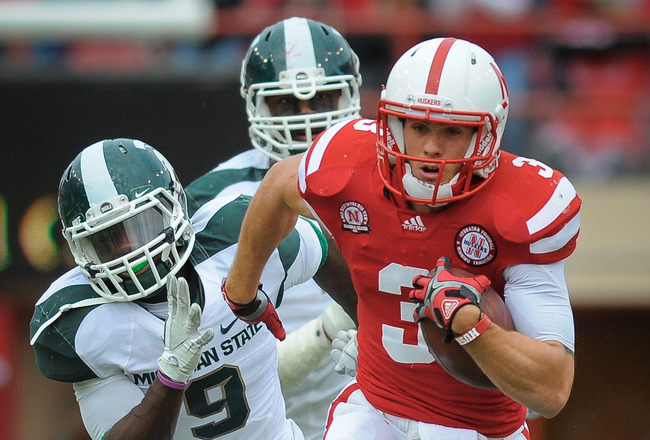 Eric Francis/Getty Images
Did the Cornhuskers run away from the pack and move up to No. 1 in this week's Big Ten power rankings? If so, then where did the Spartans fall to? How about those Badgers, who bounced back against the Buckeyes only to lose?
Creeping through conference confusion with a shocking victory over the football miracle-working Spartans in Lincoln last Saturday, the Huskers bucked some eyes. They jumped over State into second place in the Legends Division.
Three teams are tied for first place, although the Huskers hold the edge in the tiebreaker over the Spartans. Michigan State beat Michigan earlier this year, but the Wolverines have a better overall record.
Nebraska will face the Wolverines on Nov. 19 at Ann Arbor. For sure, winning on the road has been tough in the Big Ten this season. An exception was MSU beating Ohio State, 10-7, in Columbus. Certainly, the home team has held fort for the most part.
Confused about which team holds the most power in the Big Ten? You won't be after finding out which team is holding down the No. 1 spot in this week's rankings.
12. Indiana Hoosiers: Winless in Bloomington, Basketball Heaven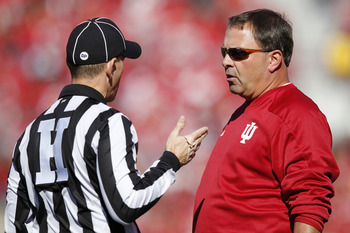 Joe Robbins/Getty Images
There shouldn't be any surprise that Indiana isn't the No. 1 team on this or any other list. The band playing in Bloomington is officially the only winless team in conference play.
The Hoosiers got hollered at and wilded on by the Northwestern Wildcats last week. Ho hum. Basketball season will be much different. We'll see whose winless then. Ha. I'm putting words in the Hoosiers' band's horns.
11. Northwestern Wildcats: Cats on Parade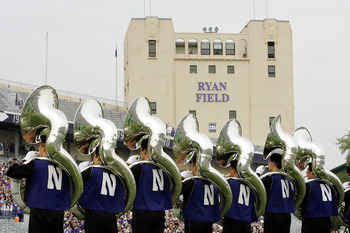 Brian Bahr/Getty Images
Northwestern's offense paraded up and down the field against the Hoosiers last Saturday in a 59-38 romping shop victory. The Wildcats (3-5, 1-4) got their first Big Ten win of the season. It came against the only team in the conference without a Big Ten win. Enthusiasm, therefore, could be de-clawed.
For those whose glasses are half-full, on the other hand, with four games remaining, all the Cats have to do is beat either Nebraska or Michigan State. Northwestern also has Minnesota and Rice left on their schedule. Each game, except Nebraska, is at Ryan Field.
Keep bowl-eligible hopes alive. I'll let you know what happens.
10. Iowa Hawkeyes: Faces of Chagrin
Christian Petersen/Getty Images
The Hawkeyes happened to have chagrined looks after losing to Minnesota. Iowa (5-3, 2-2 Big Ten) was edged by the Gophers, 22-21, which left me no choice but to move the Hawkeyes way down.
Michigan, Michigan State, Purdue and Nebraska are next on Iowa's schedule. The Hawkeyes' only Big Ten victories came against Northwestern and Indiana. I'm keeping the glass half-full, though, for the Hawkeyes.
9. Minnesota Golden Gophers: Glass Half-Full After Beating Iowa in Minneapolis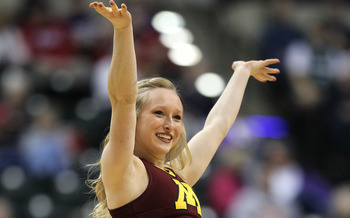 Andy Lyons/Getty Images
Am I drinking the Kool-Aid or bath water of the cheerleaders at Minnesota? First, let me ask, "Ta-dow. How do you like them Gophers now, Big Ten, after they beat Iowa?"
Minnesota (2-6, 1-3) has Michigan State, Wisconsin, Northwestern and Illinois left. The Goldens have to win out in order to become bowl eligible. I'm as positive a person as anyone I know, but I'm not drinking Minnesota's Kool-Aid or bath water.
The Michigan State and Wisconsin games will most likely be bloodbaths. Keep your heads up, though, ladies. You'll see the Gophers' basketball season coming.
8. Illinois Fighting Illini: From Big to Small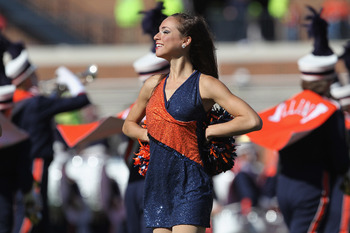 Jonathan Daniel/Getty Images
Illinois started the season looking like they were turning the corner and becoming a Big Ten elite squad. It was the Fighting Illini in a big way, but it's gotten smaller for the Illini (6-3, 2-3).
They lost a big game at Penn State last Saturday and are now officially reeling if Illinois wasn't before. Ron Zook's team has Michigan and Wisconsin at home and Minnesota in Minneapolis left. Good thing the Illini are already bowl eligible.
7. Purdue Boilermakers: Bowl or Bust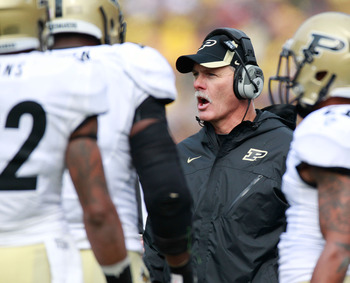 Gregory Shamus/Getty Images
Purdue will have to scratch and claw to become bowl-eligible this season. The Boilermakers (4-4, 2-2) got clawed by the Wolverines, 36-14, last weekend.
No big deal, though, Purdue lost their last six games last season. If they can beat two more teams this regular season, then the Boilermakers could go bowling.
Wisconsin, Ohio State, Iowa and Indiana are the teams left. It's bowl or bust now for the Boilers.
6. Wisconsin Badgers: BCS Busts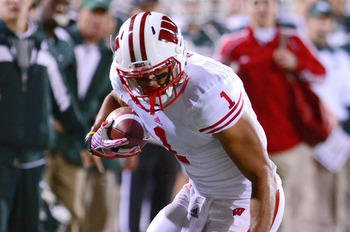 Mark Cunningham/Getty Images
The Badgers' goal of Big Ten Championship Game or bust ran into a tree—an Ohio buckeye tree. Wisconsin (6-2, 2-2) trails Penn State by three games. Shockingly, the Badgers' Leaders Division conference record is the same as third place Purdue.
The Badgers lost another game on a huge late fourth quarter touchdown heave. This time, Braxton Miller was the trigger man on a "Hail Mary pass" play that foiled Wisconsin.
Although the Badgers almost pulled out a huge win at Columbus by rallying very late in the fourth quarter to gain an improbable, their Big Ten and BCS Championship Game chances ate slim to none.
Now, when they meet Purdue next week in Madison, it'll be with momentum on neither side.
5. Ohio State Buckeyes: Braxton Miller for Homecoming King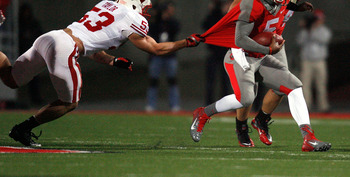 Kirk Irwin/Getty Images
Freshman quarterback Braxton Miller had Christ the King's blessings at the end of the Wisconsin game.
And after he helped beat Russell Wilson and the Badgers with a last second touchdown heave, Miller was all smiles during the postgame interview.
Excited fans gave Miller's interviewer the old heave-ho so they could celebrate their homecoming victory.
The Buckeyes have garnered two nice victories in the last couple of weeks. Ohio State knocked off Illinois and Wisconsin in back-to-back weeks to gain a measure of respect this year. With all of the adversity surrounding their team, the Buckeyes (5-3, 2-2) could make a bowl game. And they aren't, for all it's worth, out of the Big Ten race.
4. Michigan Wolverines: They're Back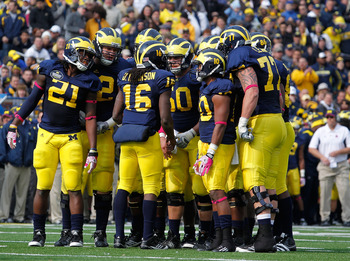 Gregory Shamus/Getty Images
Michigan (7-1, 3-1) is enjoying a very nice bounce back game and stayed in the colorful Big Ten race's running.
Their star player last Saturday, red shirt sophomore running back Fitzgerald Toussaint, has more than just a colorful name. The Youngstown, Ohio native ran Purdue red during an electrifying afternoon for him.
Racing for two touchdowns, he had career highs in rushing yard and carries (20-170). His dazzling 59-yard touchdown run broke the game open for the Wolverines and established another game-breaking runner to go along with Denard Robinson.
Robinson ran the ball well, but he didn't have a touchdown pass. Leading his team to the 22-point win over Purdue, though, was a nice rebound after the loss at East Lansing two weeks ago.
3. Michigan State Spartans: Frowning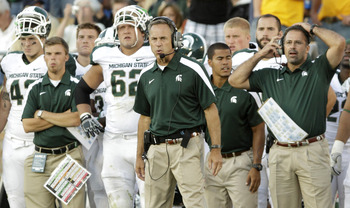 John Gress/Getty Images
Michigan State may have had their heads in the clouds after upsetting Wisconsin in East Lansing last week. Sealing the win on the last play of the game didn't translate to this week.
Unfortunately, the Spartans traveled to Nebraska and got rolled worse than Ohio State did. MSU had defeated the Buckeyes in Columbus earlier this season. Such is topsy-turvy football life in the Big Ten.
2. Nebraska Cornhuskers: All Smiles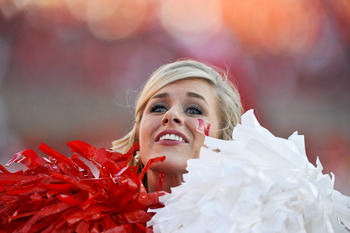 Eric Francis/Getty Images
Big Red Nation is burning up the Big Ten charts with bright smiles after trouncing Michigan State at Memorial Stadium. The Huskers have the Big Ten Championship Game in their future if they can handle the first place team in the Leaders Division in two weeks.
Northwestern, Penn State, Michigan and Iowa—in that order—remain for the Huskers. NU is one game behind Michigan in the Legends Division chase. Keep smiling, Nebraska.
1. Penn State Nittany Lions: JoePa Still Smiling After All of These Years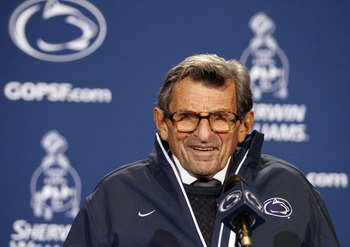 Justin K. Aller/Getty Images
You'd be all smiles if you were over 80 years old and coaching the only undefeated Big Ten team like Joe Paterno. Coming off a 10-7 win over Illinois, the Lions are entrenched in first place.
With three games to go, the Nittany Lions (8-1, 5-0) have a large division lead over Wisconsin. The Lions have Nebraska next week, then Ohio State before they close their regular season at Madison.
The Big Ten race is for sure shaping up to be barn burners in both divisions. Likewise, Lake is burning, but not like you think. The Lake of fire talked about in the Bible isn't my future destination.
Don't you miss the train. Join me next week on Lake's Big Ten Mt. Zion Report.
Contact Lake Cruise: Lakecruise@att.net
Keep Reading