Philadelphia Eagles vs. Washington Redskins: Live Score, Highlights and Analysis
October 16, 2011
Al Bello/Getty Images
 Final Score: Eagles 20 Redskins 13
The game has started.  The Eagles and Skins both exchanged possessions to start the game without a score, so the Eagles get the ball back.  The Eagles seemed to have abandoned the wide nine except on obvious passing downs which is good news for Eagles fans. 
The Redskins had an early turnover but it was deep in Eagles territory.  Both teams are committing a lot of penalties already.  The Eagles have had 2 false starts and a facemask and the Redskins have had a personal foul and a holding penalty only 3 minutes into the game.
Live Scoring Update
7-0 Eagles
1st quarter
6:50 remaining - Michael Vick 7 yard TD pass to Brent Celek (Alex Henery KICK IS GOOD) 
2nd quarter
14-0 Eagles
14:15  LeSean McCoy 1 yard TD run (Alex Henery kick is good)
6:54  Eagles 17 Redskins 0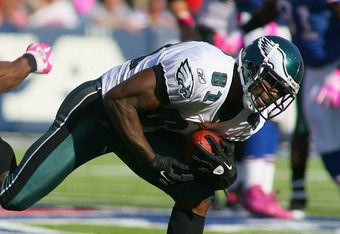 Rick Stewart/Getty Images
  27 yard field goal by Alex Henery.
 2:27 Eagles 20 Redskins 0
Alex Henery 2nd field goal of the day this one from 24 yards, makes it 20-0 late in the first half.
 Eagles 20 Redskins 3
0:30 Graham Gano 50 yard field goal is GOOD. 
Halftime
2nd half
Eagles 20 Redskins 6 - Redskins get a field goal
 4th quarter
Eagles 20 Redskins 13
2:24 - John Beck 3 yard TD run (Graham Gano kick is GOOD)
 FINAL SCORE 20-13 EAGLES