Washington quarterback Keith Price is on pace for 42 touchdown passes in 2011. The record is 28 set by Cody Pickett in 2002.
October 16, 2011
Same old Keith Price, just a different game.
Price led the Huskies to an impressive victory as they dominated Colorado (1-6, 0-3) 52-24 and the Huskies improved to 5-1 (3-0) on the year and remain unbeaten in conference play.
He ended the game 21 of 28 with four passing touchdowns and threw for 257 yards. Those four touchdown passes put Price at 21 total halfway through the season.
Price led an impressive opening drive that covered 65 yards on six plays and ended with a 17-yard touchdown strike to wide receiver Jermaine Kearse.
When Colorado came out of the gates quickly on their first drive on a drive that covered 70 yards on seven plays, the fans were prepared for a high scoring shootout. 
But after another brilliant play call by Washington head coach Steve Sarkisian, the Huskies were in the end zone again on a 22-yard end around run to wide receiver Kevin Smith, giving Smith his first score as a Husky.
The Huskies never looked back as Keith Price looked unstoppable as he ended the half with four touchdowns and 230 yards through the air. The Huskies were up on the Buffaloes 38-10 at halftime.
The six first half drives for the Huskies all ended with points, five of them for touchdowns and a 41-yard field goal by Erik Folk to end the half.
The second half was full of surprises for the Huskies as running back Jesse Callier ran 26 yards for his first touchdown as a Husky and freshman running back Bishop Sankey got himself in the end zone for the first time on a three yard run. It took 107 carries over a span of 18 games for Callier to get his first touchdown. It took Sankey 14 carries over a span of six games.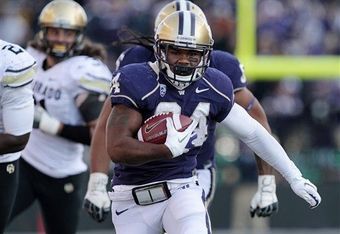 Washington running back Jesse Callier ran for his first touchdown as a Husky against Colorado on October 15, 2011
But perhaps the most surprising scene of the second half was that redshirt freshman quarterback Nick Montana finally got to see the field. Unfortunately his college career did not get off to the start he would have liked as his first play resulted in a lost fumble on a sack. After the play Sarkisian went up to him and said "Welcome to college football." Those words obviously took on a significant meaning to Montana as he led the Huskies to the end zone on the next drive that covered 66 yards on nine plays.
Now what have we learned after this victory?
The offense is going to score points, and a lot of them the rest of the season even against some of the top defenses in the Pac-12. With the weapons at wide receiver and in the run game, the Huskies are rapidly becoming an offensive juggernaut.
With the addition of freshman phenom Austin Seferian-Jenkins, the Huskies offense is climbing the offensive rankings in the Pac-12.
As for the defense, there are still some questions. They need to come in to games with a little more of a sense of urgency and start to force three and outs early in games to get momentum. It seems like they are counting on Keith Price and Co. to keep them in the game. When the Huskies start to face offensive powerhouses such as Stanford next week and Oregon and USC later on in the year, the defense needs to become much more stout in order for the Huskies to win.
Is the Stanford game winnable? Of course, every game is winnable to a certain extent. But the Huskies defense needs a solid week of practice if they want to contain Andrew Luck, who led a slaughter against Washington State as they won 44-14. This game will definitely put a title on this year's season for the Huskies. Have they taken the next step to become an elite force in the Pac-12? Or are they not ready yet? I think we are ready and we need to leave it all on the field come Saturday in Palo Alto.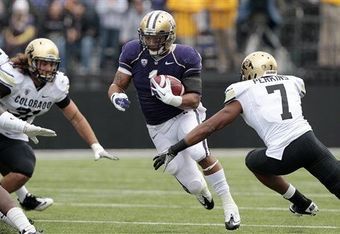 Running back Chris Polk ran for 117 yards on 18 carries against Colorado on October 15, 2011
Stats worth mentioning:
The Huskies have not been 5-1 since 2001 and haven't started conference play 3-0 since 1997.
The Huskies have now scored over 30 points in its first six games, the first time in school history.
The Huskies have not put 50 points on the scoreboard since 2001 when the Dawgs pounded Idaho 53-3. 
Keith Price's 21 touchdown passes ties him for second in the nation behind Baylor's Robert Griffin III. He is also number five in the nation in passer rating with 177.9.
Offensive X-Factor: wide receiver James Johnson; Johnson recorded five catches for 61 yards against Colorado. The Huskies are going to need one of its underrated wide receivers to have a breakout performance if they want to hang with Stanford.
Defensive X-Factor: safety Sean Parker; If the Huskies are to contain Luck it will be up to the safeties to help with the pass coverage. The corner backs are performing better and better but this game could be another reality check. Washington State picked off Luck on his first pass attempt, lets hope the Huskies can pressure Luck into making more errant throws. Luck ended the game 23 of 36 with four touchdown passes and 336 yards. If the Huskies can prove Andrew Luck to be human and can make him have an off night, they're might be a new first place team in the north.
Like the new article format? Send us feedback!