Houston Texans vs. Baltimore Ravens: Live Score, Highlights and Analysis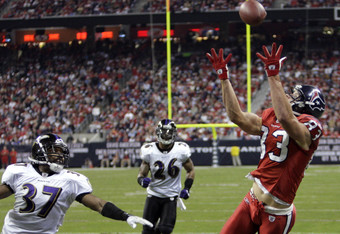 Bob Levey/Getty Images
Updated score: Texans 14, Ravens 29
For the second season in a row, the Texans will do battle with the Ravens. Unlike last year's Monday night thriller, this one will be played in Baltimore at M&T Stadium this afternoon.
Houston is currently a seven-point road dog and is facing their first game I can remember with both Andre Johnson (hamstring) and Mario Williams (torn pectoral) not in uniform and on the field.
Both teams are beat up and missing some key players, but the Ravens are well rested after their bye last week. Their defense thoroughly beat up on the Jets and they look to do the same thing to Matt Schaub and the Texans offensive line today.
The Texans are looking to rebound after a tough home loss to the Raiders in the final seconds last week. They've never beaten the Ravens in team history and could really use a road upset here more than ever. Possibly sitting at .500 after six weeks is certainly not what Houston fans had envisioned.
Check back for live in-game commentary all day.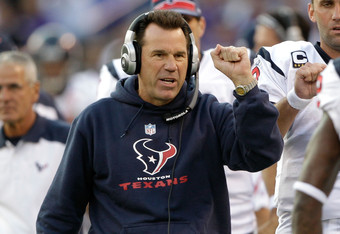 And another turnover on downs will end it. Texans fall to 3-3. .500 seems to be their lucky number in the Kubiak regime.
Another field goal after the turnover on downs just adds to the lead. 29-14 with two minutes left.
Yep. Ricky Williams touchdown puts it out of reach. The defense has been bending all day but they finally break. 26-14 with four minutes left.
Huge run by Ray Rice right there. That just might do it.
A poor offensive series for the Texans ends with Matt Schaub limping. I'm beginning to think the only chance the Texans have here is if the defense gets a pick six.
Texans defense does their job. Texans with the ball and plenty of time left.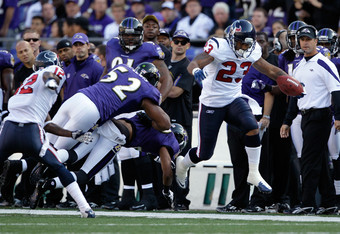 Texans drive stalls out after Arian Foster drops a likely first down pass. Defense has to hold or this one is likely over.
The Texans defense is doing their job by holding the Raven to field goals, but the Texans need to get it going on offense.
We're at the end of the third and the Ravens are in the red zone. Better hold to a field goal if you want to stay in this game.
Both teams trading big plays and points here. Another field goal by Cundiff puts the Ravens back on top, 16-14.
The invisible Jacoby Jones with a long touchdown pass from Matt Schaub with Ed Reed guarding him. Unreal! Texans take the lead, 14-13.
Flacco makes some ridiculous plays under pressure and the Ravens add another field goal to go up 13-7.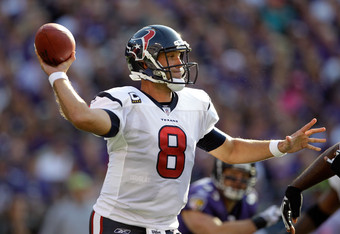 Instead of trying a 60 yard field goal, Kubiak elects for a hail mary that is batted down to end the half. 10-7 Ravens. Baltimore has the ball to start the 3rd quarter.
Horrible play calling gives the Ravens the ball back with time left, but Flacco immediately throws an interception to Johnathan Joseph. Texans likely take a knee here.
Ravens go up by three on a field goal. Texans will hit the two-minute drill.
Two-minute warning. Ravens driving...
Got a huge break there as Ben Tate fumbles into the end zone, but Wade Smith recovers to tie the game. 7-7, with under five minutes in the half.
Texans get a break after the blown face mask call as Flacco fumbles it and the Houston D recovers inside the 20.
Kubiak with a horrible play call there. Texans turn it over on downs in field goal range. Ravens take over.
The Texans defense makes Joe Flacco look more like his usual self on that drive. Offense takes over close to mid-field.
Another drive stalls for the Texans and the have to kick. I do have to say that Derrick Mason looks better than Jacoby Jones already. He probably knows the playbook better already, too.
End of the first quarter, 7-0 Ravens. Texans facing a 3rd and long here.
97 yard touchdown drive for the Ravens. Not looking good for the Texans early.
Texans defense looking atrocious to start. Ravens get a gift "incomplete pass" call to keep the drive going. In the red zone now.
A decent first drive stalls out after three straight 3rd down conversions. Rookie Brett Hartmann pins the Ravens inside the 5.
This article is
What is the duplicate article?
Why is this article offensive?
Where is this article plagiarized from?
Why is this article poorly edited?

Houston Texans: Like this team?