John White, Utah Utes Overcome Ray Graham and Early Pitt Lead
October 15, 2011
Utah stayed perfect against Pitt, beating the Panthers 26-14.
Today's game at Heinz field between Utah and Pitt was a tale of two running backs.
ESPN game announcers let us know that Pitt's plan was to get No. 1 ranked running back Ray Graham at least 30 touches and let the nation's leading rusher do what he does. Alternately, there was little talk of Utah's running back, 27th ranked John White.
Here are my grades for Utah.
Offense
Utah's offense gets a B. They dominated time of possession but had to settle for four field goals. The game ball goes to White, who racked up 171 yards on 36 carries. It's hard to give the game ball to a running back and not the O-line as well. White couldn't have done that without a strong showing by the offensive line, despite a critical personal foul by John Cullen on 3rd-and-8 in the red zone. Fifteen yards turned a probable Utah field goal into a punt. Cullen, I love your passion, just be smarter with it.
The defensive scheme of Pitt became clear early on—test the newcomer, bring the house. We all expect the offensive line to be perfect. The quarterback should never be rushed and certainly never sacked. When it does happen, we tend to forget about the countless plays when it didn't happen. Jon Hays and his O-line need a quid pro quo—I'll make better defensive reads; you pass block.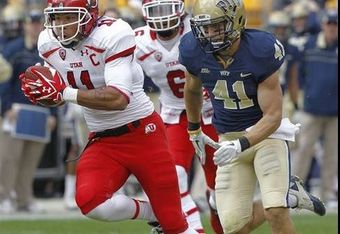 Hays is a serviceable quarterback. Tell him what to do and he'll do it. That approach may have worked at Butte College and maybe even in the Mountain West, but in the PAC-12 and today against the Big East it's not enough.
Hays is at the evade-the-rush stage. The next step in Hays's evolution is to read the defense. Pitt often disguised their blitz, but not always. When Utah scored its first touchdown, Hays threw a pass low and to the side to evade the rush—instead of anticipating it. The pass completed to Luke Matthews, but only because Pitt linebacker Max Gruder got a hand on it and tipped the ball up and into the arms of Matthews.
Credit Hays for getting rid of the ball, trying to hit his hot read and taking a big hit. Hopefully, he will progress to where he can read and recognize the rush so he doesn't have to take those hits.
Defense
Utah's defense gets an A. They stepped up, big time. They didn't allow an offensive score, had two interceptions—one for a touchdown—six sacks and held the nation's No. 1 rusher to just 46 yards. It's the D-line and linebackers who get credit for sacks, but credit Utah's secondary with excellent coverage. Even when Pitt's QB, be it Tino Sunseri or Trey Anderson, completed a pass, Utah was in position to make a stop.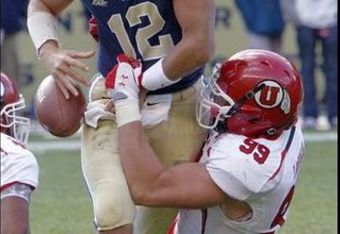 Utah Special Teams
Special teams gets a C+. Forty-mile-an-hour winds at the start of the game threatened the kicking game, yet the only bright spots for Utah's special teams were the kickers. Coleman Peterson was perfect with four field goals.
Punter Nick Marsh gave his team three opportunities to down the ball within the 5-yard line. Twice his punt coverage team let it go into the end zone. The only points scored by Pitt were on a kickoff return and blocked punt, both for touchdowns. The blocked punt was not Marsh's fault and the kick return was due to the inability of the coverage team to wrap up.
It was a much needed win for Utah. A confidence booster that takes the team back to .500. They can't spend too much time patting themselves on the back. Next week, the Utes travel to San Francisco's AT&T park to take on the Golden Bears of Cal, still looking for their first conference win.