M-1 Challenge: Magalhaes vs Zayats Full Event Review
October 15, 2011
M-1 Global paid a visit to the Grand Canyon University Arena Saturday and blasted Arizona fight fans with many stunning finishes across a very entertaining fight card. It was not just fans in Phoenix, Arizona, that were able to catch these scraps, as the majority of the card was televised on Showtime for MMA fans across the world to enjoy.
Hurtsbad MMA was in the house to catch this sick night of fights.
The card was originally slated to feature a main event bout between Guram Gugenishvili and Kenny Garne, but due to a late injury to Guram, Garner was instead put across the ring from Maksim Grishin.
To be quite honest, the replacement bout was a far cry from what was expected in the original match up. It was an absolute debacle, as clearly neither Garner nor Grishin were in any kind of shape for a five-round title fight.
In what was a shameful blemish on an otherwise spectacular fight card, both men engaged in repeated clinches looking for breaks in the action to recuperate what little energy they brought with them to fight night. While Garner wound up winning an interim M-1 Global heavyweight title, neither man fought like they deserved a title.
Surely the brass at M-1 are counting the days for Guram to heal and set the heavyweight division right again. And if Saturday's performance by Garner was any indication of what he will bring to the table when Guram returns, he may very well be hoping it that never happens.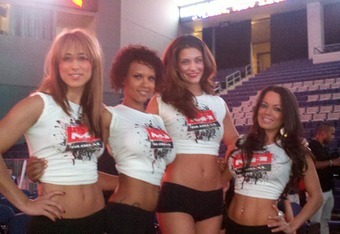 All that aside, both the undercard and televised portions of this event were simply explosive. The first fight of the night between Fredrick Lumpkin and Ryan Crouch set the tone. Both fighters showed well and exchanged momentum in striking and grappling, but it was clear the technical prowess of Crouch gave him the upper hand.
In the second round, the grappling of Crouch proved to turn the fight in his favor, as he attempted a rear naked choke that opened the door for Crouch to eventually rain blows and earn a TKO victory over Lumpkin.
The second undercard bout of the evening was not a bout at all. It was an all-out open war between two extremely talented and game welterweight scrappers. Joe Martinez and Michael Chavez easily put on a fight-of-the-night performance. For fans in attendance, it was quite a treat;for those at home watching Showtime, you don't know what you were missing.
These men put on a show of trading strikes on repeated occasions over the three-round tilt and traded position for position through submission attempts to reversals over and over again. For fifteen minutes they displayed tremendous heart, highly technical skill, and relentless aggression as they lit up the M-1 ring and thrilled those fortunate enough to have seen this scrap.
In the end, the blazing stand up exchanges were very close. On the ground Martinez looked slightly more technically proficient but fought off his back for much of the three rounds. Even the judges could not agree, as they offered a split decision in favor of a Chavez. But in the end, in a fight like this there really are no losers. Both men should be proud of the show they put on, and in hindsight M-1 might have done better to televise this bout, as opposed to that nonsense mentioned earlier.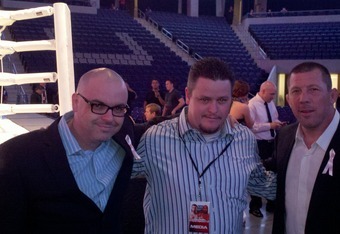 Moving on with the night, welterweight Daniel Madrid kept the momentum of amazing fights going as he wasted no time, straight knocking the mouthpiece of Tom Gallicchio clear out of the ring before taking him down and slapping a lethal armbar on and ending the fight early in the first round.
Blackout, as he is known, had a rabid fan base in the crowd, and they went absolutely nuts when he collected that arm for his trophy wall. It was a very impressive performance for Madrid and one that should come as a message to other M-1 welterweights—this guy is the real deal.
The speed with which Madrid finished his opponent must have been contagious, because it only took welterweight Yasubey Enomoto little more than a minute in the next bout to end his fight. His opponent Josh Thorpe closed the distance on his longer opponent with a very impressive takedown.
Unfortunately for Thorpe, that takedown would spell disaster, as it led to him finding himself on the business end of a very slick triangle choke by Enomoto. It was very impressive.
Two fights, two submission finishes, little more than two minutes into the televised portion of the event. Not bad M-1. But it wasn't over yet.
Eddie Arizmendi Jr. is known for his warlike MMA ability. He has a reputation that speaks for itself in fight circles—as does his opponent from Saturday, Artur Guseino. Both men have had recent stunning finishes for M-1 and fight fans expected a war.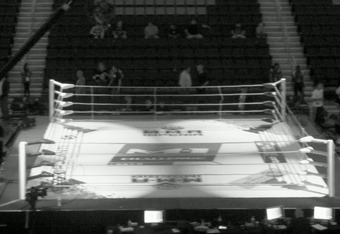 What they got was another lightning fast finish by Guseino, as he snatched the leg of Arizmendi and put on a vicious ankle lock, which forced the proud Native American Arizmendi to tap instantly. The fight had not even begun before it was over, and while the finish was impressive, fight fans in the arena knew they had been robbed of the war they expected between the two.
Fifty seconds was counter climactic to what was thought to be a fight of the night potential match up. In a tremendous display of sportsmanship, Guseino picked Arizmendi up and carried him around the ring as if to show the amount of respect he carried for the warrior he had just finished.
Lord help the next guy to face Guseino, as he has proved to be a lethal combatant on repeated occasions. And lord help the next man to face Eddie Arizmendi, because anyone who knows him knows this will light a fire under him that will elevate the already deadly mixed martial artist.
Three fights, three submission finishes, little more than three minutes. Seriously M-1, really? Was this headed for the shortest MMA event on record? This event was absolutely rocking the house and then Garner vs Grishin happened but we have already covered that.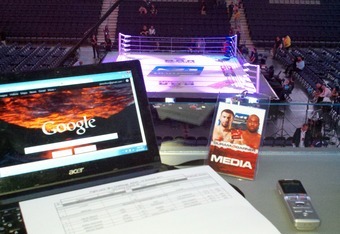 Once that was over, the momentum of the evening was regained, as Mikhail Zayats looked to strip Vinny Magalhaes of his M-1 light heavyweight title.
It appeared early that if the fight went to a decision that Zayat was in position to do just that. While the first round was fairly uneventful, as the fighters felt each other out, it was in the second that Zayats seemed to find his rhythm.
Systematically attacking the legs of the champ, Zayats punished Magalhaes with leg kicks and seemed to have won the round, as he ended it with a nice flurry of strikes before the bell sounded. His ability to set up attacks with leg kicks and to stuff repeated take down attempts had turned the momentum of the fight in his favor.
Momentum is a funny thing in MMA. It would appear to be more of the same in the third round for Zayats, as he stuffed another takedown and slapped a couple more leg kicks on the champ. Then something clicked for Magalhaes, as he snapped a couple stiff jabs in Zayats face—this is where the momentum swung.
Shortly after the stinging jabs of the champ, an open hand strike by Magalhaes was followed up by a devastating high kick that dropped the challenger to his knees and equally swept the champ off his own feet.
As the two were face to face on the ground, Zayats was clearly stunned, and Magalhaes closed the deal, attacking with a flurry of crushing blows that ended the fight in the third by TKO. Magalhaes proved why he is a champ as he fought through adversity, found his moment, and turned the fight in his favor in spectacular fashion.
All in all, this entire night of fights was extremely impressive. Only two fights went the distance: one was an undercard war, and the other, well, what else is there to say? With one fight being the exception, M-1 hit a grand slam home run in Phoenix, and their athletes deserve high praise for putting on a hell of a show.
This article originally featured at Hurtsbad MMA.