Denard Robinson Resumes Downward Decline as Michigan Falls to Michigan State
October 15, 2011
Leon Halip/Getty Images
In Michigan's 28-14 loss Saturday to in-state rival Michigan State, Wolverines quarterback Denard Robinson showed the college football world what he is.
And that, ladies and gentlemen, is a bad college football quarterback.
Yes, he's cool. I hear he doesn't tie his shoes.
Yes, he's exciting. Yes, he runs like the wind. Yes, he can make defenders miss. 
But let's get this straight: Despite what some see as impressive stats, Denard Robinson is not an elite college quarterback.
Look at the results.
In 2009, as Robinson split time with Tate Forcier, the Wolverines started 4-0, including that memorable 38-34 win over Notre Dame. The team went 1-7 (the lone win came against Delaware State) the rest of the way.
In 2010, as Robinson took over the QB1 role, Michigan rolled to a 5-0 start that included Shoelace's ridiculous 244 passing yards and 258 rushing yards in Big Blue's 28-24 win at South Bend. But the team went 2-6 the rest of the way, losing to Michigan State, Iowa, Penn State, Wisconsin, Ohio State and 52-14 to Mississippi State in the Gator Bowl.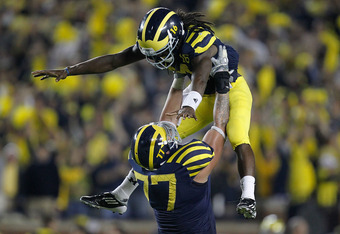 Gregory Shamus/Getty Images
But 2011 was supposed to be different. And Denard, once again in the Heisman Trophy discussion, led the Wolverines to a stellar 6-0 mark to start the season, again with a ridiculous come-from-behind win against Notre Dame.
Cue the second-half struggles.
With Saturday's loss at Sparty, Michigan could now again be on the downward decline under Denard, especially with Illinois, Nebraska and Ohio State looming in November.
Is Denard Robinson to blame for Michigan's second-half struggles over the past three seasons? Not completely, no. The offensive line was manhandled. The defensive front stunk against the Spartans rushing attack. And why wouldn't the coaching staff kick a field goal in the fourth quarter with the wind at their backs?
But Denard is largely to blame.
Robinson entered the Michigan State matchup seventh in the nation in rushing (720 yards, 7.1 yards/carry) and first in the nation in questions about his ability to throw the ball.
All he did on Saturday to quell the naysayers was give them reason to question his running ability, too.
He got no help from his beleaguered offensive line as the dominant Spartans front seven swarmed him on nearly every play. Denard ended up with just 42 yards on 18 carries, an average of 2.3 yards per rush.
And throwing the ball? Oy.
Some might check the postgame box score, see his line of 9-for-24 passing, 123 yards, a touchdown and an interception and say, "eh, it couldn't have been so bad." But those numbers don't adequately describe Robinson's struggles through the air.
His receivers struggled to get open and Denard failed to deliver. He may as well have been throwing balloons into the stiff East Lansing wind.
As has been said and, frankly, can't be said enough, Denard had no protection at all from his overmatched offensive line. For most of the game, Robinson and the Michigan offense looked like a Pop Warner team trying to move the ball against a high school team that was bigger, faster, stronger and more elusive. He faced pressure on every play.
But elusiveness is his game, right? Denard can break tackles, skate past those big, hulking defenders and take off down the field or give himself more time to throw the ball.
Yes, Denard did, on occasion, elude the Sparty rushers. And he got away. 
Then he threw the ball 15 yards over his receiver's head.
His throwing was akin to a Revolutionary War-era musket. He was usually close to hitting his receiver and he had the velocity to put the ball through his chest if he hit him right, but the accuracy? Well, you wouldn't want your life to depend on it.
Robinson couldn't get the timing right on timing routes. His passes got tipped at the line.
The wide receivers struggled to get open, and the State secondary stuck with them. And because Denard didn't have the time to throw, he'd try to run, but he was regularly swallowed up after short gains. 
The play calls from offensive coordinator Al Borges weren't bad. Denard just couldn't make them, especially the passes.
So what does Michigan do now? Do you take Robinson out of the game? Do you let Devin Gardner try to run the same offense? Or do you continue to mix things up and let Gardner come in for trick plays and on obvious passing downs?
It's unclear how Brady Hoke, Borges and company will proceed, but it was pretty clear that they were vastly undermanned under center on Saturday.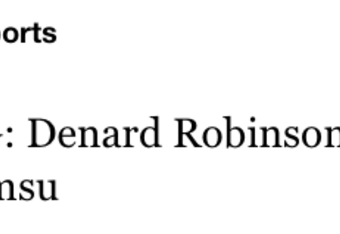 At one point, Michigan went 30 snaps in State territory without scoring a point. Through the first three quarters, Robinson was 5-for-17 passing.
But the fourth quarter is when he's supposed to step up and get it done. That's what he's done this season in late, come-from-behind wins over Notre Dame and Northwestern. Right?
With the slant pass to Roy Roundtree that went for a 34-yard touchdown and brought Michigan back to within seven points with nine-plus minutes to play, another comeback seemed feasible.
Even as Michigan State fumbled deep in their own territory, horrible pass protection thwarted one Michigan drive.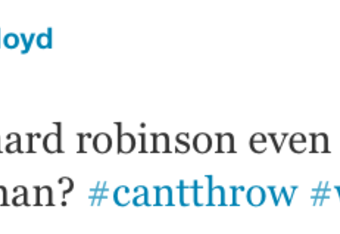 Then, after the Michigan defense stopped State again and forced a punt, Denard tossed his one and only pick of the game on the first play, an awful throw that was snatched by defensive back Isaiah Lewis and returned 39 yards for the clinching touchdown.
With this loss, Michigan's first of the season, they've now suffered four straight defeats at the hands of the school Mike Hart referred to as "little brother." The Wolverine seniors will leave school never having beaten the Spartans.
Is it fair to place the blame square on Denard Robinson's shoulders? Of course not. Shoelace was lassoed, beaten and bruised by the physical Michigan State defense. You can thank the offensive line for that.
But does Denard deserve to be in the Heisman discussion with Andrew Luck, Russell Wilson and company. Not even close.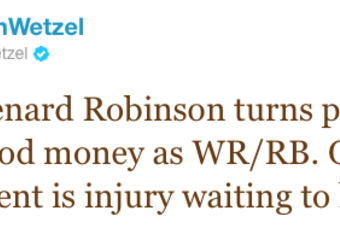 Denard Robinson may well go on to be a successful player in the NFL, perhaps as a slot receiver, punt returner or third-down back. But he'll never be a legitimate quarterback in the pros. He hasn't been one in college.