MLB: Barry Bonds and the 15 Most Untrustworthy People in Baseball History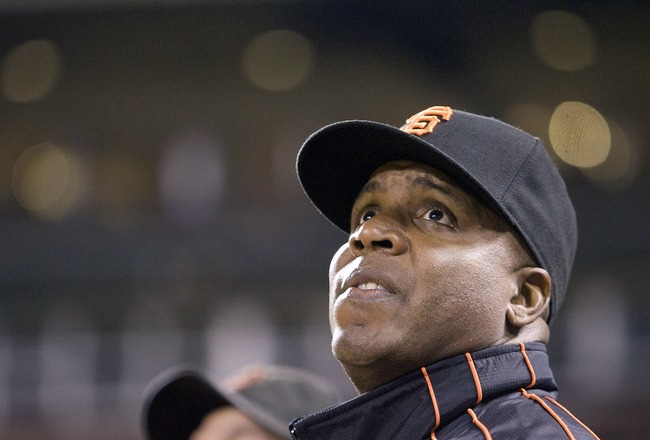 David Paul Morris/Getty Images
Trust is an important factor in anyone's relationship.
In a fan's relationship with his or her favorite team, it's everything.
If a player or coach cannot be trusted by the fanbase, it's unlikely he or she will have a job for much longer.
Many players, coaches and fans alike have been untrustworthy in some fashion.
Whether it be lying to Congress, caring about one's self over the team or caring more about the money than the game, all this can ruin one's public image.
With that in mind, here is a list of 16 untrustworthy people in baseball history.
Sammy Sosa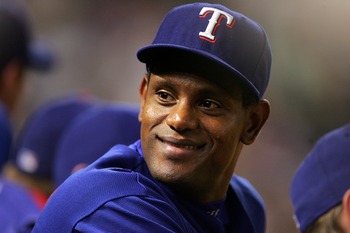 Ronald Martinez/Getty Images
Without even taking into account his steroid use, it's hard to believe a word Sammy Sosa says.
If you can even understand what he's saying, like back in 2005 when Sosa suddenly forgot how to speak English during the MLB congressional steroid hearings—despite living in the U.S. for years, interviewing with plenty of media members and filming the occasional advertisement.
There was also the time in 2003 when he was caught with a corked bat in a game against Tampa Bay. As if steroids weren't enough to beat the Rays back then.
Jose Canseco
Christian Petersen/Getty Images
Putting Jose Canseco's self-admitted steroid use aside, he's not one that can be trusted.
In his book Juiced: Wild Times, Rampant 'Roids, Smash Hits & How Baseball Got Big, Canseco lost any and all friends he had in the baseball community.
Steroids in baseball clubhouses were almost a "don't ask, don't tell" type of deal. Everyone knew, but kept to themselves about it.
Writing a now infamous book was a disloyal thing to do. Canseco called out all of his friends and fellow teammates such as Mark McGuire, Rafael Palmeiro and Jason Giambi just to name a few.
Rafael Palmeiro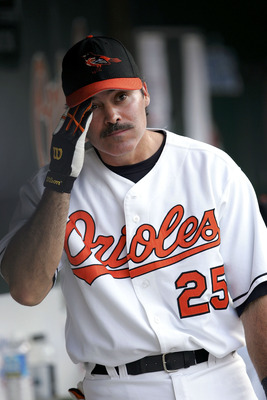 Jamie Squire/Getty Images
When one of your close friends writes a book saying he personally injected you with steroids, and you test positive for such substances, it usually isn't a good idea to step in front of Congress and say this: "Let me start by telling you this: I have never used steroids, period. I don't know how to say it any more clearly than that. Never."
How did that work out for you, Rafael Palmeiro?
Joe Kerrigan and Gary Varsho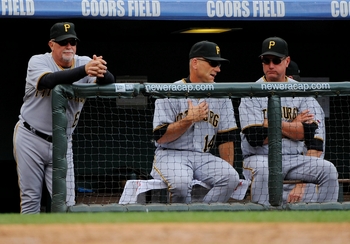 Doug Pensinger/Getty Images
Both Joe Kerrigan and Gary Varsho are now out of a job because they cannot be trusted.
Kerrigan and Varsho were fired from the Pittsburgh Pirates coaching staff for disloyalty to then manager John Russell.
They considered Russell to be incompetent, commonly calling him out in front of players and holding meetings excluding their superior.
That's not a good way to keep a job in any business, let alone one so open to public scrutiny.
The 2011 Boston Red Sox Rotation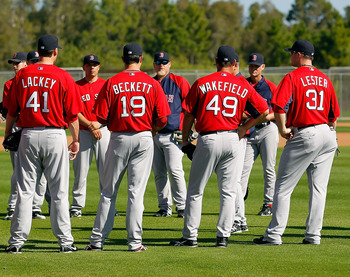 J. Meric/Getty Images
Soon after the Red Sox's epic 2011 September collapse, reports started to leak out as to what happened in the clubhouse.
One of the most controversial stories indicated that the Red Sox starting pitchers would drink beers during the games in the clubhouse.
While there's nothing wrong with the occasional cold one, as a player, I expect my teammates to be on the bench supporting me.
Miguel Tejada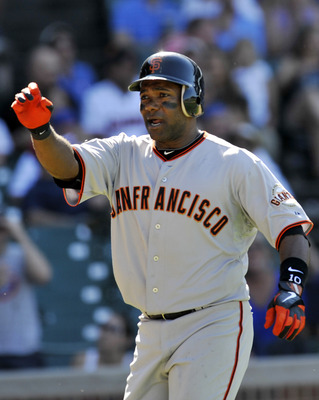 David Banks/Getty Images
Aside from being named in the Mitchell Report, Tejada also lied to Oakland Athletics scouts when they signed him as an amateur in 1993.
Tejada told the scouts he was 17, when his actual age was 19.
Eventually, he was confronted by ESPN and admitted his real age.
Lying about one's age in the Dominican Republic and other baseball hotbeds is a common practice in this day and age. But, just because the crime rate is high in your city, that doesn't make it any more ethical to break the law.
Milton Bradley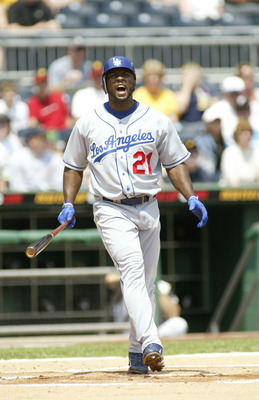 Rick Stewart/Getty Images
Milton Bradley has cried, complained and moped his way out of every city he thought he could call home.
Whenever he enters a clubhouse, teammates can just count down the days until he has some sort of breakdown over something stupid.
He can't be trusted by any player or manager to keep his composure and put the team ahead of himself.
Ken Griffey Jr.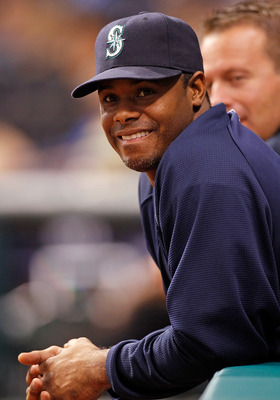 J. Meric/Getty Images
As much as Ken Griffey Jr. was loved and respected for being completely clean through the steroid era and still eclipsing the 600-home run mark, he wasn't always loyal to his team.
Back in 2010, it came out that Griffey was sleeping in the clubhouse during a game at the exact moment he was called upon for pinch-hitting duties.
If I was his teammate, I would be there to support him playing; I could only expect the same of him if he's on the bench.
Griffey's nickname may be "The Kid," but that doesn't give him an excuse to act like one.
Johnny Damon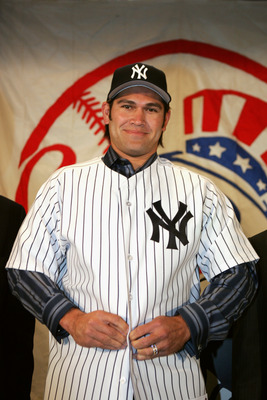 Al Bello/Getty Images
Johnny Damon was a huge part of the Red Sox winning the 2004 World Series.
As an emotional leader, he helped rally the team together to come back from being down 0-3 in the ALCS versus the hated New York Yankees.
Then, he signed with the Yankees in the winter.
Mark Mcguire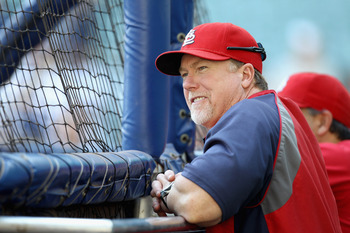 Christian Petersen/Getty Images
Another player that was adamant about his innocence during the steroid era, Mark McGuire should have just told the truth.
Everyone and their second cousin knew that McGuire was juicing, but he continued to deny the accusations.
Eventually, McGuire came clean about it in 2010 when he was named the Cardinals' hitting coach. That still doesn't make up for all the lies he told for years prior.
Alex Rodriguez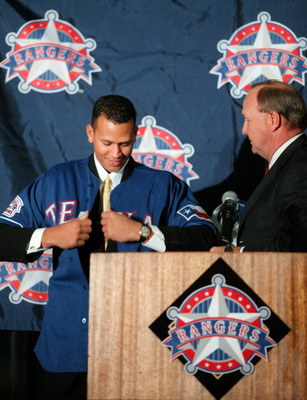 Gary Barber/Getty Images
Alex Rodriguez was one of the greatest prospects in baseball history when he was coming up in the Seattle Mariners' system.
After living up to all his potential, he immediately bolted for Texas.
It wasn't as if Seattle was a bad team—they went on to win 116 games the year after he left—but instead, he signed with a team within the Mariners' division that failed to record a winning record.
Rodriguez bolted for the dollar signs, and he's not a player that can be trusted to be there for his team.
Albert Belle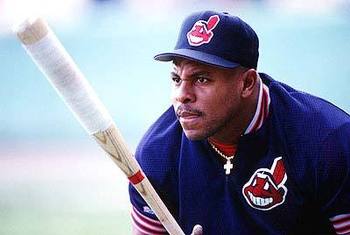 Albert Belle was considered one of the most consistent power hitters in baseball during the 1990s.
But, Belle may be remembered more for his off-field outbursts rather than his on-field successes.
Constantly refusing to talk to the media, Belle turned away the one group of people that possibly could have helped his image.
Belle would throw baseballs into the stands at hecklers and had issues with alcoholism.
Eventually, he left Cleveland in order to become, for a short while, the highest-paid player with the inter-divisional rival Chicago White Sox.
Manny Ramirez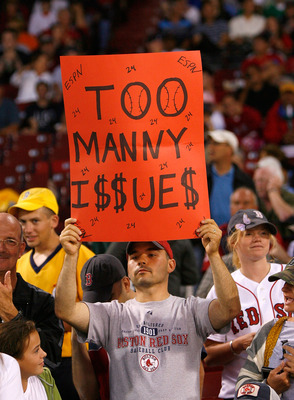 Jim Rogash/Getty Images
Without Manny Ramirez, the Red Sox probably don't win the World Series.
That doesn't excuse all the distractions he caused.
"Manny being Manny" was the term coined in Beantown in reference to the Red Sox left fielder, whether it be describing him in playful fashion or explaining another outfield blunder.
In one historic moment, Ramirez ran into the Green Monster scoreboard to use the restroom in between innings.
Many times, it seemed as though Ramirez was never trying his best to help the team win, making him fall out of favor with Red Sox nation.
As he repeatedly picked tomfoolery over the team, he was eventually dealt to the Los Angeles Dodgers, without much complaint in Boston.
Tampa Bay Rays Fans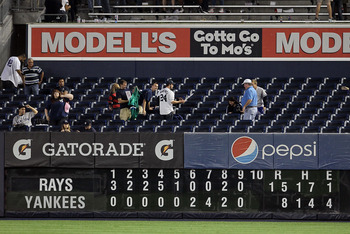 Jim McIsaac/Getty Images
Or lack thereof.
Despite the fact that the Rays are a playoff team, the fans fail to show up.
If the folks down in Tampa would show more loyalty to their team, the energy in the Trop could be amazing.
In 2011 the Rays averaged a pitiful 18,879 fans per game, good for second worst in the AL.
"Shoeless" Joe Jackson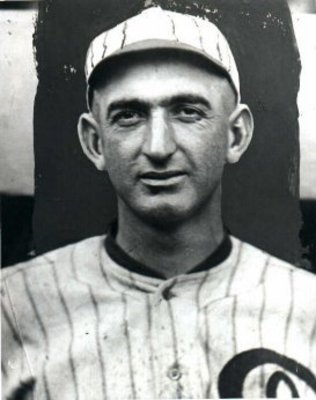 Most baseball fans know the story of the 1919 Black Sox supposedly throwing the World Series.
Messing with the most important of baseball's games is simply inexcusable and leaves "Shoeless" Joe Jackson as one of the most untrustworthy of all players in baseball history.
Barry Bonds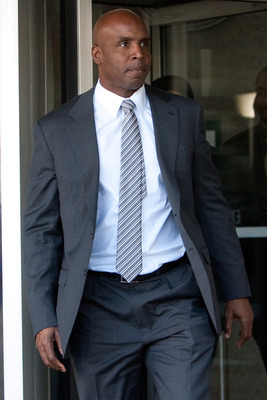 David Paul Morris/Getty Images
The fact that the entire baseball community wants an asterisk on everything but Barry Bonds's birth certificate should say enough.
Keep Reading