South Carolina Gamecocks vs. Mississippi State Bulldogs Live Blog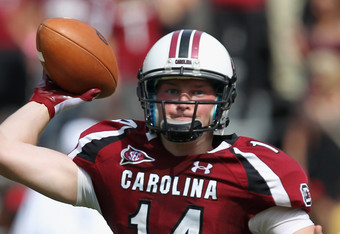 Streeter Lecka/Getty Images
Connor Shaw and company head to Starkville, Mississippi to take on the Mississippi State Bulldogs. Join me as I live blog reaction and analysis from this huge East versus West showdown.
Guys, once again, I appologize for the technical difficulties. South Carolina squeaks out a win, 14-12. It was a hard fought game.
6-1, Gamecocks.
The Gamecocks are forced to punt again. South Carolina fans have seen this type of game before.
Usually, they end in a loss.
Let's see if the 2011 Gamecocks can rally and find a way to score.
Mississippi State misses a long field goal. South Carolina is now in a third and one.
Lattimore on third and short, and he's STUFFED AGAIN.
I can't believe it.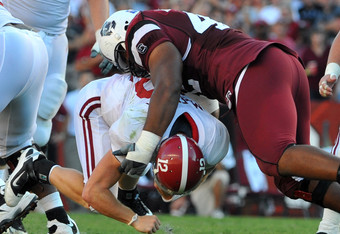 Mississippi State is finding their offense now.
7 yard gain.
2nd and 3- Travian Robertson makes a huge stop on the play.
3rd and 5- the defense stiffens up and stuffs them on 3rd!
On 4th and 5, Mississippi State has a choice to make. It is now the end of the 3rd.
Melvin Ingram gets a huge stop on 2nd and 6.
3rd and 8- Malcolm Johnson catches a 10 yard pas. It was a fantastic throw.
1st and 10- Perkins gets the corner and runs for 15 yards.
Too long of a punt... Mississippi State takes over at their twenty.
1st and 10- Lattimore with a gain of one. He has no room.
2nd and 9- Shaw gets happy feet, and gets a loss of two on a run attempt.
3rd and 11- Shaw checks down to Marcus, who can't get anything going. Gain of four. It's punting time again.
Big drive.
1st and 10- Connor keeps it for three yards.
2nd and 7- Connor Shaw with a huge run! 17 yards for the first down!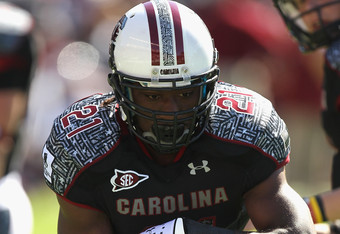 This feels like the time of game when Lattimore begins to take over.
The field goal is NO GOOD!
Its going to be third and ten after that bizarre series. Big play.
The draw gets them into field goal range.
Wow. Mississppi State gets a gift.
As the announcers say there is NO CLEAR EVIDENCE that the ball touched the ground. They just made a guess.
ANOTHER bad call.
South Carolina gets an interception!! Turnover by the Bulldogs on a wierd triple reverse fumble play.
It is under review.
It looks as though it may come back.
On 1st and ten, Russell gets destroyed, but he gets the ball out.
2nd and 10- Clowney was basically tackled on the play, once again, miss called. Russell goes deep and just misses his wide receiver.
3rd and 10- Russell Wilson takes another hit, but throws a strike. This kid looks pretty good. First down.
I am still fuming over that sweep call. Why would you do that?
Anyway, back at it for Mississippi State.
1st and ten- Rico Sanders drops a perfect pass. Horrible.
2nd and ten- The middle of the defense has closed up for Mississippi State. 3 yard gain up the middle. Big third down.
3rd and 6- Russell nails a great pass. They are now in Carolina territory.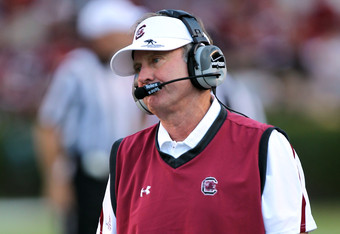 Yes. Lattimore is stuffed again on a ridiculous sweep call. On fourth and inches you call a sweep? Really?
Bad call.
Nick Jones with another catch. This kid is fast!
2nd and 4- Marcus is stuffed again.
3rd and 3- Lattimore gets stuffed again. Will Spurrier dare go for it again?
On first and ten, Lattimore gets stuffed.
Where is the offensive line? I have not seen anything like this. Props to Mississippi State.
Connor Shaw gets sacked on 2nd and ten. Once again, he holds the ball way too long. This is something I noted in grading Connor last weekl.
Third and long- Connor runs for about 13 yards. Steve Spurrier is going to go for it. NICK JONES GETS THE FIRST WITH A 14 yard reception!
South Carolina will get great field position to start the half. They have the ball at their own 43.
2nd and 10- Travian Robertson and Devin Taylor crush the running back for a loss. Third and 13.
On third and thirteen, Stephon Gilmore almost intercepts a pass from Russell. Good play. Time for a punt.
Tyler Russell made a great play on 3rd and three. Melvin Ingram had him, and he threw a strike for a first down.
Then on first down, he underthrows a quick throw.
1st and 10- The Bulldogs go back to attacking the middle. They get stuffed after two yards.
Big return for Mississppi State, but an obvious block in the back will bring it back. State will start deep in their own territory at their own six.
This article is
What is the duplicate article?
Why is this article offensive?
Where is this article plagiarized from?
Why is this article poorly edited?

South Carolina Football: Like this team?