Miami Hurricanes vs North Carolina Tar Heels: Live Score, Highlights, Analysis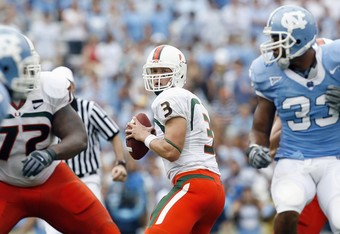 Kevin C. Cox/Getty Images
Miami 30, UNC 24 FINAL
Welcome to my live blog of this afternoon's ACC clash between the Miami Hurricanes and the home-standing North Carolina Tar Heels.
It is a great afternoon for football here at Kenan Memorial Stadium, and it should be a great game.
These two teams are fighting to get things going in conference play as Miami lost a heartbreaker in Blacksburg to the No. 21-ranked Hokies, and the Tar Heels are 5-1 overall, with their only loss coming to still unbeaten ACC Coastal leader Georgia Tech.
The key for Miami in this game will be to run the football down the Tar Heels' throat, as they have become a decent running team behind the effort of the nation's No. 3 ranked running back, Lamar Miller.
North Carolina has been a thorn in Miami's side for years since the Hurricanes joined the ACC, as former coach Butch Davis had the Hurricanes' number. On the other side, Miami and coach Al Golden are looking to get on track in conference play.
The loser of this game will be dead in the water in the conference standings, and will be left to fight for a lower-level bowl.
The game is over ladies and gentlemen.
Miami has won 30-24, having broken a 4-game losing streak here at Kenan Memorial Stadium, and most importantly it gives the Hurricanes their first ACC victory this season.
Jacory Harris had the hot hand all day today, although he and the Miami offense kept the Tar Heels in the game, and for a second, the Miami faithful in the stands were holding their breath after a late North Carolina touchdown.
This win evens Miami's record to 3-3 on the season, and they are going to have to most likely win out and get some help in order to contend in the ACC after three conference losses.
This wraps up my blog ladies and gents, Hope you enjoyed.
With 4:38 to go in the fourth quarter, Miami leads North Carolina 27-17 and seems to be on their way to attaining their first ACC win of the season and evening their record at 3-3.
This game had started out like it was going to be a shootout, and now it has turned into a nose-to-the-grindstone battle of the defenses.
Lamar Miller has been bottled up so far in this game, as he has been held under wraps for most of the game.
Another inept offensive series for the Hurricanes as Jacory Harris takes back-to-back sacks to put the offense in a big hole.
Punt is away and North Carolina takes over after Charles Brown muffed the punt at the 28, and recovered it at the 22-yard line.
It was ruled that the ball was kicked out of bounds, and Miami gets a huge break.
What kind of game are those refs calling?
That kickoff didnt even touch his foot. Al Golden is looking like he might have a heart attack after that call.
If it is overturned, the ball will be placed on the 35-yard line.
Miami has gone stagnant in the second half, as North Carolina has turned the tide in this half by scoring 10 points to bring the advantage down to 27-17.
Defensively, the problems Miami faced stopping the run are still prevalent. Giovanni Bernard has went over 100 yards against the Hurricanes, and they seem to have no answer in stopping him.
If Miami wants to win this game, they need to get it going on offense and take some of the air out of the Tar Heels.
North Carolina has 1st-and-goal at the Miami 8-yard line, and they have really let Giovanni Bernard loose as he has done some tough running to get the Tar Heels knocking on the door.
Miami is again backed up against their own end-zone and they have been horrible in run defense.
TOUCHDOWN!!!
3-yard touchdown by Giovanni Bernard puts North Carolina within 10 points and cuts Miami's advantage to 27-17.
Miami 27, UNC 17
Lamar Miller has a nice run, but it appears to be called back because of a penalty.
Miami has been called for holding, as Tyler Horn was the guilty party, so Miami is backed up to their own goal line.
A crucial third down upcoming for the Hurricanes.
Giovanni Bernard takes the handoff on a crucial first-down and appears to be short.
North Carolina has made the interesting choice to run the ball, and it has blown up in their faces as Bernard is stopped about a yard short.
He has went over 100 yards on 24 carries, but hopefully failing to gain any points doesn't come back to haunt the Tar Heels.
Erik Highsmith is on the receiving end of a beautiful throw from Bryn Renner, as it is a 39-yard gain all the way to the Miami 17 yardline.
Seems like North Carolina is setting up to further cut into Miami's advantage.
The Tar Heels are playing keep-away with the Hurricanes as they had the ball from the end of the third quarter, and after a Miami punt, they open the fourth quarter with possession and within striking distance to get themselves back in the game.
These teams have been trading punts recently, and neither side seems to be able to get any momentum going on offense.
Miami and North Carolina cannot seem to get any offense going.
This game is shaping up to be a battle of defenses.
FUMBLE!!!!!!!!
Miami's Marcus Robinson causes a fumble by Renner, and Jordan Futch recovers the football for Miami.
This makes the 2nd turnover for the Tar Heels on the day, and it's another opportunity for Miami to put some more points on the board.
This kind of defensive performance is what wins games for Miami.
Lamar Miller has been a non-factor in this game so far as he has been bottled up for most of the game.
North Carolina is being methodical as Ryan Houston takes the carry right into the waiting arms of the up-until-now quiet All-ACC LB Sean Spence.
The Tar Heels try trickery with a flea-flicker, but Miami sniffs it out and stops it before it even gets started.
Miami is punting for the first time today, as Dalton Botts lines up for a fourth down punt.
Punting for the first time in the third quarter is an indication as to how good Miami's offense has been today.
Let's see if the Hurricanes can take some momentum back.
Jacory Harris and the Miami offense is back on the field and will look to capitalize on the first half success as Harris hands off to Benjamin on a end-around.
Benjamin gets a 3-yard gain as Miami faces second down. A lack of a run game has to be driving Al Golden and Jedd Fisch crazy.
A strong running game will open up play-action passing lanes which will help Harris as the game goes along.
An injury timeout for an injured Tar Heel has play stopped while he is helped off the field. Injuries seem to be a trend in this game, as both sides have seen players leave the field for various reasons.
North Carolina is coming right at the Hurricanes with the ground game, as Bernard has a short gain to give the Heels another first down.
A key for North Carolina in the second half will be to establish the run game with Bernard and control the clock to keep the streaking Harris and the Miami offense off the field.
A key for Miami in the second half will be to control the Tar Heels' ground attack and force turnovers to get the defense off the field.
Miami will kickoff to the Tar Heels to begin the second half, and the 'Canes will look to build on the momentum that they had in the first half.
Jacory Harris had the hot hand for the 'Canes, and he will look to build on the success of the first half.
It is halftime here at Kenan Memorial Stadium as Miami leads North Carolina 27-10.
The game couldnt have started better for Miami and Jacory Harris as they have now scored on 11 of their past 12 offensive possessions leading into the game.
This is the largest deficit for the tar Heels since trailing LSU 30-10 last year.
Miami 27, UNC 10 HALF
TOUCHDOWN!!!!
4-yard touchdown from Renner to Dwight Jones to cut Miami's lead to 27-10 going into halftime.
North Carolina has come alive in the 2nd quarter, going 13 plays, 56 yards to get on the board before halftime.
Miami 27, UNC 10 0:08 Q2
A crucial juncture for the Tar Heels as they have 2nd and goal from the Miami 3, and Renner's pass is over the head of his target.
Miami is looking to go into the locker room with a comfortable lead by holding the Heels to a field goal.
A huge third down upcoming for the Tar Heels as they are at the 34-yard line of Miami.
Bernard takes a carry down to the 27-yard line for another Heels first down.
North Carolina has to be looking to put some points up before halftime, and not go into the locker room down 27-3.
A big return negated for the Tar Heels as they are called for an illegal block in the back on Miami's kicker Jake Wieclaw.
Penalties are starting to become a theme of the game as both teams are starting to accumulate penalties in bunches.
Let's hope it does not become a key in this game, as many games have been won and lost on penalties.
Giovanni Bernard has become more active in the 2nd quarter as he gains 8 yards to the Hurricanes' 43-yard line.
TOUCHDOWN!!!
Jacory Harris throws a 30-yard laser to Travis Benjamin as Miami extends their lead to 27-3.
What a game so far for the senior signal-caller as he is 16 of 22 for 233 yards yards and three touchdowns.
He is definitely growing up right in front of our eyes, as he is doing everything and then some for the 'Canes.
He has at 7 completions of at least 20 yards in this game.
Miami 27, UNC 3 5:17 Q2
Lamar Miller has been a non-factor so far as he is chased down by Gene Robinson for an 8-yard loss.
Miami needs to establish the run to continue to give Harris some help and take the pressure off of him.
On offense, Miami needs to establish their will and let loose with Harris and Miller.
Harris is really on-fire as he gets under center for the next play.
Anthony Chickillo is becoming a major force for the Hurricanes as he chases down Renner to force an incomplete pass and a 3-and-out.
What a find for the Hurricanes' defense.
This article is
What is the duplicate article?
Why is this article offensive?
Where is this article plagiarized from?
Why is this article poorly edited?

Miami Hurricanes Football: Like this team?