Brian Blechen, Utah Utes Look To Continue Their Winning Ways Against Pitt
October 15, 2011
Jeff Gross/Getty Images
The Utah Utes have a short but victorious history with the Pittsburgh Panthers; one that Pitt would like to see end.
The teams first met up in the 2005 Fiesta Bowl. Pitt came in with an 8-3 record and as co-champions of the Big East. Utah, then in the Mountain West conference, was riding an undefeated season. The Utes won 35-7 and became the first non-AQ team to win a BCS bowl game. Giving up such a historic win is not the way Pitt would like to be remembered.
In 2010, Pitt came to Utah's Rice-Eccles stadium in a non-conference matchup. I attended that game and, from the conversations I had with Pitt fans, they'd not forgotten about the last time they'd played Utah. When the game ended in regulation tied at 24, Ute fans were nervous. Only after true freshman Brian Blechen intercepted a pass from Pitt QB Tino Sunseri did Ute fans rejoice, beating Pitt again by a score of 27-24.
Going in to Saturday's game against the Panthers, Blechen had this to say.
"If you want to play big ball you have to play big opponents," he said. "We talk about wanting to be the best so we have to play the best. It's something we enjoy. There are losses, but you expect to win them all; we have all the confidence in the world in ourselves and like these opportunities."
Both teams are coming off tough losses: Pitt to conference foe Rutgers and Utah to ASU. It's a non-conference matchup, but it's homecoming week for Pitt, and they might not say it, but I believe they'd love to finally beat Utah.
With a new coach and a new offense, the Panthers are struggling to find their identity. They fell just short to Notre Dame, 15-12. Then they routed a good South Florida team, 44-17, before losing the following week to Rutgers, 34-10.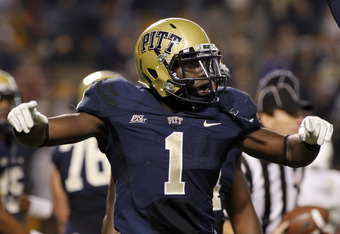 Justin K. Aller/Getty Images
They have a big-time running back in Ray Graham, but there's concern at the quarterback position. Sunseri looks to start (and I'm sure he hasn't forgotten the last time he faced Utah), but he'll be looking over his shoulder at Trey Anderson, who played a few series in last week's game.
Utah's quarterback, Jon Hays, is young, but he shows promise. If key players around him step-up, he should be able to stick to safe throws and run plays. Utah's defense is No. 19 against the run, and Pitt head coach Tom Graham thinks Utah runs a defense similar to Rutgers.
Utah needs a win. They're on a two-game skid. The last thing they want is to get accustomed to losing. Coach Kyle Whittingham said it best during his mid-week coach's show on Oct. 12th:
"We're just looking to get a win. Conference, non-conference irrelevant at this point in time. We just need to go out and get a win...We've dropped two ball games in a row. That's a horrible feeling. It eats at you. The only way to get that feeling out of your system is to get a win."
In last week's game against ASU, I noticed Blechen dropping back from his linebacker position to play safety. Ute fans can only hope that, against Pitt, history repeats itself.