2011 World Series: Ranking All World Series Championship Teams of Wild Card Era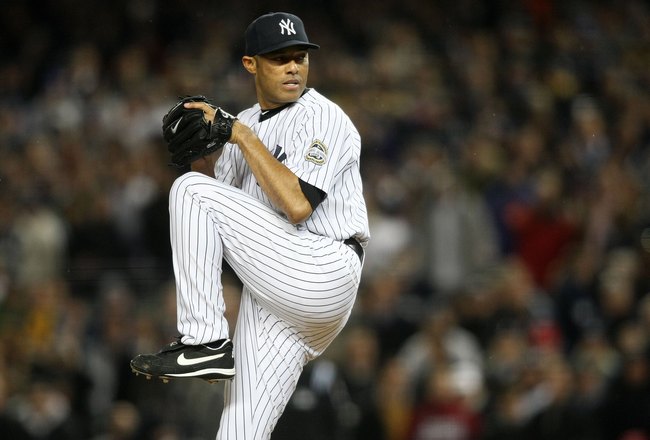 Nick Laham/Getty Images
The Texas Rangers are the best team in baseball in 2011, but it might not matter. Like the Philadelphia Phillies and the New York Yankees before them, Texas could get knocked out of these 2011 MLB Playoffs by an inferior club and would not be remembered as positively even as the clearly worse Detroit Tigers.
In baseball, the postseason is no meritocracy. It might once have been so, but since the advent of the Wild Card system in the mid-1990s, many teams have won World Series with rosters ranking barely (if at all) within the top 10 of all MLB teams. Many others, like the bulk of the dynastic Atlanta Braves teams of the 1990s and 2000s, have been thwarted in their pursuit of history despite being fully deserving.
So it goes in a world where no team ever has more than a 60 percent chance of winning a short series. Some champions in the modern era deserve that title; some do not. Herein are rankings of the 16 teams who have won World Series since 1995, the first year of the current format, from the dominant powerhouses to the fluky fast finishers.
16. 2006 St. Louis Cardinals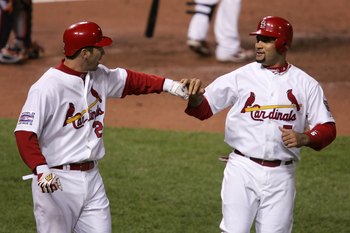 Jonathan Daniel/Getty Images
In 2004 and 2005, the Cardinals were probably the best team in the National League. Albert Pujols was at or near the height of his powers, Chris Carpenter won the 2005 NL Cy Young award and underrated true superstars Jim Edmonds and Scott Rolen powered a team that both defended and slugged as well as anyone.
By 2006, though, Edmonds and Rolen were past their prime, and chinks in the armor were apparent. That team won just 83 regular-season games and lost eight of their last 11 to nearly give away the NL Central. Aaron Miles and So Taguchi played every day. Jason Marquis was essentially the number-two starter, but struggled so badly in the second half that he did not make their post-season roster.
In the playoffs, though, St. Louis caught lightning in a bottle. Adam Wainwright arrived and filled the hole at the back end of the bullpen. A huge home run from catcher Yadier Molina (season OPS .595) sent them to the World Series. There, David Eckstein played over his head and Scott Rolen played out of his mind, and the Cards rolled a much better Detroit Tigers team. Rolen, by the way, was far, far better than Eckstein in that series and deserved the MVP.
15. 2010 San Francisco Giants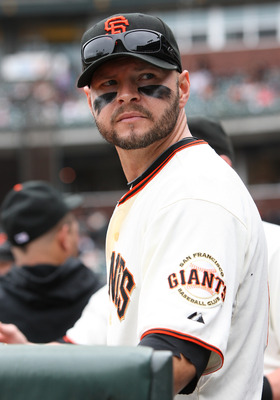 Tony Medina/Getty Images
A typical Brian Sabean construction, the 2010 Giants were an imbalanced hodgepodge of aging veterans and ace pitching. Sabean lurched back and forth across the baseball world looking to fill the 10 or so complete voids on his roster at midseason, and lo and behold, he hit every number on the power ball ticket.
Tim Lincecum, Matt Cain and the rest made up a great postseason pitching staff, but narrative has basked them in a glory they do not fully deserve. The 2010 Phillies' staff was better, but they got less lucky, and so did not win anything in October. The Giants were a collection of men who had been in situations like these before and who managed to cobble together an admittedly impressive run despite unimpressive overall talent.
14. 2002 Anaheim Angels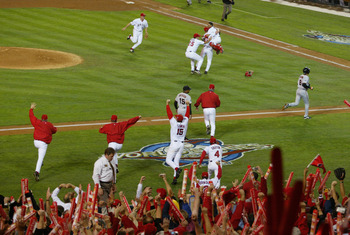 Donald Miralle/Getty Images
Stirring comebacks, rally monkeys and Troy Power aside, the Angels were far from the best team in baseball in 2002. They got hot at the right time, though, and Francisco Rodriguez gave them that flexible and utile relief weapon that one needs to succeed in October. Meeting fellow Wild Card winner San Francisco in the World Series didn't hurt. If Moneyball had altered history to show us the A's winning it all, would anyone really have been terribly offended on the Angels' behalf?
13. 2005 Chicago White sox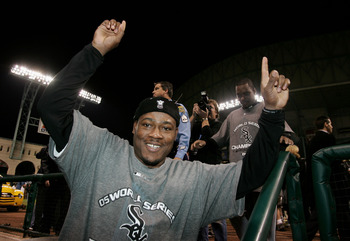 Elsa/Getty Images
Some great veteran hitters and a few highly successful reclamation projects at pitcher turned the Sox from near-choke artists into World Series champs in 2005. They got lucky enough to face an Astros team that spent its whole energy in beating a superior Cardinals team, and Roger Clemens made an early (injury-related) exit from Game 2 of the Series. It's still impressive and all, but Chicago stole that ring.
12. 2007 Boston Red Sox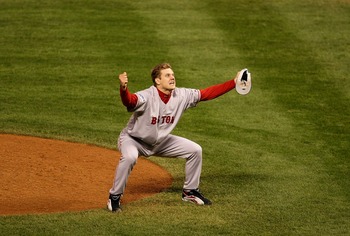 Jonathan Daniel/Getty Images
Down three games to one in the ALCS against Cleveland, many expected the Sox to be in panic mode. Manny Ramirez went the other way with it:
"It doesn't happen, so who cares? There's always next year. It's not like it's the end of the world."
That stirred some serious backlash, and a good bit of vitriol, all of which evaporated pretty quickly after the Sox came roaring back and won their next seven games to run away with the World Series title.
11. 1996 New York Yankees
Doug Pensinger/Getty Images
These were the last of the underdog Yankees. Derek Jeter, Andy Pettitte and company were just melding together, and John Wetteland was still the closer. This was a team without a true ace in the Clemens or even David Wells mode, and won only 92 games during the regular season. Dominance was coming back into style in the Bronx, but it was still a hipster trend in 1996.
10. 1995 Atlanta Braves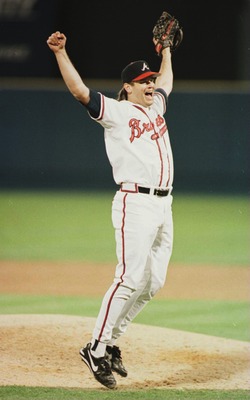 Rick Stewart/Getty Images
This was far from the best of the Braves teams during that dynasty, but the team's ability to play steady, great baseball while the rest of the world allowed post-strike chaos to distract themselves p0aid huge dividends in October. Fittingly, those bastions of pitching glory won the clinching game 1-0.
9. 2003 Florida Marlins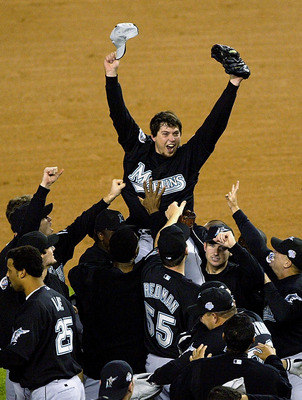 Jamie Squire/Getty Images
Wild Card winners who advanced through each round of the National League playoffs in about the most dramatic ways possible, Florida won what turned out to be a pretty ho-hum World Series. The squad had balance, energy, speed and power and pitching, but wasn't a really great ball club; just an exceptionally youthful and hard-charging one. You have to wonder what Josh Beckett was up to in the clubhouse in those days, at age 23.
8. 1997 Florida Marlins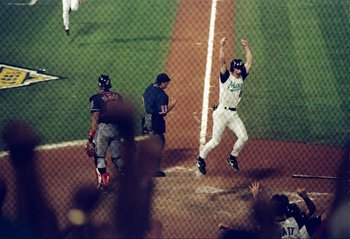 Harry How/Getty Images
It's easy to get lost in the narrative of how Florida bought a championship with big-money acquisitions and superstar talent, but the honest truth is that they weren't all that good. The Indians were better, but could not put Florida away. Craig Counsell and Edgar Renteria combined for the final-play magic, after all.
7. 2008 Philadelphia Phillies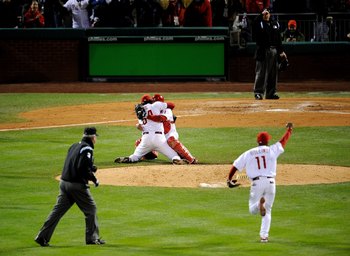 Jeff Zelevansky/Getty Images
The Phillies' World Series win came before the Halladay years of dominant pitching. This team was mostly about offense, with a more youthful and useful Ryan Howard, 2007 NL MVP Jimmy Rollins and the dominant Chase Utley leading the way. Still, when it came down to it, Brad Lidge (not a blown save all season) and Cole Hamels made it all happen.
6. 2000 New York Yankees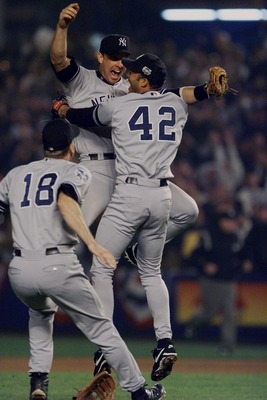 Jed Jacobsohn/Getty Images
Some of the pieces of that Yankees dynasty were already old in 2000, and although they returned to the World Series in 2001, it felt an awful lot like 2000 could be the last go-around for some members of the squad. That made it even more meaningful, and since the Mets were the opponents, it was pretty darn meaningful to begin with.
5. 1999 New York Yankees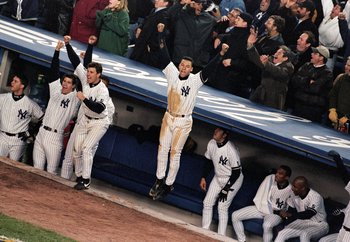 Jamie Squire/Getty Images
Like the 1996 Yankees, this squad beat a superior Braves team to claim its title. Unlike that one, this team looked a bit slow and aged. Not yet having been driven into the arms of steroids, Roger Clemens, 36, posted a 4.60 ERA that year. No matter; Clemens got the win in the clinching Game 4.
4. 2001 Arizona Diamondbacks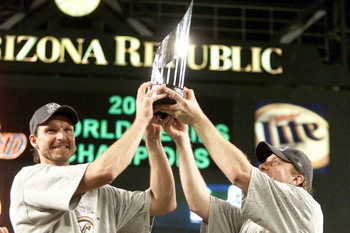 Jed Jacobsohn/Getty Images
If you think these guys are too high, you think too little of Randy Johnson and Curt Schilling. If you think I think too much of them, you think too little of them. This was, without argument, the top-heaviest champion ever, but the top was as heavy as heavy gets, man.
Schilling pitched over 250 innings during the season, then squeezed in six postseason starts. He completed half of his assignments in October, and in 48.1 innings of work, he ran up a 56:6 strikeout-to-walk ratio. His ERA was scarcely over 1.00. He went 4-0.
Johnson lost his only assignment of the Division Series despite giving up three earned runs with nine strikeouts over eight innings. It was actually a terrific performance, but it failed, so Johnson learned his lesson.
In the NLCS and World Series, Johnson combined to go 5-0. In 33.1 innings, he struck out 38, walked six and allowed four earned runs. He pitched two complete-game shutouts, went seven innings for the win in Game 6 (why Bob Brenly let him do so with a 15-run outburst early on, we'll never know) and, to no one's great surprise but to everyone's amazement, came in the very next night to get four outs, hold the Yankees in place and allow the Diamondbacks to come back for the win.
3. 2004 Boston Red Sox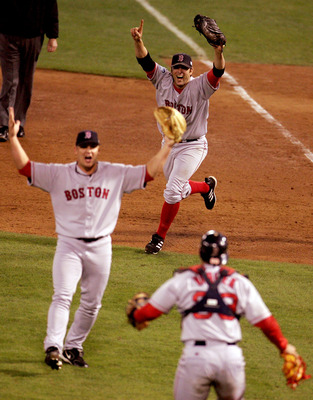 Al Bello/Getty Images
The stories that are fun to tell are all about the ALCS, but of course, the Sox technically broke the Curse, only be sweeping away the Cardinals as well. This Red Sox team was viciously talented, almost without weaknesses, and never should have been down 3-0 to New York in the first place, but so it goes. It all worked out about right by the end of the Series.
2. 2009 New York Yankees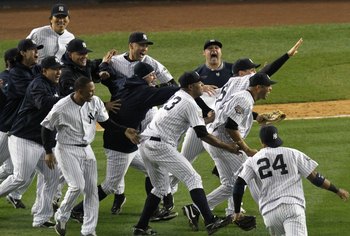 Jim McIsaac/Getty Images
This might end up one of the more underrated teams in history. Consider who they were, and what they accomplished. It was the last hurrah, really, for Jeter, Alex Rodriguez, Johnny Damon, Jorge Posada, Andy Pettitte and Mariano Rivera, all of whom played beyond that Series, but none of whom has been as dominant since.
It was a coming-out party for free-agent acquisitions Mark Teixeira and CC Sabathia, too long left outside the limelight, and even for A.J. Burnett. It was the coronation moment for new superstar Robinson Cano. All of that is not to mention that to win it all, the Yankees had to beat a very, very good Phillies team. Not merely oligarchic, this stands alone as the most meritocratic World Series of the new era.
1. 1998 New York Yankees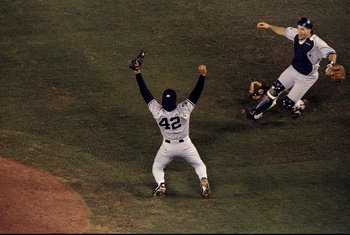 Todd Warshaw/Getty Images
Pettitte, Wells and Cone fronted the rotation. Bernie Williams had an insane season. Jeter was great. Posada was great. Darryl Strawberry and Paul O'Neill, not yet beyond their prime entirely, combined for 48 home runs. Scott Brosius, Chuck Knoblauch and Tino Martinez were a great set of middle-aged rle players, and they combined for 295 runs scored and 285 RBI. When Mariano Rivera emerged as the best closer in baseball, it came together, and the Yankees won 114 games en route to the Series win.
Keep Reading