Chicago Bears Ownership Must Follow Chicago Cubs' Lead
October 14, 2011
Jim Prisching/Getty Images
"No. 1 is, we're going to win a World Series," Tom Ricketts said. "We're very excited to get started and there's a lot of work to do. But everyone needs to know we're here for the long run, and we're here to win."
When Ricketts purchased the Chicago Cubs, he made several promises to fans of the North Side, but only one stood out—the promise of a winning product on the field.
After two years, he made the first step toward a championship team in firing Jim Hendry and appears to be replacing him with the general manager of the Boston Red Sox, Theo Epstein. I'm not going to dwell too much on this move (at least not in this article), but it's obvious Ricketts isn't in the business of waiting.
Chicago Bears fans are starting to feel like we've been waiting far too long for a similar commitment from ownership.
We can sit here and complain about the offensive line or Jay Cutler or the play of the safeties (and this list goes on and on and on), but isn't it time to hold management accountable for the product on the field?
When is it no longer about sacks and interceptions and run defense? Forget the fact that Lovie Smith has wallowed in mediocrity for the last few seasons; it's not his job to create miracles. Two plus two equals four, and Smith can't make it eight.
I'm ready to go into the next round of the blame game. It's time to start holding general manager Jerry Angelo responsible for the complete ineptitude of this team.
In fact, I blame Angelo for everything that's wrong with this year's edition of the Chicago Bears.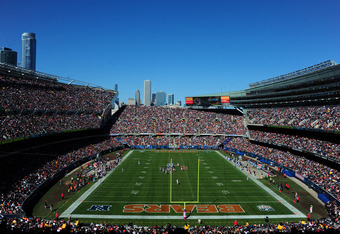 Scott Cunningham/Getty Images
His draft history is virtually wretched. In fact, aside from Matt Forte (by far the most productive player on this team), I can't name another draft pick that I consider a win for the Bears, and Angelo is astonishingly still holding back on paying him top money. 
Angelo's trade and free agent history is only slightly better. I love Julius Peppers, but isn't he a little overpaid for his age? I liked it when Angelo went out and got Cutler, but didn't we lose too much in draft picks that now it's coming back to haunt us? Want to talk about Kordell Stewart?
How much longer is this guy going to be allowed to fail miserably before President and CEO Ted Phillips decides to make a change? Can't majority owner Virginia McCaskey hear the pain emanating from the stands and parking lot of Soldier Field? 
While I'm attacking McCaskey and the rest of the ownership, in 2010, Forbes Magazine listed the Bears as the ninth-most valuable franchise in the NFL—but they didn't stop there. In a separate article, Monte Burke calls the Bears the most neglected (and likewise lucrative) team. 
Despite being in the third-largest television market in America, Soldier Field is dead last in capacity minimizing ticket revenue. And although the stadium underwent renovations in 2003, there have been countless complaints regarding parking/traffic, field quality and a lack of high-revenue seating, among others.

The team's decision to hand control of the stadium and its operations to the Chicago Parks Department has made for a very low-budget situation, causing a huge disadvantage when compared to most other franchises.
Bears fans, it's time to demand more from our team.
It's time to hold management accountable for their failures.