Serie A Week 7: Picks and Predictions
October 14, 2011
Paolo Bruno/Getty Images
There are many great rivalries in world football. The matchup between Lazio and AS Roma this weekend is one of those intense battles that always draws attention and generally divides the city of Rome for a few days.
Roma star Francesco Totti has been ruled out due to injury.
But Totti will still find a way to assist his team, as chances are he will be in the locker room or on the bench offering words of encouragement.
Here are some quick previews of what to expect this weekend.
The Rossoneri are much healthier than they were a month ago.
Robinho is expected back.  The midfield is now without just Mathieu Flamini and Gennaro Gattuso.
Palermo began the season surprisingly strong under coach Devis Mangia, but this clash will be a tough one.
AC Milan need to start playing better, especially now that many players are back from injury.
Prediction: AC Milan 3-1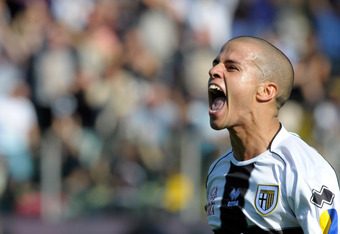 Claudio Villa/Getty Images
Sebastian Giovinco has kept Parma afloat early in the season.
Napoli started strong and continue to play like last season. They are expected to feature virtually all first string players.
Napoli are a tough team to beat at home, so the hopes for Parma do not look good.
Prediction: Napoli 2-0
Inter at Catania
Inter are not playing at full strength, as several players are being rested for the Champions League.  
Catania are tough to beat at home and will certainly not make things easy for Inter.
Midfielder Wesley Sneijder is not expected to play for Inter.
Catania may bring striker Maxi Lopez from the bench, but he will probably feature in the match at some point.
Prediction: 1-1 tie
This is a battle of two sides that have played very well early in the season.
Atalanta are on the plus side after losing six points to start the season, due to involvement in a betting scandal.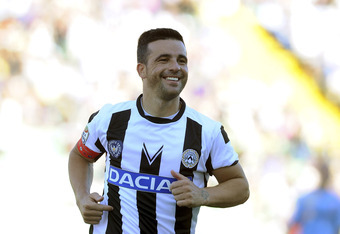 Dino Panato/Getty Images
Most players on both sides have been able to rest during the international break, which means Udinese striker Antonio Di Natale should be more than ready to cause havoc for Atalanta.
Look for the Friuli side to earn the victory.
Prediction: Udinese 2-1
Both sides enter this match in relatively good shape with only minimal injuries.
Cagliari are clearly the stronger of the two. The Sardinian side has a solid veteran midfield that is one of the best in the league.
Daniele Conti, Andrea Cossu and Davide Biondini form a solid core with a great defense led by Michele Canini and Davide Astori.
Prediction: Cagliari 2-0
Fiorentina at Cesena
Cesena are struggling and need to get going if Marco Giampaolo is going to stay on as the manager.
Adrian Mutu will be playing his first match against his most recent former club and has vowed not to celebrate if he scores.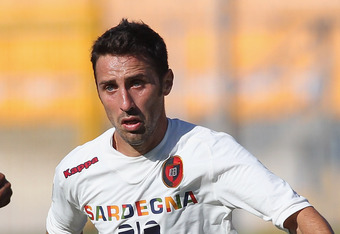 Maurizio Lagana/Getty Images
Fiorentina are still without Alberto Gilardino in the attack.
Prediction: 0-0 tie
Juventus at Chievo
The new Juventus have arrived and the Bianconeri are playing in top form.
Alessandro Del Piero is expected to get the start up front.
Coming off the international break, American Michael Bradley may not get the start for Chievo. He should feature from the bench, however.
Prediction: Juventus 3-1
Genoa will entertain one of the weaker sides in Serie A at home.
Rodrigo Palacio has been on a tear to begin the season and if he continues, it could spell more problems for Lecce.
Lecce are without starting striker David Di Michele due to injury.
Prediction: Genoa 2-0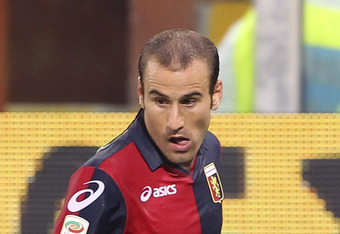 Marco Luzzani/Getty Images
AS Roma at Lazio
Playing without Francesco Totti in this match is certainly a blow to Roma.
This derby generally draws many fouls, yellow cards, red cards and more.
Expect it to be another tight encounter. Lazio are a more veteran side up front whereas Roma are much more uncertain at the moment.
Prediction: Lazio 2-1
Both sides will be looking to get three points out of this match, as both need every point possible to avoid relegation.
Midfielder Marco Rigoni has been sharp to start the season for Novara.
Alessandro Diamanti has done the same for Bologna.
Prediction: 1-1 tie.