Waiver Wire Wonders – Week 6 Quarterbacks
October 14, 2011
Bart Young/Getty Images
With five weeks in the books, the trend continues that this is a passing league.
There are five passing games averaging more than 300 YPG—led by New England, New Orleans, Carolina, Dallas and Green Bay. Cam Newton added yet another rushing TD in Week 5 and sits just behind AROD for the top spot among fantasy QBs.
The rookie is averaging 27 Fantasy PPG in standard scoring leagues.
As for those QBs who have disappointed owners over the first month of the season, like Josh Freeman, Joe Flacco and Jay Cutler—they are bench worthy until further notice as each signal caller is averaging less than 16 fantasy PPG.
WEEK 6 byes: Arizona, Denver, Kansas City, San Diego, Seattle, and Tennessee. Other than Phil Rivers no other QB1s will be out this week.
WEEK 7 byes: In Week 7, many top-flight QBs will be sitting out, including Tom Brady, Mike Vick, Eli Manning and Ryan Fitzpatrick—be sure to plan ahead.
This week we profile a few signal callers that are likely sitting on your waiver wire and could very well make for solid injury or bye week replacements.
If you are looking for some depth at other positions be sure to check out our running back and wide receiver Waiver Wire Week 6 articles.
Tim Tebow (BYE, @MIA, DET, @OAK)
We profiled Tebow last week as one to keep an eye on. Little did we know that Kyle Orton's reign atop the Denver depth chart would end in Week 5.
Tebow took over in the second half of the Broncos 26-24 loss to SD, and nearly engineered an improbable comeback. The dual threat QB completed four of 10 passes for 79 yards with a TD and added six carries for 38 yards and a rushing TD.
Denver has a Week 6 bye but Tebow was named the starter today for the Week 7 matchup with a porous Miami secondary.
Despite his poor mechanics, the human bulldozer was a fantasy difference maker in his three late season starts in 2010. (He averaged 217 yards passing per game, 66 yards rushing and scored seven total touchdowns).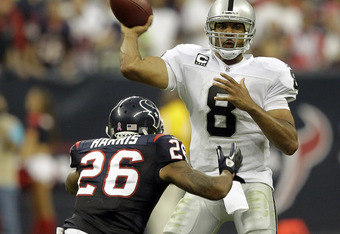 Bob Levey/Getty Images
Jason Campbell (CLE, KC, BYE, DEN)
 We've profiled Campbell previously, and he is quickly becoming a serviceable fantasy backup. 
Campbell is averaging a 223 YPG with six TDs and four INTs. He ranks No. 13 among fantasy QBs through five games. WR Jacoby Ford returned in Week 4 and paired with emerging rookie Denarius Moore and former first round pick Darrius Heyward-Bey (99 yards and a TD in Week 5).
The Raiders WR corps is showing signs of life.
In Week 6 they have a somewhat difficult matchup with Cleveland, although shutdown CB Joe Haden is dealing with a knee injury. The Week 7 matchup with KC is favorable (they were just shredded by Curtis Painter), and is during a week where Tom Brady, Eli Manning, Ryan Fitzpatrick and Mike Vick are on byes.
Curtis Painter (@CIN, @NO, @TEN, ATL)
 The sixth round pick out of the University of Iowa isn't going to make Colts' fans forget about Peyton anytime soon, but he has posted back to back solid performances in place of Kerry Collins (who suffered a concussion).
All signs point to the 26-year-old QB keeping the job for the foreseeable future, as he's averaged 280 YPG with four TDs and zero INTs the past two weeks against KC and Tampa.
With Pierre Garcon emerging, as well as Reggie Wayne and Dallas Clark, Painter has adequate weapons at his disposal to continue his hot streak.
The Colts might be forced to rely more on the passing game over the next few weeks as RB Joseph Addai nurses a hamstring injury.
Painter has been more effective going downfield, but his Week 6 matchup against the Bengals will be a true test. (Cincy ranks third in pass defense with only 191 YPG).
Matt Cassel (BYE, @ OAK, SD, MIA)
 We're still not sure that the Chefs will ever realize the full potential of the six year, $63 million contract they signed Cassel to in 2009. Hopefully you didn't draft the USC alum expecting a repeat of his impressive 2010 (27 TDs and only seven INTs).
Through five games this season, the KC quarterback is averaging a less-than-impressive 189 YPG with eight TDs and five INTs (22nd ranked fantasy QB).
The loss of Jamaal Charles in Week 2 is having widespread affects on the entire Chief offense.
On the plus side, Dwayne Bowe and Steve Breaston are producing (each had two TDs in Week 5), and they should get rookie Jonathan Baldwin back soon.
With matchups against Oakland and Miami on the horizon, the Chiefs' signal caller is well worth considering as a bye week filler.