Justin Verlander: Has His Playoff Performance Proven He's MVP Worthy?
October 14, 2011
There's been a constant burning question surrounding Major League Baseball in 2011. It's a question that has been answered in the past, but the answer has often been disputed. 
Should a pitcher be allowed to win both the Cy Young Award and MVP Award?
It's something that has not happened in almost 20 years and may not happen again for another 30. But many believe Justin Verlander will take home both this year.
Sometime around mid-November, after the 2011 season has crowned its winner, Justin Verlander will be awarded with the American League Cy Young Award. 
The Cy Young Award is given to one pitcher in each league and is voted on by Baseball Writers Association of America—also known as BBWAA. This same association is responsible for also voting on the winner of the Most Valuable Player Award. If you were to find a member of the BBWAA tomorrow and asked them who they voted for in the AL Cy Young, it's safe to say that roughly 80 percent of them will tell you Justin Verlander. 
If you asked the BBWAA a month ago about who would win the AL MVP Award, you might not have gotten such an overwhelming number of them saying Justin Verlander. Regardless, he probably still won most of their votes.
The flame-throwing right-hand hurler was simply dominant all year, but has his performance in the playoffs proven him MVP-worthy?
Verlander's regular season statistics look like this: 24-5 record, 2.40 ERA, 0.92 WHIP, 250 strikeouts, 57 walks, 251 innings pitched, .192 opponent average.
His playoff numbers are a bit different: 2-1 record, 5.31 ERA, 1.43 WHIP, 25 strikeouts, 10 walks, 20.1 innings pitched, .238 opponent average.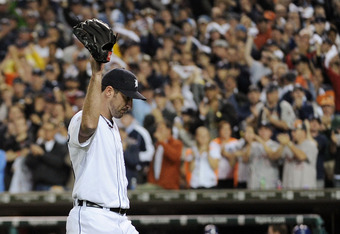 Harry How/Getty Images
To me, despite his numbers, he's done nothing but further prove he's the MVP. 
Verlander has done more than his postseason numbers may indicate. He's done more than just fight the weather.
He's had to fight Jim Leyland to let him pitch after rain delays. He's had to fight Leyland to let him pitch on short rest. He's had to fight a juggernaut New York lineup and perhaps an even better one in Texas. He's had to pitch well past his pitch-count limit to save his team from elimination and has never let up.
On Thursday night he hit 100 MPH on the radar gun on his 133rd pitch. It may have resulted in a long home run to Nelson Cruz, but that pitch alone showed us just how special this guy really is. 
Verlander admitted after Thursday's game that he has not had his best stuff lately. If you had the arm of Justin Verlander, you wouldn't need your best stuff to win either. 
Justin Verlander was not my MVP of the American League when the season ended, but that's what he's proven to me this postseason. That even when he can't locate his pitches or get one across the plate at all, he still has the ability to get the best players out on baseball's biggest stage.
That's because he is the American League Most Valuable Player.