With Journeyman-Like NBA Career, Where Will Kwame Brown Play in 2011-12?
October 14, 2011
Doug Pensinger/Getty Images
Ever since being selected with the No. 1 overall pick in the 2001 NBA Draft, Kwame Brown has seen his NBA career turn into one of a journeyman, playing for five different teams in 10 seasons.
Currently an unrestricted free-agent, where will Brown be in 2011-12?
Brown was drafted by the Washington Wizards under Michael Jordan in 2001 and spent four years in the nation's capital averaging 7.5 points per game along with 5.3 rebounds in 253 regular season games with the Wizards. Brown not only struggled on the court, but at times showed a lack of maturity, especially during the times he struggled.
Brown was traded to the Los Angeles Lakers in August 2005 along with Laron Profit in exchange for Caron Butler and Chucky Atkins. In 3 1/2 years in Los Angeles, Brown averaged 7.2 points per game and 5.8 rebounds 136 regular season games with the Lakers, which was a step up from his time in Washington.
Could it be that all Brown needed was a change of scenery and some time in order to find his game?
However, Brown was traded in February 2008 to the Memphis Grizzlies in a one-sided transaction along with rookie Javaris Crittenton, Aaron McKie, the draft rights to Marc Gasol, 2008 first-round draft pick and a 2010 first-round draft pick in exchange for Pau Gasol and a 2010 second-round draft pick. Brown had an expiring contract and was a target for the Grizzlies, who were looking to make some major changes to their team at the end of the season.
Brown appeared in only 15 games in Memphis, averaging 3.5 points and 3.8 rebounds per game. The Grizzlies decided not to re-sign Brown, making him an unrestricted free agent in July 2008.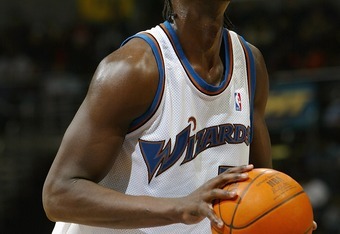 Doug Pensinger/Getty Images
Brown signed a two-year contract (with the second-year being an option) with the Detroit Pistons and in two seasons with the team averaged 3.8 points per game along with 4.4 rebounds in a reserve role. These were not great numbers, but at this point in time, Brown was willing to accept a role as another big body that will help out with whatever was needed.
Brown then signed with the Charlotte Bobcats in August of 2010 and averaged 7.9 points and 5.6 rebounds per game while appearing in 66 games (including 50 starts).
Comparing these numbers to this previous two stops, Brown had a great season. The Bobcats are a young team and he was given playing time even though no matter what he does in the remaining of his career, he will go down as a "bust," especially for a player who was drafted No. 1 overall in 2001.
It also remains to be seen where Brown will be playing next season. Will the Bobcats bring him back, or can he find another team that will give him an opportunity?
Hopefully these questions will be answered here sooner rather than later.