Philadelphia Flyers: Grading the Newcomers After One Week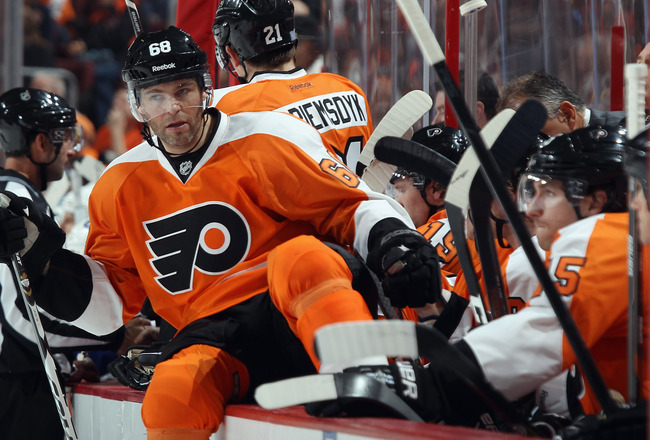 Bruce Bennett/Getty Images
In the first three games of the season, the Philadelphia Flyers have started eight players that the team acquired over the offseason.
Some are seasoned veterans looking for one last chance at a Stanley Cup. Some are players on the rise, ready to take a team to the next level. And some are NHL first-timers, trying to find a role at the dawn of their professional careers.
No matter the back story, these players are all part of a Flyers team that has gone 3-0-0 in its first three games, and their performances have played a role.
Here is an analysis of each roster addition's impact on the team thus far.
Andreas Lilja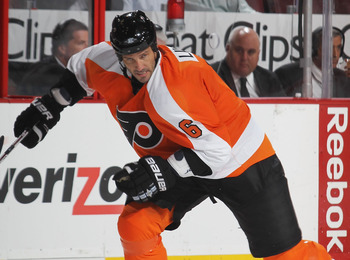 Bruce Bennett/Getty Images
The Good: Lilja's expectations were not high when he arrived in Philadelphia, primarily because the team has a very solid core of five defensemen, as well as youngsters like Oskars Bartulis and Erik Gustafsson waiting in the wings. Lilja was a relatively cheap contingency plan if Bartulis, Gustafsson and Matt Walker did not work out, as well as a backup for Chris Pronger if he wasn't healthy for the opener.
However, Lilja's defensive reliability impressed the coaches enough for him to get him the starting job. He nearly scored the team's first goal of the season by hitting a post behind Tim Thomas, and he has shown that his age will not stop him from taking the body.
The Bad: Outside of a few key moments, Lilja has been difficult to notice on the ice. His positioning is sound, but he doesn't log minutes on the power play and isn't Laviolette's first choice to play the penalty kill. In addition, he doesn't throw down with opposing tough guys the way Matt Walker or Sean O'Donnell would.
The Grade: C-
Jakub Voracek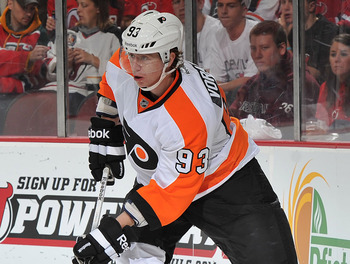 Christopher Pasatieri/Getty Images
The Good: Voracek has taken the place of Ville Leino, as a slick puck-handler expected to create chances for Danny Briere. He has showcased these shifty moves, and they are truly a sight to behold. He has also been opportunistic in the slot, notching two goals in his first two games.
The Bad: Despite the relatively impressive stat sheet, Voracek's play has left a bit to be desired. He hasn't stimulated Briere's production yet, and seems to try to do too much with the puck. Briere's production peaks when he develops good chemistry with his linemates, and so far, Voracek's moves haven't done a whole lot for the second line in terms of scoring chances.
The Grade: C
Max Talbot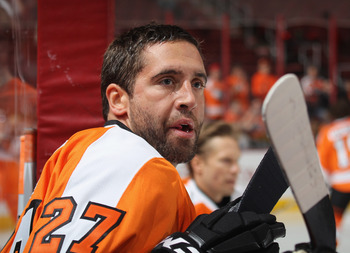 Bruce Bennett/Getty Images
The Good: Max Talbot is, as expected, very comfortable in his role as a fourth-liner and penalty-killer. He has been the anchor of the PK, covering the points without over-committing and playing great defense even without a stick to prevent clear shots at his goalie.
The Bad: Talbot has not been as solid on draws as his predecessor, Blair Betts. He is also yet to really display the edgy, agitating style of play that made Flyers fans hate him so much when he was with Pittsburgh. The Flyers signed him expecting him to get in the heads of opponents with his grit and willingness to scuffle.
The Grade: B-
Sean Couturier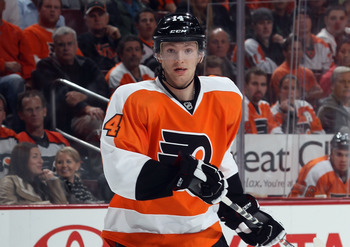 Bruce Bennett/Getty Images
The Good: The eighth overall pick in the 2011 NHL Entry Draft was a long-shot to make the roster, but here he is, and he still has six games to go before the team is forced to decide whether or not to be stuck with his contract for the full season. Couturier showed some terrific penalty killing awareness in the first two games and notched his first NHL assist (and a hit post) in the third.
The Bad: Despite his impressive play, he has made rookie mistakes that have been costly for the Flyers. Against Vancouver, Couturier tried to kill a penalty by passing the puck back to the defense, only to have the Canucks steal it and set up a long possession in the Flyers zone. They eventually scored when Couturier played too far from his set spot on the PK.
For all his brilliance and his bright future, the eighteen year-old still has plenty to learn.
The Grade: B-
Jaromir Jagr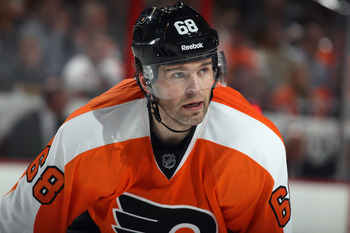 Bruce Bennett/Getty Images
The Good: He may be knocking on 40's door, but you wouldn't guess it to watch him play. Jagr is strong on his feet, gritty in front of the crease, and as mentally sharp as ever. His veteran presence on the ice is undeniable, and despite a three-year absence from the NHL, he still commands a ton of attention from opposing defenses.
On top of all that NHL experience, he has had undeniable chemistry with linemate Claude Giroux, and the two have benefited from the presence of the other.
The Bad: He has yet to score a goal in his first three games, and it seems like Giroux is doing the majority of the work in this 1-2 punch. He also hasn't been able to put up the same even-strength time on ice as Giroux, James van Riemsdyk, etc., which could lead to concerns about whether or not the Flyers' top line will be able to stay together all game, every game.
The Grade: B
Matt Read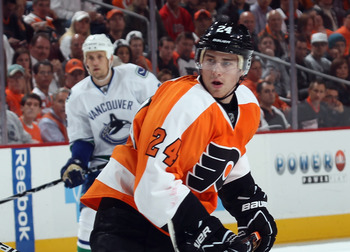 Bruce Bennett/Getty Images
The Good: Matt Read is a rookie, but you wouldn't know it to look at him. He is 25 years old and in his first year in the NHL, and he plays like a 25 year-old that entered the league three or four years prior. He has already tallied a goal and an assist and sees time on both the power play and penalty kill.
Read plays with plenty of energy and seems to be a major spark on a third line that is still trying to find its role on the team.
The Bad: Read's energy can sometimes affect his focus, as he appears slightly overanxious once he has control of the puck. He found himself falling down on more than one occasion against Boston and committed a bad turnover.
Despite being rough around the edges, there is no reason not to believe that Read will develop into a very stable third-line presence.
The Grade: B
Wayne Simmonds
The Good: Simmonds has tallied a goal and an assist in three games, and has been impossible to miss on the ice. He has already created countless chances by driving to the net, battling with defenders much larger than he is, and chipping away in the crease.
He also cycles the puck very well and fits nicely into Peter Laviolette's system. On top of all that, he KO'd a Devil. What's not to like?
The Bad: The only major concern about Simmonds could be a lack of discipline. He has taken a couple of unnecessary minor penalties, and the Flyers know from experience that bad penalties can be the downfall of a team.
The Grade: A-
Ilya Bryzgalov
The Good: First and foremost, he's tallied a shutout, something the team did not do even once last season. He has allowed five goals in three games, posting a 1.67 GAA and .940 SV%. Bryzgalov has looked confident in net, playing technically sound hockey and calmly handling anything that has come his way.
Bryz has not given up any goals that make the Flyers groan, which has been a problem for the team in recent years. Instead, he has forced his opponents to work to beat him.
The Bad: The only "flaw" in Bryzgalov's game is that he could not make ridiculous saves to bail out his defense against Vancouver. But Bryzgalov will succeed by making the saves he should make, and he will rely on his defense to ensure that he doesn't have to look like Dominik Hasek in net to preserve a win.
The Grade: A
Keep Reading

Philadelphia Flyers: Like this team?